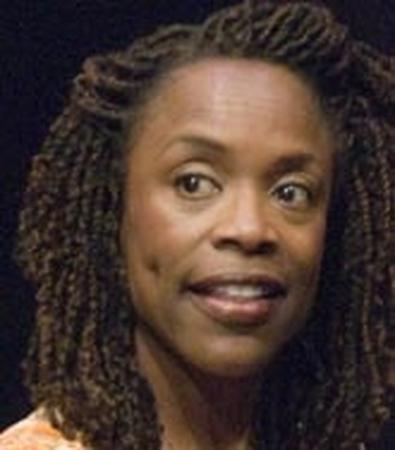 For Charlayne Woodard, it started with church. Though she'd enjoyed much acclaim in the New York theatre (including a Tony nomination for her work in the original Broadway production of Ain't Misbehavin'), her move to Los Angeles wasn't turning out as expected. "I was not happy with the roles I was getting in L.A. in TV and film," she says. "In the theatre, I was doing all those musicals, and no one would even let me read for a straight play. That's one of the reasons I left New York. I thought I'd start all over in L.A. and do some words. If they see me do some words on TV, maybe they'll give me a play — or at least an audition."
As it turns out, Woodard has been doing lots of words the past few years — her own — most recently in The Night Watcher, her fourth and newest one-woman play, now receiving a four-week workshop through the Page to Stage program at San Diego's La Jolla Playhouse, where such works as Aaron Sorkin's The Farnsworth Invention, Billy Crystal's 700 Sundays, and Doug Wright's Pulitzer Prize-winning I Am My Own Wife have been developed. Woodard's other solo plays are In Real Life, Neat, and Pretty Fire.
It was a women's retreat sponsored by her church that set Woodard on the path toward Pretty Fire, her first solo play. "My pastor's wife asked me to sing at one of the nights when everyone was having dinner," she recalls, and though Woodard was mourning the loss of her grandmother at the time, the pastor's wife insisted. "So I told the story of how my grandmama made me realize, at 12 years old, that I would spend my life on stage. I thought it was a very personal story, and I told it to 450 women. They applauded throughout, taking their napkins and waving them in the air. And afterward, 450 women lined up to tell me thank you for telling their story."
That 30-minute presentation, Woodard says, was "the best night I'd had in the theatre since I don't know when," and she realized that "if I add four more stories to this, this could be an evening of theatre." Then she went home and started thumbing through her journals.
The result was the kind of self-initiated project that many actors attempt, and the process of creating it was very different from that of a typical playwright, Woodard says. "I wrote this play on my feet rehearsing. 'Cause I didn't write it like I'm some Tennessee Williams or Eudora Welty.... But I am an actor. I create on my feet from my experiences and all I've learned from my years in the theatre." When it came time for Pretty Fire to open, she wanted it billed as a workshop — to make it clear it was a work in progress — but her colleagues were skeptical. "You can't do that in L.A.," she was told. When she explained the play's subject — "the life of a child from birth to the age of 12," she says — they insisted that no one would come.
Yet come they did — one of the benefits, Woodard says, of belonging to a church with hundreds of members. After a five-week run and a good review, she enlisted the help of the late Esther Sherman, a William Morris agent, and secured a spot for Pretty Fire as part of Manhattan Theatre Club's Off-Broadway season. It would later play to enthusiastic audiences at Seattle Repertory Theatre, L.A.'s Odyssey Theatre, and La Jolla Playhouse.
Coincidentally, another theatre — Lamb's Players Theatre in nearby Coronado, Calif. — will mount a production of Pretty Fire starring Tracy Hughes two days before Woodard's run in The Night Watcher ends. How does she feel about another actor performing her autobiographical work? "I'm just honored," Woodard says, "because I know what it was like back when I was looking for monologues and scenes that would do something for me, and I couldn't find anything that fit me. And you know when you're a young actor, they always say, 'Choose something close to yourself.' So here I am choosing Chekhov's Three Sisters, doing Irina, and now I'm Russian. And no matter what I chose, I could do it, but...." Her voice trails off. "What can I do that means something — like everything — to me?"
Auntie Fame
Before her work was published, Woodard used to love the requests she'd get from female actors asking to use her monologues. "I'm thrilled when young people try to get into college with them," she says. "My own godchild said to me, 'Auntie Charlayne, I want to get into UCLA. I want you to help me. I have to get in their theatre department.'" For the classical part of the audition, Woodard suggested a piece from Antigone, but she was taken aback when her godchild said that for her contemporary monologue she wanted to perform an excerpt from Pretty Fire. "I just loved that she wanted to use that," Woodard says, "because when I wrote it, she was just a little baby."
It's an apt story, because it's Woodard's numerous godchildren, nieces, nephews, and friends' children who form the basis for The Night Watcher. A response to what she sees as the increasing need for guidance and mentorship among the young people in her life, the new work was developed last summer at California's Ojai Playwrights Conference before securing its Page to Stage slot, where it's safeguarded from critics.
"There's no better workshop in the country than this one," Woodard says of La Jolla, "where you get to work on your play with an audience. That's when you know what you have and what you don't. Usually you work on the play, it opens, and then you know what you don't have, but it's too late. Critics come, tear you apart, and you hope someone gives you another production so you can fix it. This is totally for the artist. I can change anything, any day. I can go on with pages if I just rewrote it before I came on. This crew will change my lights, my set, my costumes, everything."
The setup also allows Woodard to focus on "writing nonstop around the clock," she says. "It's hard, though, because you're writing and now you've got to turn on the actor." Luckily, she can count on director Robert Egan to help guide the process. "I always have to have a director, a third eye. I feel good knowing there's another person in the room who's going to ask the smart questions and make it a safe place to explore everything. I choose directors who know my style."
But however grateful she seems for the opportunity to tell her stories, Woodard insists it's "the most difficult job I've ever had. As a matter of fact, I prefer to work in other people's plays. I do, because it's easier. But I've never been one to run away from a challenge."
The Night Watcher runs through July 27 at La Jolla Playhouse, 2910 La Jolla Village Drive, La Jolla, Calif. Tickets: (858) 550-1010 or www.lajollaplayhouse.org.
PQ: "I know what it was like back when I was looking for monologues and scenes that would do something for me, and I couldn't find anything that fit me."
Bio Briefs
Nominated for a 1978 Tony Award for best featured actress in a musical for Ain't Misbehavin'
Four-time Drama Desk Award nominee
Her first multicharacter play, Flight, has been produced by Center Theatre Group in Los Angeles and by ACT in Seattle
Film and TV credits include Unbreakable, The Crucible, Eye for an Eye, Chicago Hope, ER, and Run for the Dream: The Gail Devers Story