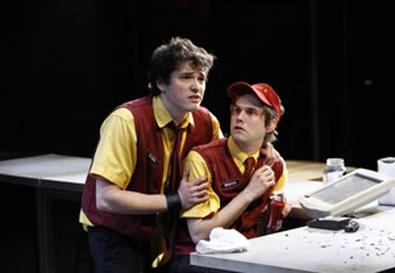 Before Eliza Clark's "Edgewise" even begins, you get this uncomfortable feeling. As theatergoers file into the downtown Walkerspace, they may be impressed by set designer Andromache Chalfant's hyperrealistic re-creation of a suburban fast-food chain restaurant. It's as if you're stepping into a McDonald's or a Wendy's. But barely noticeable amid the trappings of bland consumerism is a blank-eyed teenager, dressed in the uniform of the establishment and huddled between the grill and the refrigerator. Already we know there's something weird going on in a familiar setting.
As the action begins, everything seems perfectly pedestrian. The crouching kid is Marco, a seemingly standard-issue shy brainiac. You know the type: good with grades but awful with girls. He is soon joined by Ruckus, his macho co-worker, who has just been promoted to manager. The fact that Ruckus' dad owns the place didn't hurt. They smoke some weed and gossip about school, their dads, and Emma, the smart and pretty counter girl both are interested in. So far this seems like a dozen other plays about misfit kids learning about life while making minimum wage in strip-mall land. But Clark skillfully slips in casual references to a worldwide war, and we gradually realize we're in a not-too-distant future when global terrorism has spread to catastrophic proportions and turned everyone paranoid. Just as Emma joins the boys and the restaurant is about to open, there is an air strike—great sound design by Bart Fasbender—and a blood-soaked stranger collapses through the door in front of them. Is this just an innocent victim of the attack or a wounded enemy?
How the three youngsters try to find the answer makes for a scary and thrilling 90 minutes. It's all the more frightening because of the ordinariness of the environment. Explosions and scenes of torture are interspersed with complaints about curfew and comparisons of cars. The horror of war turns the franchise into a suburban version of Abu Ghraib and the trio of apparently everyday adolescents into sadistic interrogators. Clark, who writes for the AMC conspiracy-theory series "Rubicon," has constructed a taut document on how easy it is to lose your humanity when your safety is threatened. There are logical holes here and there—the ending is too over-the-top—but overall this is a powerful forecast of where we could be headed if we're not careful.
Director Trip Cullman slowly builds the tension while maintaining an atmosphere of normalcy. Likewise, the cast remembers to keep it real without veering into an episode of "24." Tobias Segal displays the geeky Marco's hidden strength, while Philip Ettinger reveals Ruckus' little-boy insecurity beneath the bullying exterior. Aja Naomi King subtly conveys Emma's intelligence and drive as well as her fears. Alfredo Narciso takes the enigmatic role of Louis, the bloody stranger, and creates a suffering, complex human being. Brandon Dirden is effective as an unexpected customer who holds the key to Louis' identity.

Presented by Page 73 Productions and the Play Company at Walkerspace, 46 Walker St., NYC. Nov. 17–Dec. 4. Mon.–Fri., 7:30 p.m.; Sat., 2 and 7:30 p.m. (No performance Thu., Nov. 25.) (212) 352-3101, (866) 811-4111, www.theatermania.com, or www.playco.org. Casting by Jack Doulin and Jenn Haltman.