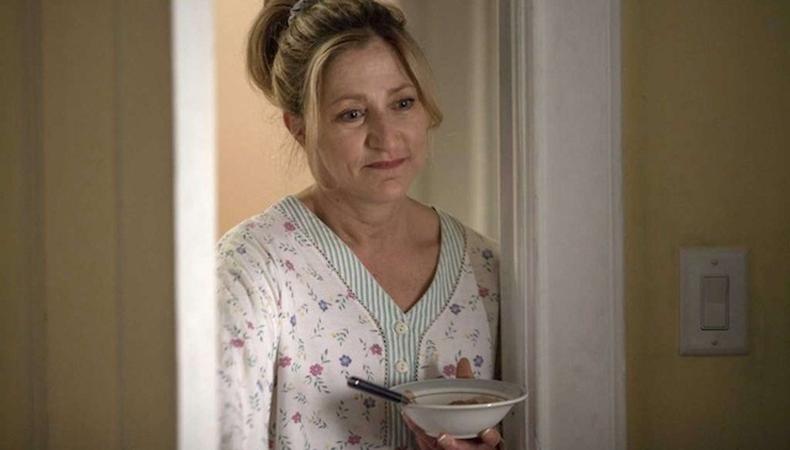 With over two decades' acting experience and four Emmy wins under her belt, Edie Falco has the craft of acting down to a science. From playing Carmela Soprano on "The Sopranos" to Jackie Peyton on "Nurse Jackie" to Sylvia Wittel on "Horace and Pete," Falco has proven time and again that there's not a role she can't master.
Now starring in "Landline" with Jenny Slate and John Turturro out July 21, the actor recently sat with comedian and actor Marc Maron ("GLOW") for his hit podcast, "WTF with Marc Maron," where they chatted about everything from being sober to bringing a character to life. It's a wonderful deep-dive of a conversation; listen to it in full here.
Below, Backstage picked out the top eight nuggets of insight from Falco that should be required knowledge for everyone in show business.
All actors work differently. Don't compare yourself to others in class.
"What I did over my time at acting school [at SUNY Purchase] was I lost a great deal of confidence that I went in there with because I wasn't really able to verbalize what I was doing, and a lot of the students at the school were. And I was like, What? What's happening? I just felt like I was the worst actor in the world because I didn't know what I was doing; I couldn't tell anybody what I was doing; I was very insecure. I just felt like I was doing it badly…. I have so much compassion for myself for my journey over the years with this, because what I've come to realize is that I do know what I'm doing. I know it in a part of myself that is wordless, and that's OK with me now when it wasn't back then."
Sometimes feeling like you definitely won't get the part is a good thing!
"When I read the [script of 'The Sopranos'], I was like, 'Oh my gosh, of course. I know exactly who this woman is.' It was a no-brainer for me, and, at the same time, I was completely sure I would never get cast, because, you know, the way things go, they're going to get someone who looks [stereotypically Italian]….There's a great sense of calm that comes over you when you audition for something you're absolutely sure you're not going to get."
When choosing your roles, pick whichever is right for you, not for others.
"[When offered 'The Sopranos'], I had been doing [the play] 'Side Man' for such a long time, and I know certainly the more you continue to do something, the deeper and richer the character and experience become, but also, I had done it. So my experience with it [was that] I figured out who this character was, I had kind of fleshed it out enough to do a performance of it, and here I was presented with this other character, completely different character, and a substantial sum of money. And I remember Warren Leight, the ['Side Man'] writer, said to me, 'This is a TV thing. You're really going to choose this TV thing over taking this thing to Broadway?' You know, you're never really sure, ever, if you're doing what the right thing is, but I was pretty clear on it, at the moment, what I had to do."
Community theater can, indeed, be 'the coolest thing in the whole world.'
"[My mother] was an actress when I was a young kid. She was a community theater actress, and I used to go with her. I just thought it was the coolest thing in the whole world. It is the coolest thing in the whole world. But these were people who had real jobs during the day and at night, they would get together and say these lines, and I just thought it was the coolest thing in the whole world. And it made no sense, and I loved it."
When the going got tough, Falco relied on Backstage's casting notices.
"It was probably longer than five years [between my first and second film project]. But yes, I waitressed and waitressed and waitressed. I would do anything I could get my hands on. You know, Backstage Magazine, Show Business Magazine, all these things. Go to [open] calls. I got to the point where I started to look at [auditions] as a chance to perform, try out a new monologue. At one point I took a class, but I really just wanted to work."
Listen to your own read of a character, not a prewritten backstory.
"Let me figure out what the backstory is. [If] I'm doing something that does not ring true to the writer-director-producer people…let me know and I can make an adjustment. But if I'm not doing something that you're not unhappy with, don't give me more information than I can metabolize. Less is more. If you give me 40 pages of a backstory, I'm not gonna read it—or if I do, I will show up deeply confused next time you see me. I don't know what to do with it!"
You either have dramatic acting chops or you don't. Know your strengths as an actor.
"There are some people who have had tremendous success in this industry. Very famous, very rich, well known people who you can tell, all they want is to be taken seriously as an actor, and they work, and they try, and they see their performances, and it makes me feel great compassion for them, because as far as I'm concerned: They don't got 'it.' And it breaks my heart because they really want it and it's one of the few things you can't pay for. You know, just continue to do your action movies and stuff and be grateful for that! Not everybody gets to have this blessing-curse sort of thing."
Finding success as an actor is a matter of taking a leap of faith.
"I didn't want to have to waitress. Because of the kind of brain I have, I was very good insofar as dealing with a million tables at once, but don't ask me to talk to people as if they're human, like, make conversation and make jokes with them. I couldn't. I was so miserably unhappy [as a waitress]. I was awful. Someone threw a bunch of pennies at me once as my tip, and I sort of thought, 'I have to remember this moment. This is the pinnacle of my misery. It's time to leave.' And eventually I did. I had that moment where I thought, 'I don't know how I will continue to support myself, but this is something I can't do anymore.' What I wanted was to be able to pay my rent solely on my acting work. That's what I considered a success. And that took a long time. I did a movie called 'Cost of Living,' another independent movie and that was when I decided. I quit my waitressing job when I got home, and I didn't know how it would continue. But, something about that leap of faith, if you believe these sorts of things—and I do—you put that out there, [and] somehow, it was all right."
Want to star in an indie like Check out Backstage's film audition listings!