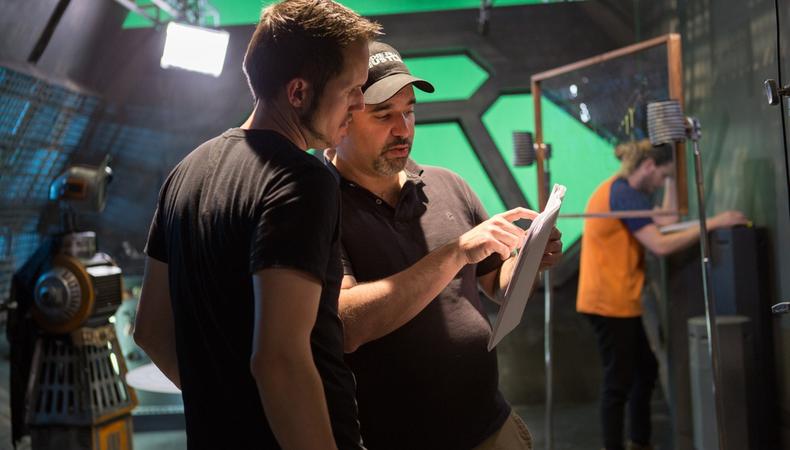 "This is not the world where Meryl Streep is coming up with Anthony Hopkins," announces editor-cum-producer-cum-podcast host, Alex Ferrari. "This is the new school."
The short version - Ferrari was a kid who grew up loving films (especially a little sci-fi production by a one Mr. George Lucas and another about a weird little alien directed by Steven Spielberg.) Ferrari will tell you he was so enthralled the first time he saw E.T. that he went home and wrote a script. But back in 1989, there were no how-to's explaining the process.
"The majority of everything I learned, I learned on the street," he says. Although young Ferrari racked up good grades at Full Sail University, he insists aspiring filmmakers (and actors and creatives) don't necessarily need to invest in film school or other costly programs. Ferrari took advantage of the rich market of the Southeast film industry and cut his teeth at a commercial production house.
"I interned there for four months and I just keep showing up every day. I decided to keep showing up and guilt them into giving me work. So when the boss quit and they say I was there, I got the job editing demo reels for directors and would do PA work on the side on the weekends."
So to break out of the dub room, Ferrari found access to a bunch of big budget raw footage from top end European directors that the commercial house he worked for just signed. Without permission he grabbed the footage and edited fake commercials (AKA spec commercials) with European Nike ad b-roll. He learned AVID and began splicing high quality Euro content with expensive looking American logos. The ultimate DIYer, Ferrari had one heck of a reel showcasing commercials he didn't necessarily work on. This launched his editing career. "When you are coming up you have to grab every opportunity you can. Fake it 'til you make it."
When asked how his background and his ethos can be adopted for actors, Ferarri insists it starts with "getting off your ass and casting yourself." He should know all about getting up and making things happen. Taking matters into his own hands, he shot Broken in 2005 and created a guerrilla film school showing fellow filmmakers how he put together the no budget short film. He put it on DVD and had it mastered and hyped it up marketing wise. "For about a year and change, you could not go online and not know about my movie." When it was released, it sold 5000 copies at $20 a pop. In 2015 he decided to create Indie Film Hustle, a resources that showed filmmakers how to survive and thrive in the film business.
Ferrari offered the following tips for actors on how to successfully get in on "the hustle."
1. Get off your ass and cast yourself. No excuses. Ferrari didn't sit around and wait for opportunities to come to him - he made them, and you should, too. "Cast yourself," he says. "It's the only way you are going to start making noise. A lot of actors sit around and wait for permission to exercise their craft but that way you're going to wait awhile. There is too much competition and there are too few roles. You need to build your own house and not wait to be invited by anyone else." He insists actors, especially those in the New York and L.A. markets have no excuse not to work on their own series between jobs with actor friends.Want more proof Alex Ferrari is on the side of actors? Then check out his feature, "This is Meg," a testament to the trials and tribulations actors face in the competitive field.
Want more proof Alex Ferrari is on the side of actors? Then check out his feature, "This is Meg," a testament to the trials and tribulations actors face in the competitive field.
2. Download DaVinci Resolve. Making your own web series or feature isn't enough if it doesn't look good. Fortunately, there are now countless computer programs that allow you to edit quality footage from the comfort of your own home and for little to no money. Ferrari recommends Davinci Resolve and even provides free resources on his site for those interested in learning how.
3. Build your social media following. We all know social media followings matter. On his podcast, Ferrari asks the question: "Why would I hire someone with five followers versus someone with 100,000, if both actors' skills and experience is equal?" But he warns of the dangers of using social media to shout instead of project, especially when what you are projecting is not of value. He suggests actors use social media to provide entertainment and to "take people out of their nutshell," insisting there is a fine line between pointless and pointed.
4. Have your own TV show on Amazon. Did you know how easy it is to upload your own show to Amazon? The podcast host and marketing guru was honored when an actor friend asked him to direct an Amazon show. He didn't realize that anyone could upload her or his own Amazon show to the streaming service. But he loves the idea for marketing purposes. "If you are able to cast yourself and walk into an audition and say you starred in an Amazon exclusive series - that's how marketing works. It's a good calling card," he says.
For more podcasts and truth bombs about the film biz, visit www.indiefilmhustle.com.