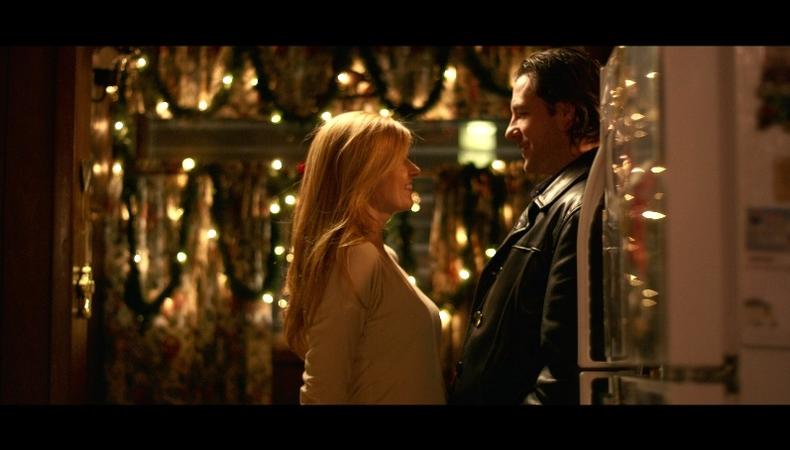 Filmmaker Edward Burns' latest film, "The Fitzgerald Family Christmas," which premiered at the Tribeca Film Festival, returns to the elements of his first film, "The Brothers McMullen." While on the set of "Alex Cross," Tyler Perry encouraged Burns to make more films about the Irish-American working class family life, and Burns immediately began writing, completing his first draft of the film only six weeks later.
The film centers on a somewhat estranged large Irish-American family reuniting for Christmas, and the production of the film was a reunion story itself, bringing Burns back together with actors he's working with in the past.
The film has a large cast, but you gave them all very unique voices. Was it a difficult to write for so many characters?
Edward Burns: Maybe the voices all seemed specific and genuine because having come from that world, and knowing it so well and so intimately, and also not having written about these types of characters in fifteen years, I had dozens of great specific voices to draw from. It did not feel difficult writing the screenplay and juggling all those characters' stories.
When you write and direct your own films, do you find it difficult to know when you're done with a script?
Burns: I have my producing partner Aaron Lubin…and he's very tough on the screenplay…and I'm very collaborative and I like to include [the actors] in the process. I'll bring them in sometimes …when I have my first or second draft done. I'll sit down with them, and we'll just read their scenes aloud, and they'll help me shape the character. Then the way we shoot, the script is really never done because I'll shoot a scene two ways or three times the way it's written and then we kind of open it up for the actors, and we'll either improvise the whole thing or improvise within the scene. So we're constantly rewriting and constantly trying to dig out different versions of that scene.
You work with a lot of the same actors. Do you cast the films yourself?
Burns: We have a casting director…but in the case of "Fitzgeralds," I was writing certain parts with certain actors in mind. A lot of times you'll write for someone and they have another gig or they have a conflict and that's when we use our casting director to help us find someone to replace that actor. We ended up working with Noah Emmerich because Kerry Bishé was friends with him, and when she read the script she said, "Hey, I think Noah would be great for that part." Also, in "Fitzgeralds," because the film was about a family reunion or this family coming together, I wanted to include as many actors from my filmmaking family as I could. So my producer and I went through every film that I'd made and [tried] to pull at least one cast member from each film. The minute we started rolling the cameras, we saw what a great idea it was, because immediately these people felt like they had real history. And it immediately felt like family.
Did you have a favorite scene or moment?
Burns: Getting to work with Connie Britton again. Connie and I have been really good friends since "McMullan" and this is the fourth time we've worked together, but it's been a long time.
Was there anything that was challenging in this production?
Burns: When I sat down to write the script, I imagined the homes and the bars and the train stations and the kitchens and the living rooms that I grew up in. So my concern was, "How am I going to recreate that? How am I going to get that authentic feel?" So I called up my mom and said, "Who back in the old neighborhood still lives there? And who do you think would be willing to open up their door to the Fitzgerald family?" So the Fitzgerald house is seven houses down the block from where I grew up…it was a lot of fun for me to be shooting in a kitchen that I can remember hanging out in after school when I [was] in the third grade.
Do you have any advice you would like to pass on to new writers, directors, or actors?
Burns: The only way you learn how to make a movie is by making movies. So my advice would be go out and grab one of these digital cameras and grab some of your friends. Or do what I did with "McMullan." Put an ad in Backstage and basically say, "no budget, nonunion movie, will feed actors." Find a bunch of actors who are hungry to work and just go make a short film or go make a super micro-budget feature. And even if it stinks, it doesn't matter. Go make another one, because it's not going to cost you what it used to cost back in the day.
Do you identify more with writing, directing, or acting?
Burns: I think of myself as a filmmaker. But I'm a filmmaker that only makes personal stories and only wants to make personal stories. And that comes from the fact that I think that writing was my first love.
Are you interested in writing things for other people to make?
Burns: It's too labor intensive, and I tend to write more personal stories, so for the same reason that it was important for me to return to my hometown for those kitchens and living rooms that look the way I imagine them as I wrote those scenes, I can't imagine ever writing a screenplay and handing it off to someone.
Can you tell me about the new project you're working on?
Burns: The next project really isn't a movie; it's a series of 12 short films. It's called "Winter, Spring, Summer, Fall." It's a look at two folks who are in their forties, and they're kind of underachievers and they think that their moment to find happiness has passed them by. We're going to chart this couple over the course of a year, and we're actually going to shoot over the course of the year.