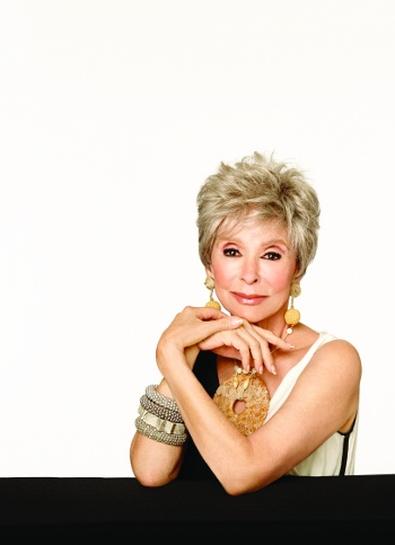 Rita Moreno still remembers which film qualified her for Screen Actors Guild membership.
"It was a long, long time ago," laughs Moreno, speaking from her Berkeley home in late November. "It was for my very first movie, 'So Young So Bad.' " That film, a drama about a girls' reform school, opened in 1950 when Moreno was just 18. (She was billed as Rosita Moreno.) Was receiving her SAG card validation for the young performer? "Well, it really meant that I could now do movies without having to worry," Moreno says. "You know, it's one of those maddening situations where you can't do a movie without belonging to SAG, but you can't belong to SAG unless you've got a movie."
"So Young So Bad" may not have been an auspicious beginning to Moreno's film career. (The New York Times critic Bosley Crowther dismissed the movie as a "miserably inept little item.") Nevertheless, it was the launching pad for a varied, celebrated oeuvre that has now stretched more than 60 years, encompassing singing, dancing, and acting for film, television, and the stage. The breadth of that career will be feted Jan. 18, when Moreno receives the Screen Actors Guild Life Achievement Award.
Moreno turned 82 in December, capping off one of the more eventful years in her rich professional life. In March, she published "Rita Moreno: A Memoir," which chronicled her career, her fraught relationship with Marlon Brando, her 45-year marriage to Leonard Gordon, and how she coped with his death in 2010. But she's not just looking back: She continues to perform concerts, appeared on Fran Drescher's short-lived sitcom "Happily Divorced," and is part of the voice cast for the upcoming animated film "Rio 2."
"I'm really up to my behind in all kinds of stuff," she says. "I'm constantly packing and unpacking. I've gotten three new lifetime achievement awards in the last six months!" She laughs. Reflecting on these career-encompassing accolades, Moreno is gratified but also a little self-deprecating. "Now that I'm in my 80s," she says, "it's like everybody's saying, 'Quick, before she kicks the bucket, let's give her an award and raise some funds!' "
Funny and vivacious, Moreno gives the impression of someone who doesn't stop moving. The only time she seems to slow down is to pick up awards. One of a select few in the so-called EGOT pantheon—winning an Emmy, Grammy, Oscar, and Tony—she has glided through our culture for decades, first in movie musicals such as "The King and I" and "West Side Story," then on the influential children's show "The Electric Company," and then later finding an entirely different audience as Sister Peter Marie Reimondo on the dark HBO drama "Oz." "There's a lot of 'Oz' fans out there," Moreno says with obvious delight. "And the most surprising ones: Some gray-haired old lady—and I keep forgetting that I also am a gray-haired old lady—will come over to me and say, 'I just loved you in "Oz." ' I'll say, 'You watched "Oz"?!' "
But surely "West Side Story"—which netted her an Oscar, the first for a Hispanic woman—is what is mentioned most often when fans approach her on the street? "The thing I get the most that I really love," she says, "is that people don't so much mention films I've been in or shows I've been in as they say, instead, 'I love you, I just love your perseverance.' That really pleases me. I'm not casual about that at all—I always thank them profusely, as though they were doing me some kind of great favor. But that's what I love. It's not so much when they say 'West Side Story' or this and that—it's the impression I've made on them as a person. That's what makes the SAG award so very special. It's not just for one particular thing—it's for a lifetime. It becomes a very personal kind of honor."
It's also indicative of a performer who's clear-eyed about why she loves her work and appreciates how tough it's been at times to chase her passion, especially early on when she had to settle for demeaning ethnic parts. As she wrote in her memoir about those salad days, "I guess [Hollywood] figured that if there was some sort of accent, darker skin, or an exotic look, a little Puerto Rican girl could play the role."
Even now, despite all the accolades, Moreno finds herself still battling stereotypes—this time as an older actor. "I feel I'm pushed to the margins," she says. "It's not as though people are knocking my door down. It certainly is much more difficult when you're older. Certain roles for older women are aimed at certain older actresses—I'm not one of those. I've been offered any number of Puerto Rican grandmas that I've turned down."
But what sustains her is the same thing that energized her as a young performer. "Part of the fun, of course, was all the attention I got," she admits. "I've never quite gotten over that." She laughs. "I love attention—and anybody who tells you otherwise is full of shit. I love being onstage, I love getting applause, and I love the love that comes across the footlights. It's so much a part of what I do and what I've done most of my life. I just don't believe it when [performers] say, 'No, I don't care, it doesn't mean anything to me.' Really?"
Moreno is unapologetically outspoken in her politics, and she doesn't take kindly to the notion that actors should entertain, not advocate. ("Well, I suppose, to follow that logic, then it's also not a good idea for lawyers and doctors and grocery clerks [to speak out], because that's not their job either, right?") And yet despite her loquaciousness and wit—"You didn't think you were going to laugh this much, did you?" she asks proudly at one point—she'll also be remembered for having one of the shortest acceptance speeches in Oscar history. Clearly shocked that she won best supporting actress for "West Side Story," the then-30-year-old Moreno sauntered to the stage, exclaimed, "I can't believe it! Good Lord! I leave you with that," and then walked off.
She confesses that she thinks about what she might have done differently in that moment. "It was a real red-letter day for Hispanics in this country," she says. "I wish that I had had the wherewithal to say something about that. I kind of regret that. But if nothing else, it really was a very sincere speech."
So has she pondered her SAG Life Achievement acceptance speech? "I keep thinking about it all the time, and I keep changing ideas," she says. "I think, ultimately, it's going to be a very personal message about this child who came from another country. It's the great American story. I only have two minutes, though—they've already warned me. For a voluble Latina, that's really daunting."