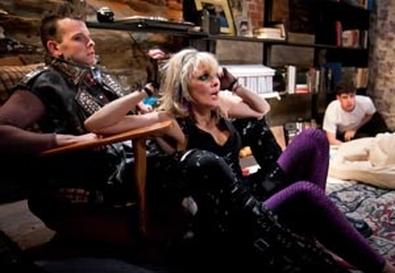 If only its central metaphor weren't so obvious and purposeless, "Eightythree Down" would be the kind of play that English majors love to write term papers about. Director Daniel Talbott too often resorts to ramping up the conflict with guns and sex instead of illuminating the character-driven drama. J. Stephen Brantley's quick-witted dialogue and intriguing characters remain slaves to an allegorical world, which loses appeal and relevance as the 1980s period piece wears on.
Books and birds are bound by shelves and cages, and avian-obsessed, closeted Martin is content to be trapped in the safety net of his parents' basement. When his "crazy" high school friend Dina interrupts his peaceful stasis—the kind that requires an alarm set for midnight on New Year's Eve—Martin almost escapes his sad life. Along with her two pals, abusive lover Tony and gay Brit Stuart, Dina has gotten into a bit of trouble, fleeing Manhattan with stolen rare books and a gun.
It's never clear how Dina and company get into Martin's house in the first place, and the ensuing shenanigans seem contrived. "We're all insane. It's just a matter of perspective," Dina shrieks, exhibiting the more stereotypical version of insanity, while Martin goes on about interruptive species, those that flee their own habitat and "interrupt" another once their food supply is depleted. (Kind of how Dina leaves her Manhattan home for Martin's family's Great Neck, N.Y., estate when she needs something. It's almost too easy.)
The period jokes about cable TV with 50 channels and pocket phones are cute but serve no purpose, even though it's fun to realize that in 1983 an iPhone was unimaginable. Eugenia Furneaux-Arends' attractive set emanates a grunge-basement vibe that fits Martin's character, complete with a Duran Duran poster and an organized bookshelf.
Melody Bates, as Dina, the oversexed and drugged 1980s fame-monger who wants the best for her friends, leads the acting foursome. Bates' performance has many levels, and she almost had me convinced that Dina was actually a good person and a victim, but it was still hard to feel sorry for the character. Bryan Kaplan, playing the rage-laden Tony, has the least to work with in terms of the writing, but Kaplan definitely kept me cringing in my seat during Tony's angry outbursts. Ian Holcomb and Brian Miskell give equally subtle performances as Stuart and Martin, and their characters, particularly Martin, show impressive growth over the work's short arc. Their scenes together are the highlight, as Miskell gives Martin great vulnerability, while Kaplan captures Stuart's inner turmoil.
The play's lessons about limits and risk-taking come across as clichéd, and while Dina markets her brand of lunacy with excuses like "It's not your fault if people buy what you're selling," I never really bought it.
Presented by Horse Trade Theater Group and Hard Sparks at Under St. Marks, 94 St. Mark's Place, NYC. Sept. 1–17. Thu.–Sat., 8 p.m. (212) 868-4444 or www.smarttix.com. Casting by Jenn Haltman.