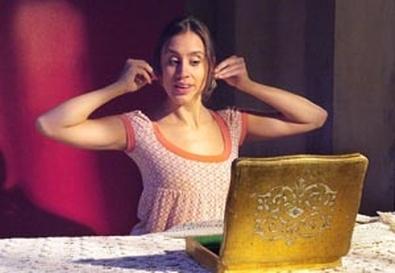 The climate and circumstances are different, but there's no doubt that "The Cherry Orchard" is ripe for transplanting into modern-day Mexico, and "El Nogalar (The Pecan Orchard)," playwright Tanya Saracho's loose adaptation of Chekhov's tale of changing times and an entitled family's inability to change with them, reaches out in some fabulously raw and exciting new directions. Saracho provides a fierce focus on the feminine and an eye on how the global economy is affecting choice and cultures, especially in a country where the carefully held class structure is up for grabs now that "the world is made of new money—of Facebook money." Oh, and drug money.
We first meet the folks who are trying to keep the once-elegant Hacienda Los Nogales running: maid Dunia (Sabina Zuniga Varela), one-time handyman Lopez (Justin Huen), and Valeria (Isabella Ortega), the family's oldest daughter, who kept house for 15 years while her mother and younger sister were away playing in the U.S. With "paralyzing expectations," they're awaiting the arrival of the glamorous señora and young Anita. On an evocative stylized set by Frederica Nascimento and aided by Lonnie Rafael Alcaraz's vibrant lighting, director Laurie Woolery gives us bold strokes and colors right away. Varela's Dunia is a low-class delight, and Huen's puppylike Lopez, with his iPod, pressed jeans, and snakeskin boots (love Garry Lennon's attention to costume detail), is the perfect symbol of what hard work can buy. Then there's Valeria, a not-so-old maid stuck in the old world, whose pain the delicate Ortega makes palpable. The arrival of spoiled Anita (a complex Diana Romo) and penniless "Dramarama Mama" Maité (Yetta Gottesman) breathes urgency, life, and even greater desperation into the situation.
Playwright Saracho's decision to leave most of the men offstage works beautifully. In this matriarchal world, we can almost believe that drug kingpins and cartels don't matter. Gottesman, who doesn't look old enough to be anyone's mother, is a whirling dervish of denial, and the new places Saracho goes with these characters and relationships are quite wonderful. At the same time, however, we're also left with a few too many Chekhovian promissory notes—not-so-veiled references to another orchard—that don't pay off.
Presented by and at the Fountain Theatre, 5060 Fountain Ave., L.A. Jan. 28–March 11. Thu.–Sat., 8 p.m.; Sun., 2 p.m. (323) 663-1525 or www.fountaintheatre.com.