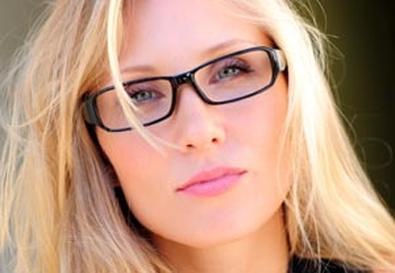 It's like a dream.
I'm at the shore in Barcelona, Spain. The hot morning sun reflects off the ocean's blue waves—and Antonio's crystal blue eyes. His wide shoulders could throw me across the ocean. I'm sure of it. He could fight Zeus with no weapons. He was Odysseus in a past life; it's obvious.
He wants to go skinny-dipping in the ocean—a very common thing in Spain, apparently. His skin literally
sparkles
in the sunlight. Unbelievable.
Is this heaven? I close my eyes. My mind wanders.
Suddenly, I am back in Los Angeles
.
The traffic is grinding
.
I'm sitting in my eight-year-old Mazda Miata on the way to an audition
.
The tires are getting bald, making me cautious to hit the brakes too harshly. The air-conditioning isn't working, and a few days ago it was 113 degrees in the city
.
I am slowly melting when
...
Antonio holds his gentle hand out for me to join him. But I cannot.
I'm too much of a wimp to go in. The water is just too cold. Well, come on. Maybe I can suck it up and go in. How can I not? I'm in
Barcelona
for crying out loud! I have to be a part of this.
Let me just dip my toes in here. Ok... Not so bad. And then that arctic wave smashes onto my thighs. No! No. No way. The water is just too freezing; the wind is blowing which makes it feel even colder, no way. Can't. I'll set a comfy seat here in the warm sand and I'll watch Antonio. Yes. This is better.
He shrugs, removes his clothing, and dives in.
I close my eyes. Try to regain myself.
Suddenly I'm at my survival job. Two patrons are calling me
.
Their meals are late
.
I scramble to find out what's happening. The sweaty supersized bartender is flirting with me. The cook is angry for some remark he claims I made, but he doesn't believe me when I deny it. The owner cut my hours because another waitress needs more time this week. I head to the bathroom and put my head in my hands
...
Antonio is amazing. He swims like some kind of mer-man. He's smiling and laughing with abandon.
But there's something else. Yes, he's a beautiful man, but he has another quality that I'm starting to notice. It's something indefinable. Something almost ethereal.
He swims like no one's watching. Like he's the only one out there.
As I watch him, I start to think about my own life. I wonder why I keep drifting back, focusing on my anxieties—away from here, away from where I am, away from a moment in time where life seems perfect. Away from the here and now.
I've always been a dreamer. I've always searched for something better than where I was.
I remember when I was a little girl I would dream of winning an Academy Award for my outstanding talent. The dream was always the same. Red long dress, wavy long blonde hair flowing in the wind, and the gold Oscar statue held firmly in my right hand as I waved and cried and thanked the Academy and my mother and God. I was going to be a movie star. I was.
And that's exactly what I set out to do.
And then I found myself in Los Angeles living a very different set of the way I imagined it would be... I was poor. So poor that my credit card was declined every other time I went to Trader Joe's to buy groceries. So poor I called my dad for twenty dollars. Health Insurance? Please... now we're getting fancy.
But one thing was for certain: I'm a talented actress. This was enough for many years. This little phrase. These four little words got me through all the declined transactions. After all, it was true.
And plenty of situations merited my talent. I found myself in movies flying to Bulgaria and Prague and New Orleans. I found myself in Tennessee Williams and Shakespeare plays and in soap operas and commercials.
But then... I found myself with months on end without a job and with absolutely no prospects for a job. No auditions. "It's slow now dear... Do a play," my high-powered agent suggested as he leaned back at his desk collecting checks.
So I went to India. And when I came back I started a non-profit and opened the "Alice in Wonderland" orphanage for children in India.
And then I started to write. I got a column picked up (the one you read now), and then another one that appears weekly in the Tolucan Times.
I always thought being a dreamer was a positive. But I'm starting to realize that instead of just chasing my dreams, a part of me has been running away, too. To the point I don't even know who I am anymore.
Am I am actress? Or am I a writer? Am I a humanitarian? Or am I a young woman whose just figuring out who I am, day by day...
I'm not sure.
I'm rarely in the moment. I'm so completely obsessed with getting my next acting job, I think I'm literally missing some pretty amazing moments. Like now.
Then it hits me. He's happy. Antonio is happy. This man knows who he is. And he's living right here and now. Enjoying his youth and this beautiful beach and this crystal clear water.
It's not about the next moment, I realize. It's about the now. It's about what I am
today
. I've been so obsessed about the future, I almost forgot to live.
What am I so afraid of?
I've realized how important it is to just stop and take a swim one random afternoon if I want to. I've realized there's something to being in the moment. I've realized I don't have everything all figured out and that's really ok.
Well, I'm not going to be afraid anymore, I decide. I'm going to live in the moment and stop analyzing every second.
Sub zero or not, here I come. (Like Antonio, clothing is optional.) Los Angeles, and acting, can wait.

Alexis Peters appeared in Garry Marshall's hit film "Valentine's Day," and Adam Green's "Hatchet 2". On the ScyFy Network, she played Ingrid in the original film "Grendel," and Sif in "Thor: Hammer of the Gods." Other TV work: "Days of Our Lives," and the FOX pilot "Faceless." Stage roles include "Summer and Smoke" and the 2004 ADA award-winning "Moonchildren." Alexis can be reached at alexisbackstage@yahoo.com.Alexis is hosting a fundraiser called "Art for India" on Saturday, November 6 starting at 7:30 p.m. The event takes place at Elderberries (7564 West Sunset Boulevard, Los Angeles CA). The evening of music and comedy features performances by Jenni Alpert, Rebecca O'Brien, Andre' Maurice, Jeanette Meyer, Gabe Pallo, Chris Duque, Nefatiti Mills, Mike Soto, Fiona Landers, Sara Elbert, and Elle Cowan. Proceeds benefit Volunteering Love's second orphanage for children in Faridabad, India. Tickets, which include dinner and a show, are $20 at the door.