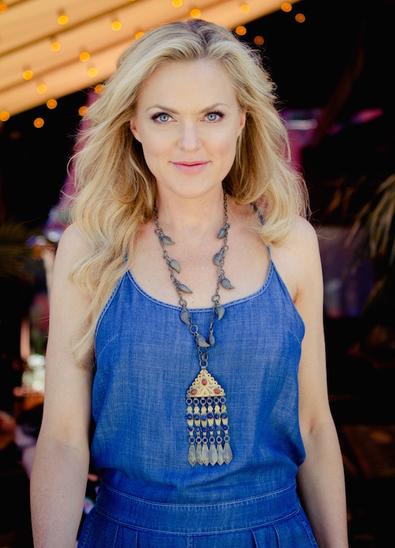 In most cases you might categorize putting rocks in someone's backpack or a lizard on their water bottle as an awful prank. However, if you saw 1998's "The Parent Trap" you likely found this to be a fitting fate for the evil Meredith Blake.
Elaine Hendrix is the actor best known for her portrayal as Meredith. Her devilish smile and steamy line delivery immediately earned her villain status.
As "The Parent Trap" turns 17 this week, Backstage chats with Hendrix (currently starring on FX's "Sex&Drugs&Rock&Roll") to discuss how her experience as a Disney villain impacted her career and to hear all about her new role.
On her "last minute" audition for "The Parent Trap."
Little did Hendrix know when she went in to audition, but Meredith was proving to be a difficult role to cast for the filmmakers.
"My first audition for it was somewhat last minute. I got the appointment in the morning and went in that afternoon. The casting office was in Burbank and they put me on tape—which was a new process at that time. Then I got a callback, which was in [director] Nancy Meyers and [producer] Charles Shyer's office at Disney reading with Denis Quaid and the then unknown Lindsay Lohan," she says. "It wasn't a screen test. In fact, it was fairly informal despite what my nerves told me. They had food and we sort of hung out and read. Nancy gave some direction, I took it, and that was it. Next thing I know I booked the role and found out I was the 433rd actress they had seen for it!"
On what Meredith Blake gave her.
As "The Parent Trap" turns 17, fans can reflect on what the film has given them: a great remake, childhood memories, and iconic lines such as, "I have class and you don't." But for the actors involved, included Hendrix, the film has afforded so much more.
"Being a part of that movie has given me opportunities I'm probably not even aware of completely, ranging from more work to a nice ego boost and everything in between. It's become an iconic piece of Hollywood cinema. It still plays in people homes on a daily basis.
What's most important to me is the visibility it's afforded me for my charity work. Everything points back to my animal advocacy," she says.
On being typecast as a villain.
"Right after the film came out, I [misguidedly] got it in my head that I didn't want to be 'stereotyped,' so I turned down a lot of chances to play other roles like [Meredith]—even though I did play some," Hendrix admits. "That was a silly move. Now I wish I had taken every single role like her I could and cornered the market on 'bitch,' which is so fun to play. Live and learn."
On overcoming her struggles.
"Now more than ever it's hard to break into the entertainment industry and make a good living in it. I constantly keep my ego in check and think of myself as going back to square one. Stick to the basics and make it about the work.
"I still go to class. I still get coaching. I'm now also teaching and coaching others, so I get to remind myself on a regular basis what it truly takes to be a working actor."
On how the FX comedy "Sex&Drugs&Rock&Roll" differs from anything she's ever done.
"The biggest difference playing Ava is that [writer-creator] Denis Leary allows me to do whatever I want with her. The freedom on the show is staggeringly refreshing and inspiring. Couple that with doing multiple episodes and I really get to explore many sides of her. She's multidimensional, which can be rare on TV. Plus, I get to sing, dance, and play instruments. When does that ever happen on a project?!"
On the best piece of advice she has for aspiring actors.
"If this is the business you want to pursue, or at least try out to see if it's for you, get really comfortable with the idea that you will lead a 'gypsy life,' " Hendrix urges.
"There will never be job security. There will never be a steady paycheck. You will always be shifting. The idea of 'making it' is an illusion, a myth. You can have other things like success, which is determined solely by your own measurements, fun, which is determined only by your willingness, adventures, which is simply 'life,' etc.
"But there will never be a line you'll cross where your career becomes automatic. So, if all this along with exercising qualities like discipline, savvy, talent, commitment, persistence, etc., sounds good to you…then go for it!"
Keep up with Hendrix at www.elainehendrix.com.
Inspired by this post? Check out our audition listings!