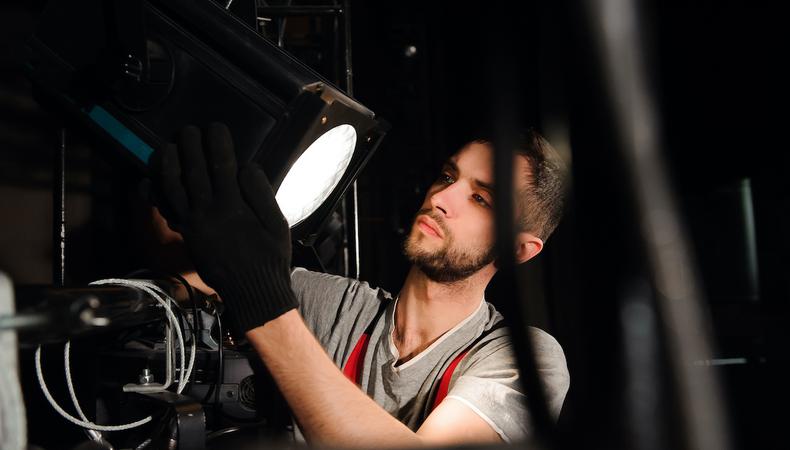 Electrician Job Description: What Does an Electrician Do?
There are two types of electricians on a production set: rigging electric and set electric. Both are part of the principal photography phase of a production; the rigging team lays and hangs cable for the entire production and moves all the lights, while the set electricians check the work of the rigging team, ensures all departments have power, and sets up lights for every shot.
Mike Maley, a set lighting technician on "X-Men: First Class" and "Westworld," says "pretty much every electrical responsibility [comes through the electricians]. Everything [from] crafty to script supervisor power to lights…. We get to set, stage our lights to the side—we get what we most likely will use that day set up so that when the gaffer calls in those lights, [they're ready to go]."
When it comes to the work of an electrician, you have to be flexible to accommodate the fact that every gaffer has their own style. "Some gaffers like to have their special guys stay onset and the rest of the [team] will back them up by bringing equipment. There are gaffers who want [us] to stay in staging and bring in lights as he calls them, then man that light until the setup is done," explains Maley.
Department
Grip + Electric
Alternate Titles for Electricians
Lighting operator, lighting electrician, sparks
Crew Hierarchy
Rigging and set electricians report to the best boy electric (who reports to the gaffer).
Electrician Salary
"Film and video industry electricians and lighting workers [earn] an annual mean wage of $77,470." (Though keep in mind, that number also includes earnings for best boys and gaffers.)
Electricians are represented by IATSE Local 728, which means there are set minimum rates on all union productions. The minimum hourly pay on a studio production is $43.74 for a lighting technician and $44.68 for a special lighting technician. (These rates change for low-budget, digital, commercial, and theater projects. You can see all the rates here.)
How to Become an Electrician
Electricians must have prior experience in the field, whether via trade school, an apprenticeship, or working in a rental house. (When a best boy electric rents gear, they often hire people working in the shop.) Many electricians advance to best boy electric after several years of consistent work.
Electrician Required Experience + Skills
Given the hands-on nature of the work, film school is not a requirement for work as an electric. However, you will need a license and certification. Since these are issued on a state—and sometimes county—level, you'll need to find out what the requirements are based on where you live/plan to work. You can find state-by-state electrician license and certification requirements here.
For more on how to get work on a film crew, visit Backstage's crew hub!