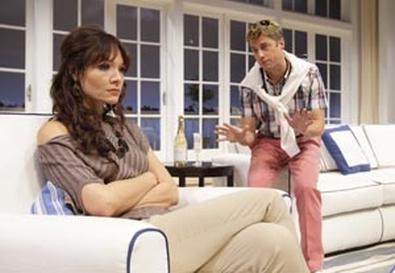 What in the blazes is the significance of this peculiar alphabet-soup title? That's one of many surprises in Molly Smith Metzler's caustically funny and bracingly incisive social satire, which offers a hearty dramaturgic stew. Exploring an eventful post–Labor Day encounter among five characters, Metzler zeroes in on a knock-down, drag-out culture clash between members of the restless middle class and the self-deluded idle rich. Much in the way that we learn unexpected things about people we get to know in life, Metzler's characters reveal sides of themselves that we can't see coming, though they make perfect sense in retrospect. Director Marc Masterson helms South Coast Repertory's hugely satisfying L.A. premiere of Metzler's smart and sassy work.
Serving as the story's primary voice of reason, working-class Devon (Cassie Beck), rebounding from a broken romance, travels from her Buffalo, N.Y., home to Martha's Vineyard to visit her younger sister, Simone (Melanie Lora), the extravagantly paid assistant to self-centered trophy wife Michaela (Katrina Lenk). Basking in the creature comforts and sinfully lush surroundings of Michaela's guest house, Simone plans to treat her sibling to a weekend in paradise. What she hasn't bargained for is a distraught Michaela, supposedly on vacation, showing up at the estate following a major fight with her husband. While Devon tries to bring Simone down from the clouds, pointing out that she has abandoned her career dreams and is becoming corrupted by the lure of filthy lucre, Michaela has some manipulative plans up her sleeve, leading to a confrontation with Devon. When Simone's shallow but filthy-rich boyfriend Ethan (Jamison Jones) also unexpectedly shows up, the stage is set for a series of rude awakenings and tough decisions.
Though Metzler would do well to trim some of the boisterous comedic exchanges that veer toward sitcom broadness, prolonging the story's progression into darker and more cerebral territory, this is an uncommonly moving work that's particularly rewarding in its multidimensional view of sibling bonding. Lora and Beck turn in first-rate characterizations, skillfully navigating the script's quick transitions from hilarity to poignancy. Lenk superbly captures the essence of Michaela's superficial values and less-than-admirable behavior, as well as the character's eleventh-hour earning of our empathy. Jones does respectable work in a role that's too close to caricature. Jonathan Nichols provides yeoman support and plenty of laughs as the outspoken Hispanic groundskeeper.
Ralph Funicello's almost entirely off-white set expertly conveys the luxuriousness of Simone's dream surroundings. Lap Chi Chu's lighting and David Kay Mickelsen's costumes are likewise major assets. This splendid production represents an auspicious bow for Masterson, who formerly headed Actors Theatre of Louisville, as SCR's new artistic director.
Presented by and at South Coast Repertory, 655 Town Center Dr., Costa Mesa. Feb. 4–26. Tue. and Wed., 7:30 p.m.; Thu. and Fri., 8 p.m.; Sat., 2:30 and 8 p.m.; Sun., 2:30 and 7:30 p.m. (No performance Sun., Feb. 26, 7:30 p.m.) (714) 708-5555 or www.scr.org. Casting by Joanne DeNaut.