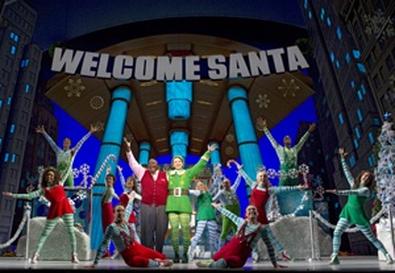 Early in the new musical "Elf," Sebastian Arcelus, as Buddy, a human who thinks he's a holiday sprite, pours syrup and then whipped cream over spaghetti for breakfast. The show itself is much like this inappropriate morning meal: too sweet and a big mess. On Broadway for a limited holiday-season run, the production has been toned down and sugared up from its source material, the 2003 hit film comedy starring Will Ferrell.

The storyline remains the same. As a baby, orphan Buddy crawls into Santa's sack and is raised as an elf at the North Pole. When the boy grows up much taller than his fellow workers at Santa's Toyshop, the big fat guy informs him of his true heritage, and Buddy ventures to New York City to find his real dad. The movie pitted Buddy's relentlessly cheerful cluelessness against the nastiness of Gotham. The musical fails to provide a sufficiently dark environment for the hero to react against. Everybody drops the Scrooge attitude way too quickly.

In addition, too much of the show is overly familiar. The basic premise is awfully close to that of "Big": a childlike innocent in an adult's body making his way in a business specializing in kids' stuff. In "Big" it was toys; here it's children's books. Similarly, Casey Nicholaw's direction and choreography aren't particularly fresh. For example, the big 10 o'clock number, in which Buddy pitches his life story as a book to save his publisher father's ass, borrows heavily from "Brotherhood of Man" from "How to Succeed in Business Without Really Trying," with its execs breaking into dance on top of boardroom tables. Thomas Meehan and Bob Martin's book relies far too much on brand names like Duane Reade, Taco Bell, Jenny Craig, and iPad for laughs. This is a surprise considering the track record of these two. Meehan co-authored such recent classics as "The Producers" and "Hairspray," while Martin collaborated on the brilliant "The Drowsy Chaperone." Even the design elements are halfhearted. The usually imaginative David Rockwell has provided cheap-looking sets for this flimsy Christmas card.

Likewise, the score, by composer Matthew Sklar and lyricist Chad Beguelin—the team from the underrated "The Wedding Singer"—is largely a letdown. Most of the songs sound like every Christmas tune you've ever heard. It's only when they are called upon to depict an emotion other than holiday cheer that they really cook. "Nobody Cares About Santa" is a refreshingly snarky lament by criticized Kris Kringles on the lack of yuletide civility, and "Never Fall in Love," a harshly funny comedy number for Buddy's love interest, has bite and sass, especially as delivered by Amy Spanger, Broadway's go-to girl for spunky ingénues.

Spanger and the rest of the cast do their level best to make up for the deficiencies of the script and score. Arcelus is an ideal Buddy. He doesn't attempt to imitate Ferrell but provides his own winning and sunny presence, without going overboard into sugary sweetness. George Wendt plays Santa with the understated dryness he gave to Norm on "Cheers." Mark Jacoby can't do very much with the one-dimensional role of Walter, Buddy's all-business father, but he turns in his usual professional job. As Walter's wry wife, Emily, Beth Leavel deserves a medal for lending much-needed depth and spark to the bland proceedings. In supporting roles, Michael Mandell as a grumpy store manager and Valerie Wright as a sarcastic secretary stand out. But even the most fantastic cast possible couldn't rescue this mediocre show.

Presented by Warner Bros. Theatre Ventures in association with Unique Features at the Al Hirschfeld Theatre, 302 W. 45th St., NYC. Nov. 14–Jan. 2. Schedule varies. (212) 239-6200, (800) 432-7250, or www.telecharge.com. Casting by Telsey + Company.