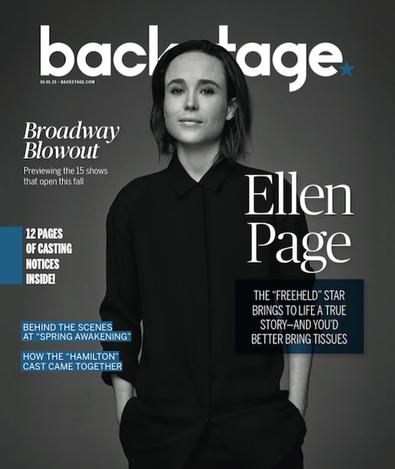 Ellen Page took up surfing this year.
"I'm definitely addicted," she announces as she relaxes in the restaurant at L.A.'s Chateau Marmont in early September, her right leg up on the chair, a black ball cap on her head. "Yesterday, I went out—not in those huge waves, I'm just still learning. But I do think, If I'm shooting a movie, I'm gonna miss out on a month of surfing…." She laughs, as she does often during the conversation.
Asked what provoked this surfing fascination, Page, who turned 28 in February and has been acting since she was 10, says, somewhat sheepishly, "I'm in a relationship with a good surfer. It always sounded really appealing, and because I'm from Nova Scotia, [Canada,] I have a healthy fear of the ocean. I think there was something fearful [about learning], and then finally I just started doing it." Now, she confesses, she gets a little antsy when she hasn't been in the water for a while. "When I go away to work, I do really miss it," she admits. "Like, damn it, why'd you show me how to do this?"
Page's story about surfing encapsulates much of what's special about this Oscar-nominated actor. Unassuming but also pretty fearless, her performances have a centered confidence, her characters curious and open. Additionally, the anecdote reveals a very happy development in her personal life, a newish relationship with painter Samantha Thomas. More than a year after coming out, Page has become not just a spokesperson for LGBT rights but an artist whose own journey is reflected in her latest project, "Freeheld," a legal drama based on the true story of a New Jersey lesbian couple who, in the mid-2000s, fought discrimination to hold onto one partner's pension benefits.
The film stars Page as Stacie Andree, a mechanic, who fell in love with Laurel Hester (Julianne Moore), an older detective, their relationship a secret because Laurel feared her sexuality would keep her from career promotion. But after Laurel was stricken with cancer, they realized that her state pension wouldn't be transferred to Stacie when Laurel died, even though they were domestic partners.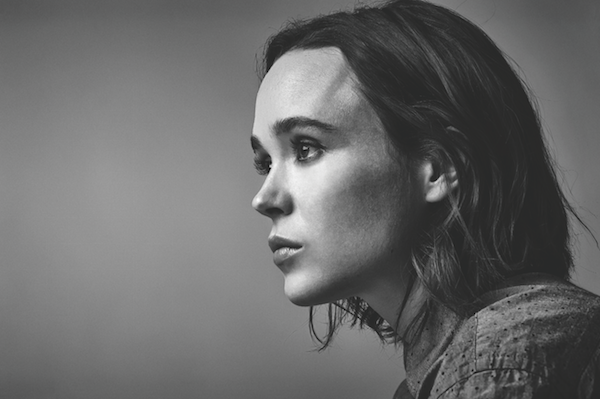 Page became aware of Stacie and Laurel's dilemma thanks to a documentary, also called "Freeheld," which won the Oscar for best documentary short subject at the 2008 Academy Awards. (It just so happened Page was at that ceremony, nominated for best actress for her breakout role in "Juno.") Part romance, part courtroom drama, the new film has been a long time coming. Page signed up as a producer early on, and then waited for the project to get rolling. "The film, for me, was a love story," she says. "And then the goal was to make it as authentic and as truthful as possible."
But to hear Page tell it, the delays to get "Freeheld" made didn't discourage her—if anything, she was relieved. "It was a positive thing that it took that long," she says. "I just shot a movie this summer that was supposed to happen two years ago. There were certain themes in that movie where I was so glad [it was delayed for] two years, because I feel like I know more about myself that related to the character that I could bring in." She laughs. "So I would say I always get excited when a part I'm really, really excited about playing gets pushed, 'cause I get a little more study time."
In "Freeheld," Page is suitably low-key as Stacie who, alongside Laurel, never envisioned herself as a marriage-equality advocate. Instead, they just wanted to ensure Stacie's security after Laurel passed. Page, who has appeared in the "X-Men" films and "Inception," is still perhaps best known for playing sarcastic pregnant teen Juno MacGuff, but one senses that in the eight years since that iconic role she's evolved far beyond the character's hipster ethos.
"[Stacie,] I actually feel, is more myself," Page says. "I tend to be identified mostly with one specific character I played when I was 20 years old that is bigger and, I feel, has an emotional chord in groundedness, but is more character-y for sure. [Juno] had a very specific way of talking—partly, of course, because of [screenwriter] Diablo [Cody]'s writing, and then partly because of the intonation that Juno spoke with, which I don't even think I could do anymore." Page laughs, returning her focus to her muted portrayal of Stacie. "This [character] was, weirdly, more in tune.… I don't know, maybe it's because I'm getting older." She gets quiet, thinking it over. "Stacie's super sweet, super funny, but definitely on the shy side. I'm drawn to performances that are really subtle."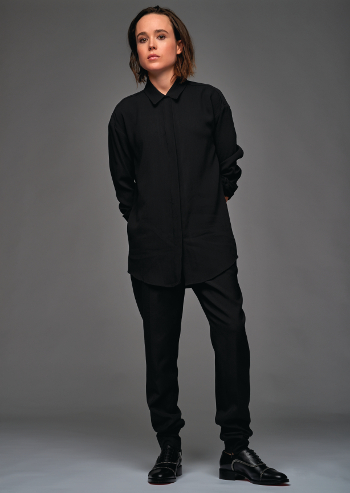 She's been that way since she started acting at a young age. On a lark, she auditioned for the Canadian TV show "Pit Pony" and got the part. She then auditioned for another Canadian TV show, "Trailer Park Boys," and got that part, too. The whole thing happened almost by accident, because actor John Dunsworth visited her school when she was 10 and suggested she give acting a try. Page says, "I do think, If I had been sick that day at school, what would have happened? Would I have stumbled upon it? I always loved acting—I made my mom take me to the high school plays—so there was that innate desire."
But as she started taking a career seriously, she studied films, struck by Shelley Duvall and Sissy Spacek in "3 Women" and Samantha Morton in "Morvern Callar." And while she's a fan of a wide range of performances, she offers, "Maybe I'm attracted to subtlety because maybe that is the harder thing to do. It's harder to be still and exist in that moment…. I'm looking for honesty, and that's what I'm attempting to do."
Honesty was not always so easy for Page. Referencing Stacie and Laurel's clandestine love affair, she says, "The issue of being in a closeted relationship was, needless to say, something I understand. I've been in closeted relationships, and it's not as simple as people think. I mean, I'm sure it can be. But if you're existing in one it's because one person, or both people, have made a conscious choice to live and exist that way—you understand the complexity of the situation and you're doing it. I thought that was something new to look at, or add a different dimension to. It sucks, but Stacie gets it; Laurel is a cop and she does have goals, and if she had been out from the get-go, she wouldn't be where she is in her career. We do live in a homophobic and transphobic society—it's changing quickly, but that's just the reality of the situation."
Page has witnessed both the shifting cultural winds as well as some of the old resistance since she came out on Valentine's Day 2014. The actor says she received mostly positive feedback from her announcement. "I might get some homophobic stuff on my social media," she acknowledges. "Who cares? That goes in one ear and out the other. It makes me more sad, because it's representative of a really unfortunate, ignorant way of viewing the world that does lead to a lot of pain."
Not to mention some awkward social interactions. Page recalls being on a plane and a pastor handing her a note. "When he passed me the letter, I was thinking, Oh, it's a really progressive religious person that's writing me a letter, that's so nice," she says. Instead, she discovered it was a note warning her about her sinful lifestyle. "He signed it, 'Your Heavenly Daddy,' with a smiley face—it was just next-level crazy. So you're, like, 'I have to frame that, right?' The letter said, 'You need to find God,' and 'Maybe your father wasn't in your life.' No, I have a great dad who's totally accepting."
Shortly after speaking to Backstage, Page will attend the world premiere of "Freeheld" at the Toronto Film Festival, where she'll walk the red carpet with Thomas, declaring to reporters, "I'm in love." But for today, she's thinking about her film's message and her own advocacy. "I ended up in a position where I get to do something I love that, for some reason, is a popular thing for humanity," she says. "In return, I get to live a very comfortable life already at a young age. That's crazy. So I personally feel, for me, there is a moral imperative to [speak out]." She pauses. "The LGBT community is a minority. Even though we've had so many positive things happen, there still are a lot of issues. I probably won't make everyone happy. All I can do is my best."
Want to read more? Check out our Backstage covers here!