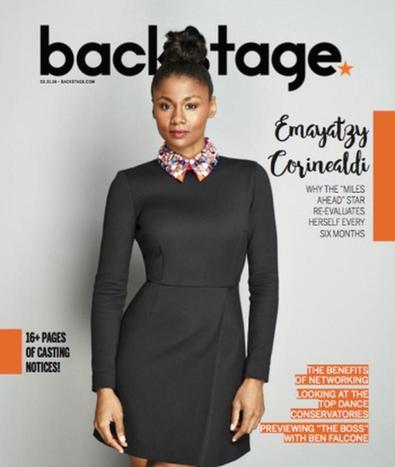 When Emayatzy Corinealdi moved from the East Coast to Los Angeles in the early 2000s to bolster her nascent acting career, she started a ritual that she's followed to this day.
"I do these assessments every six months," she says while lunching in the North Hollywood Arts District the day before the Oscars. Putting pen to paper, Corinealdi will hang out on the beach and chronicle how she's doing professionally, what she's achieved, and what she'd like to do next. For that first assessment, written after driving cross-country in her Nissan Sentra and becoming roommates with a complete stranger in the Valley, Corinealdi jotted down three goals. "Try to get an agent. Get headshots." She laughs. "And I was going to take over this business. That is so clichéd! 'Did she really write that?' I really wrote that."
Flash-forward to today. Has she taken over the business? No, but she's making her name in it. It's been four years since her breakthrough performance in the poignant romantic indie "Middle of Nowhere," and she's about to return to theaters as Frances Taylor, Miles Davis' captivating muse in the dark biopic "Miles Ahead."
Don Cheadle, who directs and stars, had long wanted to make a film about Davis, and he was instantly taken with Corinealdi's talent. But the clincher was her first day on set, when Cheadle had come straight from shooting a different time period depicted in the movie and needed her to jump right into a pivotal, fraught scene. "I just sat down with her and said, 'We have to get to this emotional pitch, and you have to be at this emotional level without any benefit of any run-up,' " he remembers. "She had to start at the highest point that her character was going to be emotionally, Day 1, without any preparation. And she was just there, she just immediately dropped in. I knew from that first moment that we were going to be all right."
Onscreen, Corinealdi radiates vulnerability fortified by an inner fire, her character's sweetness clearly hard-earned. In person, she couldn't be lovelier, laughing easily and exuding self-deprecating charm. A woman of faith, she pauses to say a silent prayer before we eat, and she believes firmly that her career path is all part of God's plan for her. But don't let her demure manner fool you: She grew up the daughter of a father who worked in the military—he was a chef—and she got used to moving around every few years, jumping from Germany to different parts of the United States. She was a good student and a standout in track, but she also got into fistfights.
"Every time I moved, I was in a fight of some sort," she says, still bewildered. "I was never one to go and start a fight—people always wanted to fight me. I grew up a tomboy. I've always been very rough-and-tumble."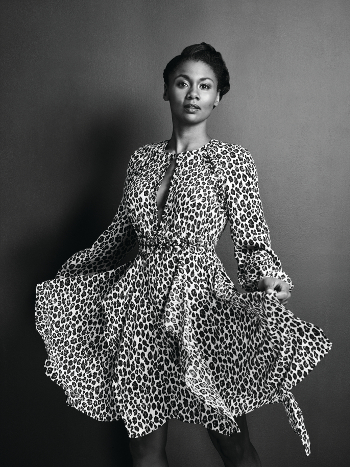 Her last skirmish was in high school, when her family was stationed in Leavenworth, Kansas. "This girl, she just didn't like me—there was no real reason—and she decided she was going to fight me in the hallway between classes one day," Corinealdi recalls. "I ended up beating her up, and the principal came out…" Her voice trails off, a mixture of laughter and embarrassment. "I told my dad, 'She started it!' It was crazy."
Such scrappiness isn't initially apparent in her role as Taylor, an accomplished, elegant dancer who became Davis' first wife in 1958. But "Miles Ahead" reveals how the great trumpeter's all-consuming passion for Taylor often tipped over into possessiveness, the threat of violence hovering over the woman's head. Davis' obsession with controlling Taylor extended to his insistence that she give up her career to be closer to him, a request she eventually honored.
Playing Taylor is challenging, though. How did Corinealdi justify a character who might seem weak for staying with such an abusive egotist?
The trick was asking Taylor herself.
"[Cheadle] put me in touch with Frances, and she and I got to sit and have lunch," Corinealdi says. "She's a little tiny woman, beautiful, but she has this light about her that I just found so striking. She's been able to let go of any anger she might have had toward Miles. But that was the question I had: 'What made you stay for so long? What made you say yes to him in asking you to give up your career?' And she says with this pause, 'Well, I loved him.' "
As Corinealdi relates this anecdote, she seems touched by the sentiment's simplicity. "I waited—I didn't know if something else was going to follow that—and that was just it. That was the starting point [for me], just going from that."
It wasn't until Corinealdi was a senior in high school that she decided to pursue acting after abandoning the notion of becoming an attorney. (She remembers telling herself, "You like the acting that they do in the courtroom. You don't want to be a lawyer; you want to play a lawyer.") She left Kansas for New York's William Esper Studio and the Actor's Training Studio, and when she chose L.A. as her next stop, she spent her early years in Southern California continuing to focus on her craft at Playhouse West.
She credits her military upbringing for giving her the discipline she's needed. (Plus, she's very handy: "I've built beds and benches with hinged lids and shelves and wine racks. I literally go to the store and get the wood and cut it in the shop and build.") That studiousness pays off for her preparedness. "When it's time to do something, you make a plan and this is how you attack it," she explains. "But sometimes it's been a bit of a hindrance because I'll think, 'I've worked hard, so this should be the result.' I've learned that [logic] doesn't always apply to the creative world."
That lesson has had to be learned several times over the years: Since moving to L.A., she's worked on indie films that sat on the shelf and has been part of promising pilots that never got picked up. Even when she was cast as Ruby, the silently suffering wife in writer-director Ava DuVernay's "Middle of Nowhere," the road to landing that lead role wasn't smooth. She initially went in to read for the supporting part of Ruby's sister but impressed the casting agents enough to be considered for Ruby.
"I just knew who she was," Corinealdi says. "Just being in that place of trying to be everything for everybody is how I relate to her. In doing that, you could sometimes find yourself in the middle of nowhere trying to figure it out. It connected to me on a level that I just thought, Oh, I know I can do this."
Her confidence wasn't misplaced: She received rave reviews and earned an Independent Spirit Award nomination, winning the Gotham Independent Film Award for breakthrough actor. Unfortunately, the accolades didn't immediately open the floodgates for more roles.
"It was very frustrating," Corinealdi admits. "We couldn't figure out why, other than the film wasn't that big. The analogy that I liked to use at that time was: It opened the door, but then the chain was on and I couldn't get in. Someone left the chain on."
Undeterred, she kept working and things started to fall into place. April will be a big month for her: Not only does she have "Miles Ahead," but the indie horror-thriller "The Invitation," which she made with "Girlfight" director Karyn Kusama, also hits theaters. Then in May, she'll be part of the remake of the landmark miniseries "Roots," which will air on several cable channels starting on Memorial Day. She has done her best to keep her head down, have faith, and attend to her semiyearly assessment report.
Except, she has a confession to make.
"I feel guilty," she says sheepishly. Her dirty little secret? She still hasn't finished her January assessment—and it's driving her crazy. "I started it, but I've not finished it, which is something I've never done. This is a first for me. I'm, like, 'Emay, you're about to be in March and you have not finished your assessment!' My husband said, 'Just go sit and do it.' But I have to go to the beach, and it has to be a special thing."
Corinealdi shouldn't be too hard on herself: She's been busy with the work that brought her to Los Angeles in the first place. Nonetheless, she's looking forward to the ritual, which requires going back and reading the old entries. "I really just want to see a full picture of where I started and where I am now," she says. "See my weak spots, see my strengths. Especially when you are facing so much rejection at times, you feel like you're getting nothing done. But you can look and see, 'No, you actually are doing something.' "
Want to read more? Check out our Backstage covers here!