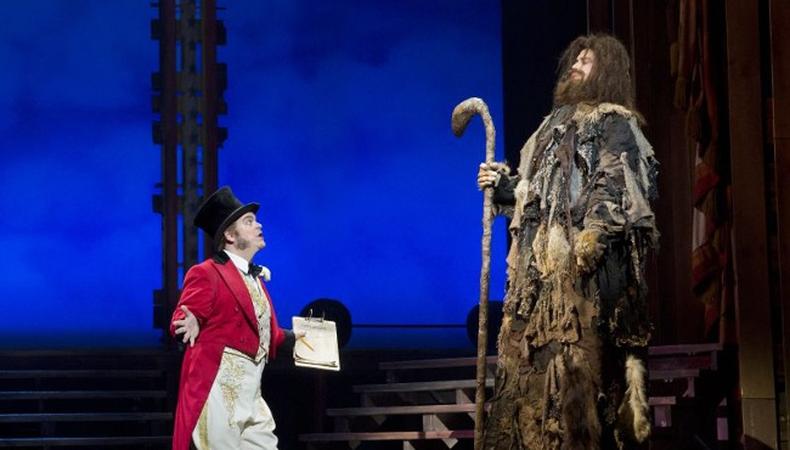 When Ryan Andes first ducked out the stage door of the Neil Simon Theatre back in October, he towered over fans. At just under 6 feet 5 inches—with a booming bass to match—Andes was the ideal type to play Karl the Giant in the fantastical "Big Fish," in which he made his Broadway debut. Being cast was not only a fulfillment of his dream, but the creative team's. "They were looking high and low to fill this role. I was the only person at that audition," says Andes. "The breakdown, I remember, was, 'Actor must be 6 feet 4 inches or taller, a true monster, a basso profundo, with the comedic timing of Eeyore.' "
They found that specificity in Andes. At times in his career, his "monstrous" stature may have felt like a hindrance to finding work, especially in television. Yet his recent musical theater success came with embracing who he is—and that includes his height. "I started realizing that what I have is actually very much a benefit because I'll never fall into the average type, and I think that's a really good thing for me," says Andes.
Likewise, Broadway veteran Ann Harada has made her mark by owning her singularity. As a minority actor her race may have been the first thing people noticed when she was starting out, but she identifies—rightfully so—much more as a character actor than an Asian one. "Obviously I wouldn't have been in 'Avenue Q' if I hadn't been Asian, which is theoretically the show that put me on the map," says Harada of her turn as sassy immigrant therapist Christmas Eve. "But there are certain shows that come along and you think, Yeah, there are a lot of Asian people in this...I could be in this, and then I'm not in it."
Even before she became well-known for her talents, and in the days when race was more of a factor in casting, Harada never self-imposed limits for what she should and should not audition. "I would go into these open calls for, say, 'Oliver!' and they were like, 'Who do you think you could play in 'Oliver!'?" Harada recalls. "That's not my job. That's [their] job. I think I can play anybody!"
Andrew Femenella, casting associate at Telsey + Company, agrees, saying, "We always advise actors to let the casting people worry about the casting bit." Forget preconceived notions about what creative teams might be looking for. "It's hard enough to get your foot in the door; don't walk away from a door just because of what you think is going to happen on the other side of it."
That being said, casting is inherently a weeding-out process, and big success is rarely immediate. "When you're young, you forget you might have to wait," says Harada. "I didn't realize when I was 25 or 27 that my type really wasn't all that usable, to be a character actress at that age, especially trying to be an Asian character actress—just try to find a part."
Like Harada, some actors may have to grow into their type. For others, Broadway might have to do the growing. The landscape of roles in commercial theater, ensemble and principal, go through phases. There might be nothing right for a performer one moment, then suddenly roles like Karl, Christmas Eve, Tracy Turnblad, and Frankie Valli pop up and put actors on the map.
Biding their time, Harada and Andes worked as they could until their quirks became assets with big payoffs. Harada says, "Sometimes I feel like I'm successful now because I stuck it out and so many of my peers just left the business. As Ann Harada, I will only be more usable the older I get." Andes "stuck it out" mainly by doing voiceovers and working in opera, his classically trained bass serving him well. "Being a large person on an opera stage makes sense," he says. "It heightens the drama; it heightens the stage picture." Not to mention being a tall bass is a quintessential match of sound and stature. "Most of those [bass] roles have a certain amount of power and presence vocally and physically, and for me it kind of worked out."
The key to success in the audition room is to flaunt that singularity and carve out a niche as a performer. "It's important to celebrate all those things that make you unique," says Femenella.
As Andes says, "[Musical theater] is so inundated by types. In order to stand out, you have to almost invent your own type. You have to figure out a way to operate within a type system, but do it slightly differently."
Inspired by this post? Check out our audition listings!