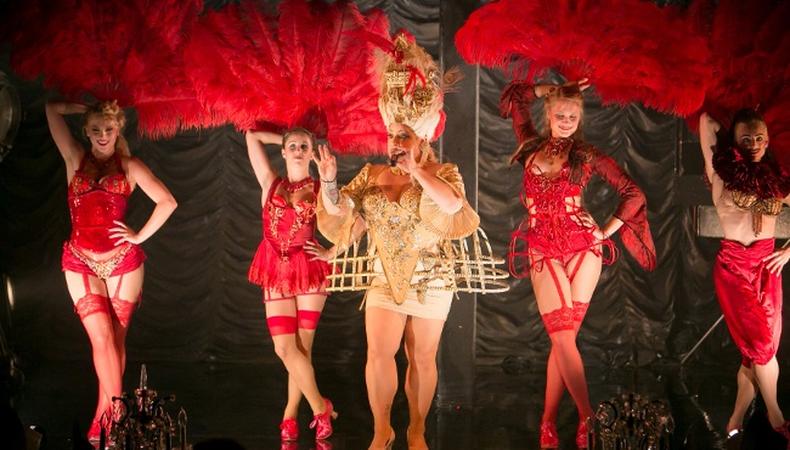 Havoc can be the finest of creative motivators. When Hurricane Sandy flooded the 2014 Drama Desk–nominated Company XIV's studio, founder-director-choreographer Austin McCormick took his show on the road, moving around New York City with a new production in each location. He was unknowingly building what would be "Rococo Rouge," a lush dance production full of grandeur, glitter, and feathers with a tight thematic lens: stories of love, loss, and desire.
"I wanted to kick it off with variety," says McCormick, a graduate of the Conservatory of Baroque Dance with a BFA from Juilliard. "I grabbed pieces that we made [for other shows] and rejiggered them, so a lot of this material [for 'Rococo Rouge'] is little things that we did in that year of being mobile."
Now based in a theater-lounge hybrid in the East Village, "Rococo Rouge" is a classically influenced mash-up of gender-bending circus performance, ballet, burlesque, an operatic version of Iggy Azalea's "Fancy" and other covers, and decadent costumes. It seems all the relocations opened the door for an eclectic variety show that's a departure from past Company XIV productions such as "Snow White" and "Nutcracker Rouge"—not to mention that its new performance space comes complete with fancy cocktails and costumed waitresses.
"[When Hurricane Sandy happened] we thought, Maybe this is an opportunity to find a space in Manhattan, and that led us to where we are now," says McCormick about the Lafayette Street space. "It's obvious that the economics of live theater are pretty difficult, and I've been looking for an opportunity to fuse it with more of a nightlife-bar situation; it goes with the work and the atmosphere and the economics to have one more [monetary] source. Did you see all those rhinestones? Those aren't cheap!" he says about the costume design.
While the logistics of doing independent theater in Manhattan are complicated, you can't tell by looking at the show's attire: bedazzled creations designed to give the feeling of another era and enough deconstruction to keep the sexiness of a burlesque-influenced production intact. Combined with a touch of modern music and a heavy dose of skilled dance performances, "Rococo Rouge" is as racy as it is entertaining.
In one number, dancer-singer Katrina Cunningham croons Beyoncé's "Drunk in Love" accompanied by an electric sitar player and a slow rain of red confetti before going into a solo dance number well matched to the song's sensual, performative tone.
"There's an emphasis on acting, emphasis on character work and the purity of the technique in the dancer," says Cunningham. "There's so much ballet and so much specificity in [McCormick's] work, and we're all encouraged to be individuals. If you look at our company, we all have wildly different bodies; to be frank, I faced a lot of adversity in the dance world because no one wanted to take a chance on me, on a different body type—particularly in more commercial work."
As a choreographer, McCormick works to highlight and bring out those differences in his dancers both personally, by utilizing all their "hidden talents"—like Cunningham's surprise vocal capabilities—and technically, with an acting technique called Lucid Body. Developed by Fay Simpson, the method forces dancers to find their characters using the seven emotional chakras commonly associated with yoga.
"I have a lot of questions about the way the dancers trained, in terms of experience," McCormick says. "Many have an idea that there's a big separation between who they are and what they're bringing to the table with who they are as a dancer. [It's] this idea that when they move or start to dance that they drop who they are and become neutral—that's the opposite of what I'm interested in. Invest in who you are and don't allow training to strip that."
Inspired by this post? Check out more of our dance coverage!