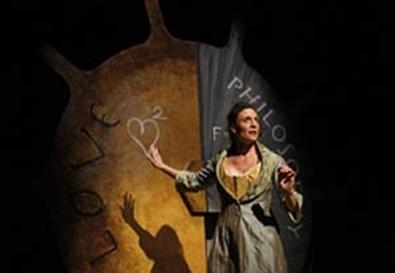 If you're the kind of person who has ever wondered what little sobriquet Voltaire's sweetie pie gave him, this just might be the production for you. The real-life philosopher, scientist, essayist—and, according to playwright Lauren Gunderson, actor—figures largely here, and we've heard of him. Why most of us haven't heard of the real-life mathematician, physicist, and author Gabrielle Émilie Le Tonnelier de Breteuil, marquise du Châtelet, is an American scholastic lapse, readily attributable to a disesteem for womenfolk, particularly as great thinkers. Women are good at having feelings, though, right?
Gunderson's script isn't flawless. It's a touch too repetitive; the audiences this production will attract do not need that much spoon-feeding. And the script is encumbered with a return-to-life-from-the-dead framing device and scene-setting spoken placards announcing "The scene in which…." On the other hand, that breaking up of scenes turns the whole into a tidy series of slides under a microscope, and that framing device could be the best depiction of such a thing as "spirit" outside of the laws of physics.
Thanks to David Emmes' direction, we loft through the Age of Enlightenment—listening to the actors' breezy badinage and persiflage, happily distracted by the heavenly high-style look of that world (costume design by Nephelie Andonyadis, scenic design by Cameron Anderson). Pointedly, however, it's all so much a cover for the heartache of being dismissed from the mind and bed of another. Despite money, education, raw intellect, and enough appeal to attract lovers seriatim, Emilie is a mere mortal, and her hyperconfidence isn't enough to unfetter her.
Natacha Roi fills the bill as Emilie, burning with intelligence, so electrically charged as to be unable to embrace Voltaire—whether because they are of different spectra or because the female intellects of the era are not to be thought of as so occupied. Roi's worthy stage partner is Don Reilly, who makes Voltaire admirable even though a petulant, narcissistic genius. Susan Denaker, Matthew Humphries, and Rebecca Mozo fleetly take on various other characters: parents, husbands, lovers, younger selves.
And by the way, Emilie nicknames Voltaire "V," which happens also to be the letter she uses in her formula to notate her theory of the force of life. To modern audiences, it also of course stands for victory—a belated tribute to a woman unknown to many, whose ideas are returning to the new millennium for a glance by a less-patriarchic society. Right?
Presented by and at South Coast Repertory, 655 Town Center Drive, Costa Mesa.
April 24–May 10. Tue.–Fri., 7:45 p.m.; Sat.–Sun., 2 and 7:45 p.m.
(714) 708-5555 or
www.scr.org
.