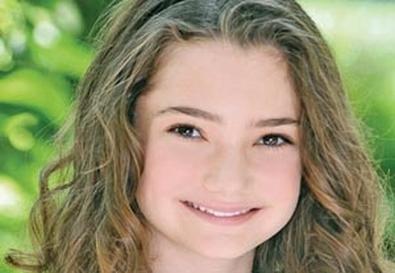 Emily Robinson has been described as an "old soul" by the producer of the musical "Brindlebeast." Born in New York City, Emily began her career with Ford Models and transitioned into television work around age 8. Landing roles on TV commercials, "Late Night With Jimmy Fallon," and "Saturday Night Live," she says she was bit by the acting bug and placed herself in the Back Stage talent database to find "some great parts that are out there for me in television, theater, and film." As a student of Manhattan's Professional Children's School, the union actor—she belongs to Actors' Equity Association, the Screen Actors Guild, and the American Federation of Television and Radio Artists and is currently represented by Innovative Artists and Marilyn Zitner Management—additionally augmented her education with private training in dialect, singing, tap, and ballet. However, this skill set alone wasn't broad enough to encompass the role of Tessa, a child of a deaf adult, in "Brindlebeast." In addition to dancing and singing, the musical's sides required a performance using American Sign Language.
Anita Riggio conceived the Equity project as writer and lyricist, having first written the children's book "Beware the Brindlebeast," based on her own experience. The musical focuses on confronting your personal demons and involves a deaf single mother and a children's book illustrator coming together and resolving their personal issues. Tessa is the matchmaker daughter of the single mother, eager to be a conduit of information between the two via signing.
"I looked through all the photos and résumés of all the 9- to 12-year-old girls in the Back Stage roster," states Riggio. In producing her own work, Riggio knew it was paramount to cast the best talent and went about setting up multiple auditions. She vividly remembers the impression Emily left on her. "Emily did her homework," Riggio recalls. "She came prepared knowing fingerspelling and a few signs. She looked everyone in the eye, asked questions, and established immediate rapport with Eric Kunze [the male lead] by teaching him how to fingerspell his name."
Emily knew that confidence with the sides was key to landing this role. "You usually are only given a few pages of script, with very broad descriptions," she explains. "But if there is something like ASL, I do as much research as time allows." In regard to preparation, Emily is currently taking acting intensives with Diane Hardin and works one-on-one with choreographer Lane Napper.
"Brindlebeast" is currently being developed. Emily explains, "We have been in the recording studio once and will be headed back to record more songs. We are hoping to have a producer's reading later this year. I have learned so much from this role, and the signing will stay with me forever."
Has Back Stage helped you get cast in the past year? We'd love to tell your story. Be in the weekly column by emailing casting@backstage.com for New York or bswcasting@backstage.com for Los Angeles with "I Got the Part" in the subject line.