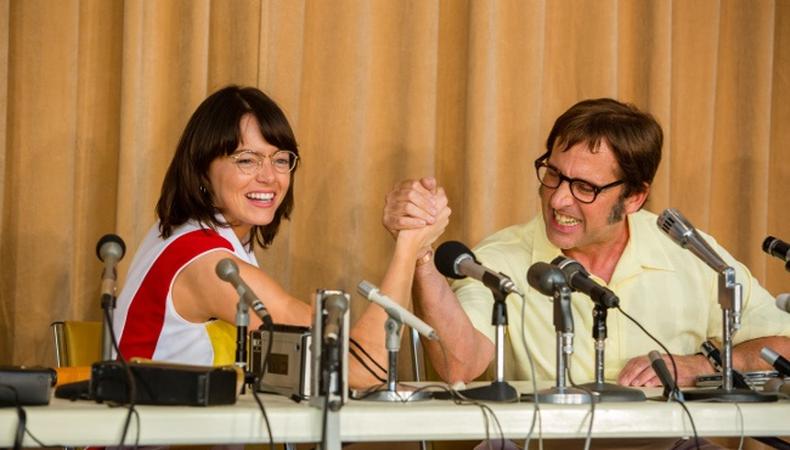 When preproduction for Valerie Faris and Jonathan Dayton's "Battle of the Sexes" began in 2015, they couldn't have known the political significance a true-story account of Billie Jean King and Bobby Riggs' famous 1973 tennis match would hold just two years later. Sure, Faris says, "timing was somewhat critical" for the film, which echoes important issues of gender and LGBTQ equality. But after last November, there's an especially poignant satisfaction in seeing an unapologetic, first-of-her-kind feminist take down a cartoonish chauvinist in a climactic face-off on the court. Faris cites the film's lasting emotional impact as incidental "wish fulfillment."
"I don't really want to characterize how it feels different, but I know it's even changed for us," she says. "What drew us to [the film] was both of their stories, but [King's] in particular: how she sought change and how it began on a very personal level. It really resonates in deeper ways, which is fun. I mean, that's the great thing about making films: They have a life of their own, and as times change, the meaning evolves."
READ: Emma Stone Speaks on the Movie Musical of the Decade
It all made for the kind of project that was "very easy to get people on board for," Faris says. Over its two-hour runtime, audiences can expect to see many familiar faces beyond "La La Land" Oscar winner Emma Stone as King and Steve Carell as Riggs. (And could you ask for more pitch-perfect casting than Carell to run the Bobby Riggs Circus?) Among them are a particularly memorable Sarah Silverman as Gladys Heldman, Alan Cumming as Ted Tinling, and Elisabeth Shue as Riggs' wife, Priscilla Wheelan. "One of the great things about shooting in Los Angeles is you have access to all these great performers," Faris says. "We love working with ensembles, and that process of getting a great group of people together and setting them in motion."
It's a love for actors the husband-wife filmmaking duo have mined for the screen before. The ensemble project that first put them on the map, in fact, was also the first that proved Carell—then the funnyman from "The 40-Year-Old Virgin" and "The Office"—could handle a dramatic role. "Little Miss Sunshine" was 2006's little indie that could, ultimately garnering four Oscar nominations, including best picture, and taking home two for supporting actor Alan Arkin and screenwriter Michael Arndt.
READ: Steve Carell's Agent Told Him to Quit the Business
While "Battle of the Sexes" marks a reunion for Faris, Dayton, and Carell, this '70s period piece felt different because it was their first time recreating real people and events. "We didn't want Bobby to be reduced to a clown," Dayton says of the larger-than-life figure. That meant Carell had to exhibit vulnerability behind the Riggs persona—through the course of the film, his marriage is on the rocks while he battles a gambling addiction, for instance—while also meeting the role's physical demands. As such, he trained for four months with Riggs' trainer, Lornie Kuhle, before filming. Stone, too, "really worked from the outside in on this," tapping into King's physicality on and off the court and finding the precise delivery and cadence of the Tennis Hall of Famer's voice.
In the end, though, the most important component of all of the "Battle of the Sexes" performances was the actors' ability to find their characters' "inner life... Both Steve and Emma focused on that," Dayton says. It's an intangible skill set that starts in the audition room. "We look for [that] internal life," Dayton continues. "There are people who in doing very little just remain interesting to watch.... It's not always about line delivery." From "Little Miss Sunshine" to "Battle of the Sexes" to whatever projects lie down the line, he and Faris need actors who "take ownership of the role and dig in and feel responsible for the character. We continually shape it with them, but it's best when the actor really is invested in that way."
Want to work in nonfiction film? Check out Backstage's film audition listings!