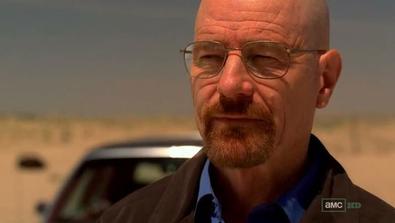 For the Emmy Awards, acting nominees get to submit an episode that they feel best showcases their talent. We'll be looking at the episodes submitted in each category over the next few weeks. We've covered supporting players in drama, now it's time to look at the leading men who make up a very competitive field this year.

Hugh Bonneville ("Downton Abbey") - "Episode 3.05"
When their daughter dies, Robert blames himself—and so does Cora. One of the saddest episodes of "Downton Abbey" to date, Sybil's death rocked the show. Things were made even worse by the fact that it might have been prevented—had Robert only listened to the family doctor, who insisted she was suffering from eclampsia. We see Robert's arrogance destroy him, and when he realizes what its cost, that tough veneer crumbles. While Bonneville is great as always, Robert is not terribly likable in this episode, which might hurt his odds.

Bryan Cranston ("Breaking Bad") - "Say My Name"
When Jesse and Mike try to get out of the business, Walt attempts to make a new partnership. Interestingly, this is the same episode submitted by Jonathan Banks, who plays Mike. It's easy to see why: He gets a big death scene. But Cranston is just as good, as always. At first, Walt shooting Mike is unexpected—the normally rational Walt explodes in anger. But his remorseful turn when he realizes it wasn't necessary is haunting. And of course, there's the great dialogue Cranston gets to spit out—most notably the line from which the episode takes its title.

Jeff Daniels ("The Newsroom") - "We Just Decided To (Pilot)"
In the first episode of the show, Will returns to his job after a PR disaster. While there were perhaps juicier episodes later in the season, a pilot episode is always a safe bet with Emmy voters, in case they aren't regular viewers. They don't have to rely on previous history to jump right into the show. Which is likely why Daniels chose this one—that, and the outraged monologue he gets to deliver at the beginning. It's also early on and Will comes off much more likable, as opposed to later episodes when he grows increasingly testy.

Jon Hamm ("Mad Men") - "In Care Of"
In the season finale, Don's life is falling to pieces. Again. It probably doesn't matter what episode Hamm submits, as Emmy seems determined not to recognize his excellent work year after year. Still, I'm surprised he didn't go with "The Crash," in which he spends a drug-fueled weekend working on a campaign. But the finale shows Don dealing with a roller coaster of emotions—Don recognizes his destructive behavior and loses everything. A new chance on the West Coast seems possible, but when that slips through his fingers, we are left contemplating his future. One that we can only hope includes an Emmy at last.

Damian Lewis ("Homeland") - "Q&A"
Being interrogated by Carrie, Brody at last breaks down. Many people found this to be a controversial episode, but no one will argue that Lewis was anything but brilliant. Finally caught, he has to play a wide range of reactions. First, he tries to continue to bluff his way out of his situation with the bravado he's used all along. But when he crumbles there is such agony—and yet relief. Fans have waited for this moment for a long time, and Lewis doesn't disappoint.

Kevin Spacey ("House of Cards") - "Chapter 1"
In the first episode, U.S. Representative Francis Underwood mercy kills a dog and gets the shaft at work. We get pretty much all we need to know when we first see Francis breaking the neck of a dog that's been hit by a car. Cold, efficient, and there to serve the greater good. It's a good episode to set the tone for the character, though the accent and the metaphors are both laid on a little thick.
Final thoughts: Daniels has one thing none of his opponents do: Aaron Sorkin's writing. That said, not everyone warmed to the first season of "The Newsroom" and I tend to think this race is still down to two previous winners: Cranston and Lewis. Hamm is long overdue, but if he couldn't snag it last year, I don't know what more has to be done. At the end of the day, the edge has to go to Cranston. He has the best role on television, he knocks it out of the park every time, and he's universally beloved.