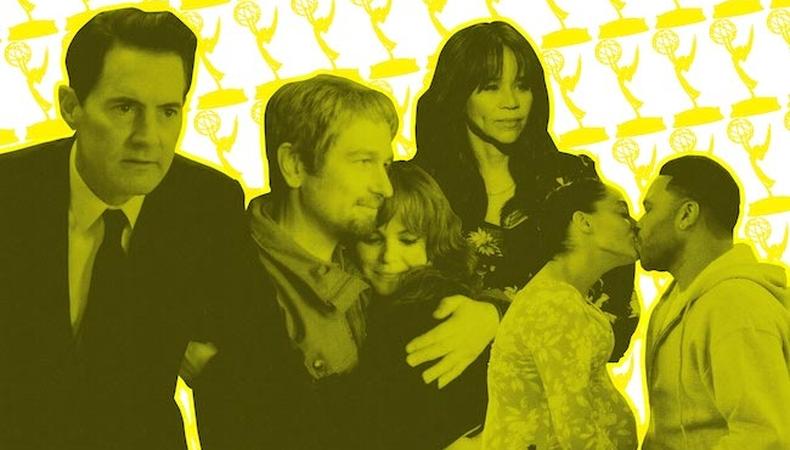 By their very nature, awards shows will always end up with contenders who go home empty-handed. With the 70th Primetime Emmy Awards celebrating the best of scripted television coming up in September, and the nominees to be announced in July, we're rounding up those actors who could (and should) be in the running this year, have been nominated more than once, and have, unfortunately, never won. In other words: those screen talents who are always a bridesmaid and never a bride. It's an honor just to be nominated—but aren't these guys long overdue?
Anthony Anderson and Tracee Ellis Ross
Emmy nominations: 5 and 2
Eligible for: "Black-ish" (ABC), "Grown-ish" (Freeform)
It's about time someone from the Johnson family made it to the top of Emmy voters' lists. As parents Dre and Bow, Anderson and Ross represent both the best of traditional family sitcoms and everything the genre is becoming. Full of history and often recognizably relatable, their dynamic never fails to produce laughs. That is, until Kenya Barris chose his latest subject to unpack: longtime couples drifting apart. Thanks to Anderson and Ross, "Black-ish" Season 4 concluded by pulling off what should have been impossible for a comedy: painting a portrait of a crumbling marriage in all its tragic, thorny nuance.
Angela Bassett
Emmy nominations: 4
Eligible for: "9-1-1" (Fox)
Remember when Bassett brought ferociousness and mysticism, depending on what each anthologized season needed, on "American Horror Story"? Or further back, her grounded power in "The Rosa Parks Story"? Or just last year, breaking our hearts on "Master of None"? Her work in police drama "9-1-1," as should be clear by now, resembles none of those performances. Captivating as ever, Bassett is particularly masterful in tense, high-stakes scenarios, when both the camera and our attention can't help but gravitate toward her.
Tituss Burgess and Jane Krakowski
Emmy nominations: 3 and 5
Eligible for: "Unbreakable Kimmy Schmidt" (Netflix)
The talented Burgess deserves his spot on this list for going three for three in his "Kimmy Schmidt" Emmy nominations; we're crossing our fingers he can extend that track record come July 12. His equally brilliant co-star is unmatched when it comes to haughty hilarity. And when the two share scenes together, they spin comedic gold. (P.S.: Krakowski also put in extra work this season with appearances on "Modern Family," "Drunk History," "BoJack Horseman," "Difficult People," and "A Christmas Story Live!")
Jesse Tyler Ferguson, Ed O'Neill, and Sofía Vergara
Emmy nominations: 5, 3, and 4
Eligible for: "Modern Family" (ABC)
Eric Stonestreet, Ty Burrell, and Julie Bowen have claimed Emmy trophies, leaving the remaining three adult "Modern Family" cast members wanting one of their own. And there's a reason, nine seasons in, that the ABC hit keeps raking in the accolades: these actors' performances are greater than the sum of their (already great) parts. Until the Academy of Television Arts & Sciences institutes a comedy ensemble award, each individual member of this family should be recognized for their endlessly inventive ways of making us laugh.
Lena Headey
Emmy nominations: 3
Eligible for: "Game of Thrones" (HBO)
Queen Cersei needs a statue to match her crown. Headey has made her "Game of Thrones" role one of TV's best villainesses by taking every line, every strained breath, and every opportunity to infuse the character with spite. She has no problem pushing Westeros' reigning queen to wicked extremes; as this epic draws to its conclusion and Cersei stoops lower and lower in her bid for power, Headey relishes each dastardly act, her crooked smile overseeing the wreckage.
Hugh Laurie
Emmy nominations: 10
Eligible for: "Chance" (Hulu)
Laurie has an astounding ten Emmy nods to his name—the majority for his long-running performance as the title role on "House"—making him the actor on this list most deserving of a win, statistically speaking. Although his scene-stealing appearances on "Veep" don't count in a year it hasn't aired, Laurie got to do his mesmerizing, menacing, magnetic thing on Hulu's "Chance," which concluded its second and final season last fall. Neuropsychiatry and mental illness, in Laurie's hands, have never felt more tantalizing.
Matt LeBlanc
Emmy nominations: 7
Eligible for: "Episodes" (Showtime), "Man With a Plan" (CBS)
Although forever known for "Friends," LeBlanc actually holds more Emmy noms for Showtime's "Episodes," the reliably funny David Crane and Jeffrey Klarik series that last year aired its final episode. His ability to exaggerate and parody that trickiest of characters—himself—grew with each development in the show's send-up of Hollywood life. He's doubly eligible for leading actor in a comedy this year thanks to "Man With a Plan," CBS' family sitcom about a dad in over his head, which features the kind of comedy LeBlanc could probably do in his sleep.
Kyle MacLachlan
Emmy nominations: 2
Eligible for: "Twin Peaks" (Showtime), "Portlandia" (IFC)
After 27 years, Emmy voters have another chance to recognize MacLachlan for his...whatever it is he does so precisely and impressively on "Twin Peaks." The human embodiment of Mark Frost and David Lynch's peerless blend of absurdity, darkness, and existential horror, MacLachlan proved as adventurous as ever in the series' 2017 return—more adventurous, perhaps, than any actor on TV. His more obviously comedic talents are on display in his frequent trips to "Portlandia," which is basically the wackier, sunnier cousin of "Twin Peaks."
Rosie Perez
Emmy nominations: 3
Eligible for: "Rise" (NBC)
Fun fact: Perez is a three-time Emmy nominee for dancing. Her work choreographing "In Living Color" in the '90s never took home a trophy, and despite compelling appearances on the small screen throughout the years, her acting hasn't yet been recognized, either. On NBC's "Rise," her drama teacher Tracey Wolfe fights for her school's arts programming with fiery passion—an echo of the actor's own advocacy. Perez is also a riot in the U.K. action-comedy series "Bounty Hunters."
Matthew Rhys and Keri Russell
Emmy nominations: 3 and 2
Eligible for: "The Americans" (FX)
Last chance, Television Academy! So masterful are the actors creating them that Soviet spies Philip and Elizabeth Jennings are the kind of characters that seem to only grace our TV screens once in a lifetime. Rhys and Russell excel in particular at finding riveting yet credible ways of conveying inner conflict, no small feat given six seasons of increasingly high stakes. With its final season, "The Americans" offers voters one more opportunity to recognize one of today's most intense, complex, and ambitious-as-hell dramas—as well as the couple at its heart.
Kristen Wiig
Emmy nominations: 8
Eligible for: "the Last Man on Earth" (Fox)
Fox's "The Last Man on Earth" was tragically canceled, which means we'll be missing out on Wiig's signature quirk and comedic genius on our small screen. (Don't worry, though, her upcoming movie credits are many.) The uncannily funny delivery that makes Wiig so watchable suits itself brilliantly to Pamela Brinton, the sunny socialite trying to keep her philanthropy going postapocalypse. A bonus: Wiig also appeared, during this past Emmy-eligible season, on Netflix's animated "Big Mouth"—as a talking vagina.
Henry Winkler
Emmy nominations: 6
Eligible for: "Barry" (HBO)
How has the Fonz never scored TV's highest honor? During "Happy Days," Winkler was one of the small screen's biggest stars, and he has the accolades to match—just not the Emmy. (Though he has five nominations and two wins from the Daytime Emmys.) Luckily, Alec Berg and Bill Hader's dark comedy "Barry" has Winkler showing off his bona fide talent as Gene Cousineau, part Hollywood acting teacher, part total hack. Watch his heartbreaking audition scene for a one-line role and then help us launch Winkler's Emmy campaign.
Ready to win your Emmy? Check out Backstage's TV audition listings!