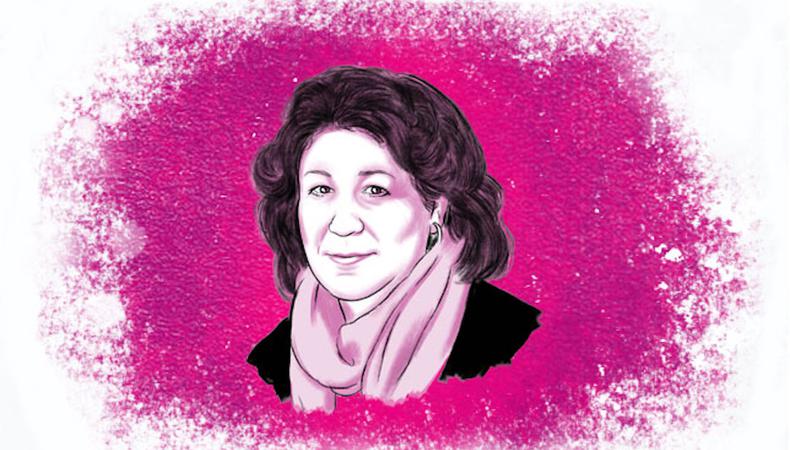 Margo Martindale has become ubiquitous—from her 2016 Emmy nomination for "The Americans" to her role as herself on Netflix's "BoJack Horseman"—and we couldn't be more pleased. Now she's lending John Krasinski's "The Hollars" some pathos and comedy as a matriarch diagnosed with a brain tumor. We spoke to Martindale about "The Hollars," saying yes, and that time she was a private investigator.
Tell us about 'The Hollars.'
I really loved this movie; it's a very honest, sweet, simple story. I always try to be who I am in movies, but somehow, this movie transcended that for me. Every scene felt as if it was really happening. Lots of emotion. And I've known John a long time; we had done a commercial together in 2002, a Marshalls commercial, and I fell in love with him. Out of the blue he called me and asked me to do the movie. As common a story as it is, [screenwriter] Jim Strouse tells it with sort of a fresh look. He's very specific, is what I mean. It's a slice of life. A heightened slice of life told with honesty.
What special skills do you have listed on your résumé?
I finally took them off. But they were horseback riding, water skiing, driver's license, and, stupidly, mezzo belt. Which, of course, I'm really not a mezzo belter. I don't think that even exists! And for years I had that on there. But I can ride a horse. Would I get on a horse right now? No! No, I probably would!
How did you get your SAG-AFTRA and Equity cards?
A children's theater production of David Mamet's "The Revenge of the Space Pandas," and a Gillette Right Guard commercial.
What was your most memorable survival job?
I had many. Many, many, many. And many that I would do during the day while I was doing a play at night, because the play didn't pay enough. I was a spa consultant during the first rendition of "Steel Magnolias," then we moved to the Lortel and I could quit. And when I was doing "Miss Firecracker" at MTC, I was a private investigator during the day. Private Dick Margo Martindale! Wayne Knight, we were in the same office. They hired a lot of actors. I didn't have very interesting things to do, but it was all about prying information out of unsuspecting people for headhunters, for husbands who were jealous, for wives looking at their husbands out gallivanting.
What is your worst audition story?
I remember years ago, I was going in and it was for "plain but not ugly." OK? That was the description. Plain but not ugly. I'm lined up with a bunch of plain, not ugly girls—I thought—and I was typed out. So I guess I was ugly! Or I was way too pretty.
How do you typically prepare for an audition?
I prepare like I'm doing the part. Don't half-ass it. Know it. And it seems to be what people respond to. If you're in the page, you can't be in the part.
READ: "Why Patricia Neal Gave One of the Great Performances in 'Hud' "

What movie should every actor see?
"Hud." That scene in that bunkhouse [between Paul Newman and Patricia Neal] is magnificent. I got to act with him in two different movies. I remember the first movie I did with him, "Nobody's Fool," we rehearsed at Carnegie Hall and we'd ordered lunch and I was so in awe that I took my little sandwich and sat at a table by myself because I felt too shy to sit next to Paul Newman, eating. But during the reshoots we became friends.
What advice would you give your younger self?
The advice I gave myself when I was younger, which was just take the next job. Don't question it, just do it.
Like this post? Check out more of our Backstage 5 interviews!