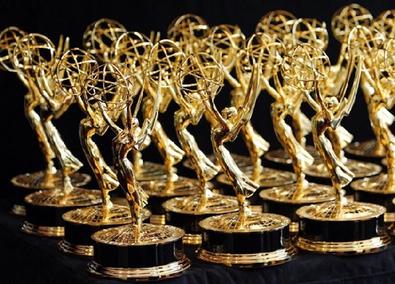 Familiar faces and welcome newcomers populated the 67th Emmy nominations list, revealed July 16. Presented by "Orange Is the New Black" star Uzo Aduba and "So You Think You Can Dance" host Cat Deeley, the nominations promise another starry awards ceremony celebrating TV's best.
The nominees spanned awards season shoo-ins including ABC's "Modern Family," HBO's "Game of Thrones"—leading the nominations with 24—and "Veep," as well as exciting new shows such as Fox's hit "Empire," Amazon's "Transparent," Netflix's "Unbreakable Kimmy Schmidt," and AMC's "Better Call Saul." Among the acting nominees were Backstage cover stars Aduba, Tatiana Maslany of "Orphan Black," Elisabeth Moss of "Mad Men," Amy Schumer of "Inside Amy Schumer," David Oyelowo of HBO movie "Nightingale," Queen Latifah for HBO biopic "Bessie," Adrien Brody of History's "Houdini," and both Kevin Spacey and Robin Wright of "House of Cards."
The 67th annual Primetime Emmy Awards will take place Sept. 20. For a full list of nominations, click here or see below!
Outstanding Drama Series
"Better Call Saul"
"Downton Abbey"
"Game of Thrones"
"Homeland"
"House of Cards"
"Mad Men"
"Orange Is The New Black"
Outstanding Comedy Series
"Louie"
"Modern Family"
"Parks & Recreation"
"Silicon Valley"
"Transparent"
"Unbreakable Kimmy Schmidt"
"Veep"
Outstanding Lead Actor in a Drama Series
Jon Hamm, "Mad Men"
Kevin Spacey, "House of Cards"
Jeff Daniels, "Newsroom"
Kyle Chandler, "Bloodline"
Bob Odenkirk, "Better Call Saul"
Liev Schreiber, "Ray Donovan"
Outstanding Lead Actress in a Drama Series
Viola Davis, "How to Get Away with Murder"
Claire Danes, "Homeland"
Taraji P. Henson, "Empire"
Tatania Maslany, "Orphan Black"
Elisabeth Moss, "Mad Men"
Robin Wright, "House of Cards"
Outstanding Lead Actor in a Limited Series or a Movie
Adrien Brody, "Houdini"
Ricky Gervais, "Derek"
Timothy Hutton, "American Crime"
Richard Jenkins, "Olive Kitteridge"
David Oyelowo, "Nightingale"
Mark Rylance, "Wolf Hall"
Outstanding Lead Actress in a Limited Series or a Movie
Maggie Gyllenhaal, "The Honorable Woman"
Felicity Huffman, "American Crime"
Jessica Lange, "American Horror Story: Freak Show"
Queen Latifah, "Bessie"
Frances McDormand, "Olive Kitteridge"
Emma Thompson, "Mrs. Lovett"
Outstanding Supporting Actress in a Limited Series or a Movie
Regina King, "American Crime"
Sarah Paulson, "American Horror Story: Freak Show"
Angela Bassett, "American Horror Story: Freak Show"
Kathy Bates, "American Horror Story: Freak Show"
Mo'Nique, "Bessie"
Zoe Kazan, "Olive Kitteridge"
Outstanding Supporting Actor in a Limited Series or a Movie
Richard Cabral, "American Crime"
Denis O'Hare, "American Horror Story: Freak Show"
Finn Wittrock, "American Horror Story: Freak Show"
Michael Kenneth, "Bessie"
Bill Murray, "Olive Kitteridge"
Damian Lewis, "Wolf Hall"
Outstanding Lead Actor in a Comedy Series
Anthony Anderson, "Blackish"
Louis C.K., "Louie"
Don Cheadle, "House of Lies"
Will Forte, "Last Man on Earth"
Matt LeBlanc, "Episodes"
William H. Macy, "Shameless"
Jeffrey Tambor, "Transparent"
Outstanding Lead Actress in a Comedy Series
Edie Falco, "Nurse Jackie"
Lisa Kudrow, "The Comeback"
Julia Louis-Dreyfus, "Veep"
Amy Poehler, "Parks and Recreation"
Amy Schumer, "Inside Amy Schumer"
Lily Tomlin, "Grace and Frankie"
Supporting Actor in a Drama Series
Jonathan Banks, "Better Call Saul"
Ben Mendelsohn, "Bloodline"
Jim Carter, "Downton Abbey"
Peter Dinklage, "Game Of Thrones"
Alan Cumming, "The Good Wife"
Michael Kelly, "House of Cards"
Supporting Actress in a Drama Series
Joanne Froggatt, "Downton Abbey"
Lena Headey, "Game Of Thrones"
Emilia Clarke, "Game of Thrones"
Christine Baranski, "The Good Wife"
Christina Hendricks, "Mad Men"
Uzo Aduba, "Orange Is The New Black"
Supporting Actor in a Comedy Series
Andre Braugher, "Brooklyn Nine-Nine"
Adam Driver, "Girls"
Keegan-Michael Key, "Key & Peele"
Ty Burrell, "Modern Family"
Tituss Burgess, "Unbreakable Kimmy Schmidt"
Tony Hale, "Veep"
Supporting Actress in a Comedy Series
Mayim Bialik, "The Big Bang Theory"
Niecy Nash, "Getting On"
Julie Bowen, "Modern Family"
Allison Janney, "Mom"
Kate McKinnon, "Saturday Night Live"
Gaby Hoffmann, "Transparent"
Jane Krakowski, "Unbreakable Kimmy Schmidt"
Anna Chlumsky, "Veep"
Outstanding Variety Sketch Series
"Drunk History"
"Inside Amy Schumer"
"Key & Peele"
"Portlandia"
"Saturday Night Live"
Outstanding Limited Series
"American Crime"
"American Horror Story: Freak Show"
"Olive Kitteridge"
"The Honorable Woman"
"Wolf Hall"
Outstanding Television Movie
"Agatha Christie's Poirot: Curtain, Poirot's Last Case"
"Bessie"
"Grace of Monaco"
"Hello Ladies: The Movie"
"Killing Jesus"
"Nightingale"
Outstanding Variety Series
"The Colbert Report"
"The Daily Show With Jon Stewart"
"Jimmy Kimmel Live"
"Last Week Tonight"
"The Late Show"
"The Tonight Show"
Outstanding Character Voiceover Performance
John Roberts, "Bob's Burgers"
Seth MacFarlane, "Family Guy"
Seth Green, "Robot Chicken"
Hank Azaria, "The Simpsons"
Dan Castellaneta, "The Simpsons"
Tress MacNeille, "The Simpsons"
Outstanding Guest Actor in a Drama Series
Alan Alda, "The Blacklist"
Michael J. Fox, "The Good Wife"
F. Murray Abraham, "Homeland"
Reg E. Cathey, "House Of Cards"
Beau Bridges, "Masters Of Sex"
Pablo Schreiber, "Orange Is The New Black"
Outstanding Guest Actress in a Drama Series
Margo Martindale, "The Americans"
Diana Rigg, "Game Of Thrones"
Rachel Brosnahan, "House Of Cards"
Cicely Tyson, "How To Get Away With Murder"
Allison Janney, "Masters Of Sex"
Khandi Alexander, "Scandal"
Outstanding Guest Actor in a Comedy Series
Mel Brooks, "The Comedians"
Paul Giamatti, "Inside Amy Schumer"
Bill Hader, "Saturday Night Live"
Louis C.K., "Saturday Night Live"
Bradley Whitford, "Transparent"
Jon Hamm, "Unbreakable Kimmy Schmidt"
Outstanding Guest Actress in a Comedy Series
Christine Baranski, "The Big Bang Theory"
Gaby Hoffmann, "Girls"
Pamela Adlon, "Louie"
Elizabeth Banks, "Modern Family"
Joan Cusack, "Shameless"
Tina Fey, "Unbreakable Kimmy Schmidt"
Outstanding Casting for a Comedy Series
Gayle Keller, "Louie"
Jeff Greenberg, "Modern Family"
Eyde Belasco, "Transparent"
Jennifer Euston, Meredith Tucker, "Unbreakable Kimmy Schmidt"
Allison Jones, Meredith Tucker, Pat Moran, "Veep"
Outstanding Casting for a Drama Series
Jill Trevellick, "Downton Abbey "
Nina Gold, Robert Sterne, Carla Stronge, "Game Of Thrones"
Laray Mayfield, Julie Schubert, "House of Cards"
Laura Schiff, Carrie Audino, "Mad Men"
Jennifer Euston, "Orange Is The New Black Netflix"
Outstanding Casting for a Limited Series, Movie, or a Special
Kim Coleman, Beth Sepko Lindsay, "American Crime"
Robert J. Ulrich, Eric Dawson, Meagan Lewis, "American Horror Story: Freak Show"
Billy Hopkins, Jackie Burch, "Bessie"
Laura Rosenthal, Carolyn Pickman, "Olive Kitteridge"
Nina Gold, Robert Sterne, "Wolf Hall"