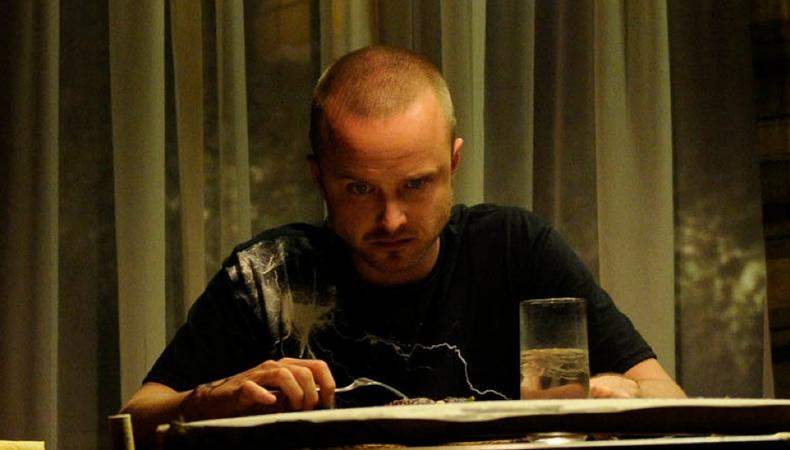 Aaron Paul's "Breaking Bad" character Jesse Pinkman, Walter White's former student turned fellow meth maker, almost got killed off after season one. Reflecting back on five seasons with the AMC series, which premieres the second half of the final season on August 11, Paul couldn't be happier.
"[Showrunner] Vince Gilligan gave me a career," says Paul. "I love him so much for that. To play Jesse Pinkman, there's just so many layers to him. He's just gone through so much. It's been a wild ride for all of us doing it."
Paul chatted with Backstage about his Emmy nomination, his acting process, and his future projects.
Congrats on the Emmy nomination. You've won in this category twice, how does it feel to be nominated again?
I'm still in shock from the first nomination. It's so fun to just be invited back to the party. The goal in this business is just to work, but then it's also very nice to work on something that you're really proud of.
Is it bittersweet now the show's coming to a close?
It is. None of us really wanted it to end. Our director of photography said it perfectly. He said, "Don't cry because it's over. Smile because it happened." And I couldn't agree with him more, but we all still cried a lot. It's definitely bittersweet. After knowing how it all ends, I couldn't be happier with the way it all went down.
With a show like "Breaking Bad," there are a lot of surprise twists and turns. How far in advance do you know what's going to happen?
To be honest, I just read it script by script. I don't really want to know too far ahead because I don't want that mess with what I am trying to create for this character. If my character doesn't know there's no reason for me know. We just go an episode at a time.
What is your preparation process for an episode?
I try and have a nice quiet night, glass of wine, and read the script very slow front to back. I might just reread it again, or I will just go back to my scenes and just reread all of that. Then I just dissect each of the scenes one at a time, usually the heaviest one first, and then just live and breathe it and force myself to believe what I'm doing. That's kind of how I tackle my jobs, that's the mission. If you can believe it then hopefully you can have other people believe it as well.
You do deal with a lot of heavier themes with the show. How do you handle that as an actor and step away from it when the job is done?
Some days are harder than other to walk away from. For the darker side of things, I just kind of put myself in his shoes and how I think he would react. To learn about things like, for example, the drug that Jesse uses I would go to YouTube and do a lot of research on YouTube. When Jesse was using heroin for the first time, I would just type in "people using heroin for the first time," and it's incredible the amount of footage you can find on YouTube.
You've said in the past that acting with your co-star Bryan Cranston is like being in an acting master class. What has working with him taught you as a performer?
I don't know if I can really pinpoint it. I think I just felt more and more comfortable as the season went on, and I really owe that to Bryan and, obviously, owe it to the writing. And Bryan said it perfectly. He's always said, "You can make great writing great, but you cannot make mediocre writing good." It's just going come off false. If it's on the page, it's on the page, and you're already ahead of the game. With "Breaking Bad," it's the best writing I've ever worked with.
Jesse's gone though a lot of crazy kind of things in the show. What are some ways playing him and living with him day-in and day-out have stretched you as a performer?
Oh man, I can cry a lot easier I think. [Laughs] Just to get to that emotional state, I think was a little difficult for me before "Breaking Bad," but Jesse Pinkman, my god, what an emotional roller coaster he has been on. It's kind of just easier to get in that place just because I've been living in that place for so long. I don't try and think about sad things when I'm being sad. I just try and force myself to just be in that situation, and it just works out. Sometimes it's harder than others to get into that state of mind.
So what's next for you?
Oh man, I don't know. Hopefully just get a job. Hopefully people will have me. I got a couple projects I'm going to start working on. I started a film the day after we wrapped "Breaking Bad." We shot all over the country. I'm going to hang out and enjoy being a newlywed.
Congratulations!
Thank you. Thank you. I'm very blessed. It's incredible.
Have you ever thought of doing any theater?
I would love to do theater. I hear they're doing "Of Mice of Men" on Broadway. I'm going to beg for that job, but I don't know if it'll happen. I think theater would be amazing. It's been a huge, huge dream of mine. Have you seen "Sleep No More" yet?
I have. I just saw it.
Oh great. Good, good. We just went again last night. I've seen that like three times. We love it.
Maybe they'll give you a job?
I know! They actually asked me to do it. So I would love to just do a little thing if possible, for sure. That would be amazing.