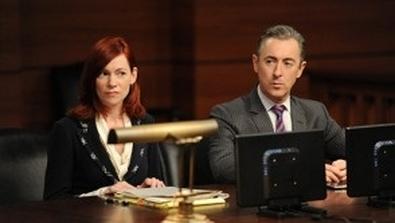 One of the true delights of this year's Emmy nominations was Carrie Preston's much-deserved nom for her guest star turn on CBS' "The Good Wife." Reprising her character Elsbeth Tascioni, the world's most unorthodox lawyer, Preston was both a scene stealer and a pivotal part of several major storylines. We caught up with the "True Blood" star to talk about the prescience of "The Good Wife" creators Robert and Michelle King and walking the line between cartoon and human being as Elsbeth.
You always seem as if you're having so much fun as Elsbeth. Is that true?
It's such a fun part to play! I would rank it in the top two roles I've had the opportunity to play because she's so mercurial and there's so much happening in her brain, and it's impossible to ever get bored with it. I'll do a concentrated number of episodes and then not do it again for a year, so it's always great to get back in the skin of the character and see where she's at.
That's right! You played her in the first season and then you didn't come back until Season 3?
Yes, I did two episodes in the first season, and I thought, "This is setting up a really interesting character!" Then they didn't bring her back, and I thought, "Oh no, they didn't like what I did!" They're known for bringing characters back! So I had mourned the loss of that opportunity before then they brought her back.
Elsbeth is a pretty out there character. Is it difficult walking that line in the performance?
I wanted to make sure that even though she's eccentric and has an unorthodox way of thinking that she was human. At the same time, I understood that her function in the show would be to provide some humor and levity to the proceedings. Certainly on my day job on "True Blood" that is what is asked of me quite a bit, and I often get excited by the challenge of finding that balance. Before I do episodes of "The Good Wife" I talk to the director and say, "I'm trusting you to let me know if it's too much! I won't be offended." So I put myself in their hands and most of the time they let me do my thing but sometimes they'll say, "Let's try this." And I'm an actor who loves direction; give me more to think about! I like that collaboration.
You had a pretty great arc this season. Which episode did you end up submitting to the Emmys?
The one where I was in jail. I was so pleased with all three of the episodes this season, I would have been happy submitting any of them, but this one starts off with my character so people won't have to watch a bunch of other people's work to get to me. [Laughs] And this may be apocryphal, but Robert and Michelle King, the creators, when they called my agents to offer me the arc in Season 3 they said, "We're writing her an Emmy nomination role." So they were on a mission to get me an Emmy nomination. Thank god it happened!