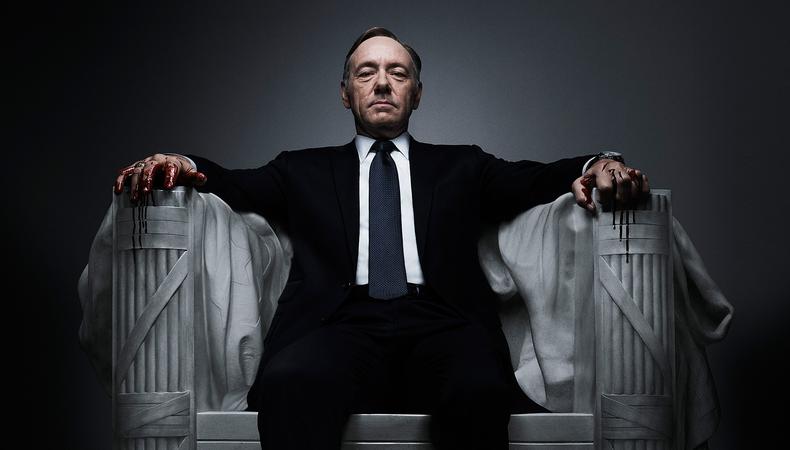 Laray Mayfield has been casting for David Fincher since 1986, so it only made sense that they would embark on their first foray into television together. Since this is the team that brought us films like "The Social Network" and "Fight Club," it only made sense that their series would be unique, as well. Though any network would have wanted it, "House of Cards" premiered on the online platform Netflix in February to rave reviews, and ended up scoring nine Emmy nominations.
To help create the world of Washington DC power brokers, the Los Angeles-based Mayfield called on Julie Schubert, a New York-based casting director who worked with Mayfield on films like "Last Night" and "Footloose." Together, the two have been nominated for an Emmy Award for casting for a drama series.
How did you get the news you'd been nominated for an Emmy?
Julie Schubert: I was watching them from my phone because I got stuck on the train coming into the city. So they announced the big names and the actors and everything and you're just like, "Oh that's great, our show got nominated, Robin got nominated, Kevin got nominated!" And then an email comes though from the Netflix PR and like, "By the way, you did too." That was very exciting. I might've jumped up and down a little bit.
Laray Mayfield: I got up that morning to watch, which I don't always do because it just makes me a little nervous. But I was so excited for the show, and I was just interested to see what would happen. I wasn't really sure either way. Of course, once we started seeing it was Kevin and then Robin, I was like, "Oh man, we might have something happening here." And of course the only time in the history of knowing Julie Schubert, I couldn't get her on the phone that morning. She was stuck in a tunnel somewhere and within a few minutes, we got an email from Netflix of all the nominations that we got and of course the first one they listed was the casting.
Julie, you've cast TV before, most notably "Boardwalk Empire." But Laray, this is your first series. Did you turn to Julie for advice? Is it different at all from casting film?
Mayfield: You know what, it's not really different. I mean it's different from casting film, and of course it is different from casting anything else because this is a whole new model, you know? And it's not the same as casting other types of television.
Schubert: You know, it's interesting. The television I've gotten to work on has all been very filmic. It's not a traditional network series where you have eight days on, eight days off, six days on, six days off. I mean, we truly have time to be as specific as we need to be with the roles which I think is so fantastic. So I can't say that I have a vast experience in terms of traditional television casting. And I'm happy about that because we really get to have the time to work with everybody and make the best choices for the overall story.
Mayfield: And our approach to casting is exactly the same. You just jump in. You see a lot of people. All the people who want to be seen and you spend a lot of time with them, and we spend a lot of time talking to the writers and to Beau and spent a lot of time with David on who the characters were and where they were going. I've certainly leaned on Julie heavily because there's just different responsibilities on the television show that you don't have on a film because the television show's ongoing. And Julie's carried the bulk of that responsibility.
Were Kevin Spacey and Robin Wright already on board from the start?
Schubert: From the very beginning. Kevin and David had worked together on "Seven" and Robin and David worked together on "Girl With the Dragon Tattoo," and so they all had that relationship. Laray and I filled in the rest of the cast around them.
What ended up being the hardest role for you to cast?
Schubert: They're all very difficult in their own ways because they're all so specific. I think [former prostitute] Rachel maybe? Rachel was such a specific character. We went through a lot of auditions and a lot of talking about that character.
You ended up casting Rachel Posner. Where did you find her?
Schubert: New York. She's a New York based actress and really very talented.
Mayfield: She's so talented, and she's a doll and she came on to work just a couple of episodes. And now she's really got a lot going on in the show and people on our end are all crazy about her. And we understand from people watching the show that they also really respond positively to her.
If an actor is lucky enough to audition for you, what do you want them to know coming into that room?
Mayfield: They should be prepared. And that it's a really nice, warm, comfortable experience, and they're safe. They come in prepared and they're going to have a lot of time to work on the scenes and they're going to get treated very nicely and they're going to have our undivided attention when they're in the room.
Schubert: Beautifully said.