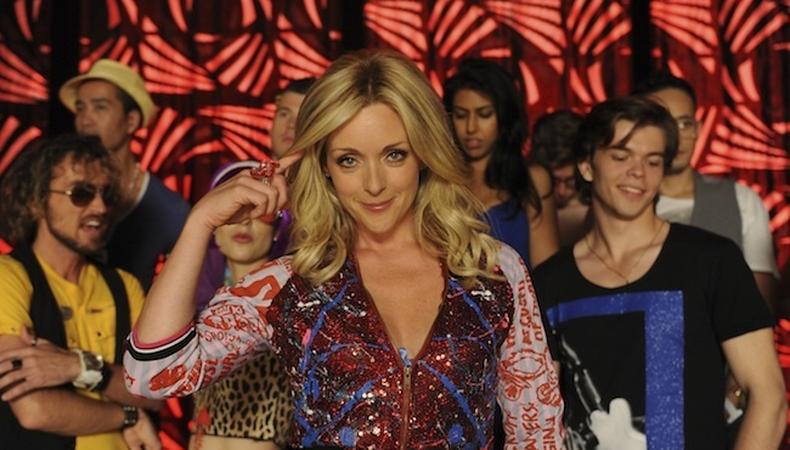 Jane Krakowski may have played the lovable-yet-outrageous Jenna Maroney on "30 Rock" for seven seasons, but don't think that means she's like her character.
"I started to get a little paranoid as the years went on because I was like, 'This isn't bleeding into my real life, right? I'm not, like, attacking people in hair and makeup am I?'" Krakowski says with a laugh. "Sometimes you start to be like your character, and I always like to keep a tight check on that to make sure I wasn't blending the character into one."
Krakowski earned her fourth Primetime Emmy nomination for the seventh and final season of "30 Rock," and Jenna's crazy antics (from taking over the network with Tracy Jordan to her surprise wedding) didn't relent for the final season. "Just be brave enough to go as far as you can," Krakowski says of comedy. "I feel like it's why I get certain jobs. I'm willing to go further than other people on camera."
However, if "30 Rock" is her television legacy, Krakowski says she'll be alright.
"There was an episode a while back where Jenna faked her death, and they played 'Muffin Top' as part of her memorial moment on the TV show, and I said to Tina [Fey], 'You know what? If I am forever only known for "Muffin Top," I'm good with that. I'm good to go.' I think it sort of sums it all up for me, my career and what I'm willing to do on camera."
Krakowski chatted with us about her favorite Jenna moments, cross-dressing, and her desire to return to Broadway.
What did you learn playing Jenna Maroney for seven seasons on "30 Rock"?
How fun it is to play someone who has no grasp of reality! [Laughs] One of the major things I will miss about playing her is how far she could go, and I don't know if any of us on that show will be asked to go that far again and get away with it in the way that we were there.
Do you have any favorite Jenna moments?
The black swan moment was probably one of my favorite moments. It was a Christmas episode where Will Forte and I were two black swans for a costume party. And I think it was Michael Kors' extravaganza. We were breaking up, and the only reason we were sad that we were breaking up is that we were not going to get to go to the costume party. And then we realized we were meant to be together because we both came up with the idea of being two black swans. He was Natalie Portman in the movie "Black Swan," and I was Lynn Swann and then we sang a song together to close the Christmas episode. The entire insanity that is "30 Rock," that we were allowed to do, all came together and was oddly touching. I was extremely honored because I think that still of us as two black swans became the official "30 Rock" Christmas card that year. There was one that would go out, and if you got picked it was a big moment. I loved when Jenna dressed as a man, which she did more than you'd think. I would always have such a ball with it. I would always say to them, "Is it just because I'm in flats? Is it just because I'm not wearing high heels right now that I am loving this?
You also have a vast musical theater background, and Jenna got to sing a lot on the show. Do you have any favorite songs?
I was so thrilled that they incorporated that entity of my personal career into the character. "Muffin Top" will always be the classic for me. I perform concerts around the country, and people will always ask for "Muffin Top." I'm always amazed. One of my other favorites is the closing song that I got to do for the whole series, which was "The Rural Juror" song. It kind of came full circle that she was singing a song from the musical of the movie based on the novel…I was so touched that I got to close the show with one of Jenna's insane songs. It was hilarious and touching in only the way that "30 Rock" could do that to me. And I was so happy when I saw that Jeff Richmond and Tracy Wigfield and Tina Fey got an Emmy nomination for that song because it was written so well!
I think "The Rural Juror: The Musical" needs to come to Broadway.
[Laughs] Let's do that! Let's see who will finance that.
So what's next for you? You just did a great rendition of Lin-Manuel Miranda's "In the Heights" at the MCC Miscast Gala!
I was so scared! I was so nervous. I'd been wanting to do that number for like three years, and it seemed like too much to tackle while filming "30 Rock." But then when it finally came I was so nervous! I had been wanting to be Lin-Manuel Miranda for so many years and this was it. See again, I was in flats and I got to be a guy! I don't know, maybe there's something there.
Maybe a cross-dressing role on Broadway?
Certainly in Shakespeare, they did it a lot. I have to do it. I am so loving being home with my son and absolutely loving being a mom. And also I think I'm being very selective about what is next. I think I said to Robert Carlock on the final day of filming, "You realize you've ruined us, right? We're never going to get scripts this good or characters this wonderful to play again. It's been the greatest gift, but you've also ruined us for the future. And by the way, thank you."
I think of the New York theater community as my show business home, and I hope that will be one of the things that is next. I can't wait to come back to Broadway. That would be top on my list to come back and to do a big Broadway musical, let's say sooner rather than later.
"The Rural Juror: The Musical." It's going to happen.
We'll see!