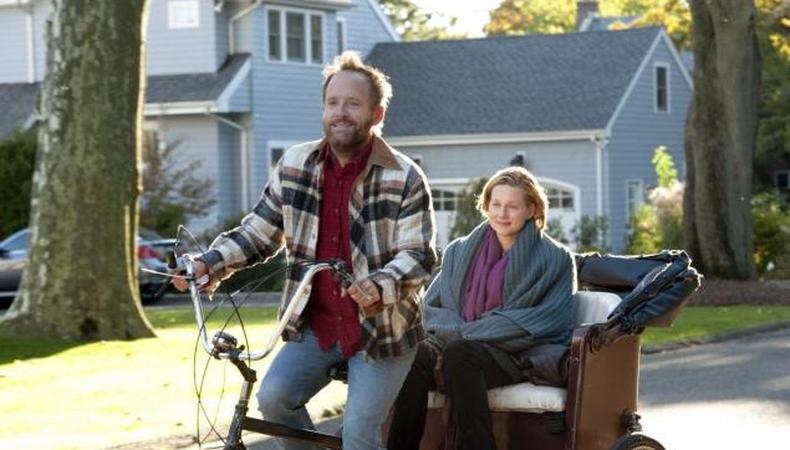 When John Benjamin Hickey got the call from his agent at 7:30 a.m. on the morning of the Emmy nominations, he thought someone had died.
"I always assume the news is bad; I guess that's what actors do," he said. "I was completely thrilled and surprised. What an unbelievable way to say a final farewell to this great rollercoaster ride of a part."
Hickey earned his first Emmy nod for playing the manic depressive older brother Sean to Laura Linney's cancer-suffering Cathy on the Showtime comedy series "The Big C." For its fourth and final season, which ended in May, the network released the show as a four-episode miniseries, which put the show in the Miniseries/TV Movie category instead of the comedy series.
"That season was my favorite season," Hickey says. "I thought the show was really on a whole other level this year. I'm really proud of it."
Was it hard for you to say goodbye to Sean after four seasons?
It's the most difficult thing I've ever said goodbye to. Something that ends after four seasons, you can't really express your disappointment because we've had a four-season run. We were so lucky to get to do four wonderful seasons of this so it felt like it was time. That being said, I find it so difficult because I can't seem to let go of him, and by not letting go of him, I mean I have some of the costumes that I wore on the show. Sean wore the coolest clothes because it was all vintage, secondhand stuff, and I've never taken wardrobe before. A) It's illegal, and B) I've never really cared. Everything about Sean was different from who I am that he was a constant joy to get to play and discover who he was week after week. You come to live inside a character's skin in a way that you stop second-guessing choices that you might have been insecure about in your first season when you were trying to figure out who he is. He becomes you and you become him in a way that really feels comfortable.
How did Sean stretch you as a performer?
I hope I can take with me that element of surprise that Sean always had. If I read something that doesn't surprise me, find a way to surprise myself while I'm playing him. Even when I read things that don't surprise me as much as Sean's stuff surprised me, find ways to surprise yourself while you're doing it, make an unconventional choice. Take a leap. Take a risk.
Sean gets to do some pretty crazy things on the show. He ran a phone sex line, and he was in a throuple. Were you ever put off by any of the storylines?
Yeah, in the second season, we really got into Sean's disease and how his manic depression manifested itself, and it wasn't funny. He really lashed out with a lot of anger at his sister and the fact that she withheld her diagnosis from him, and he did not react in her best interest in supporting her. He reacted very selfishly and that scared me because I love Laura so much that it was a big, hard thing to do, and I had a lot of trouble getting my head around it. And then, comically, in the third season when they gave me the gay phone sex line. I mean, I'm gay but was playing this totally straight guy. What I loved about it is that Sean was a character unlike what you really see on television who was so confident in his sexuality that he had no gay panic issues at all. It didn't bother him a whit that it was a gay phone sex business he was running because he didn't have any hang-ups. I loved that about the character.
What will you miss most about the show?
The crew. I get the biggest crew crushes and my crushes all are still very much in tact. I'll miss our family of cast and crew. I watched Gabriel Basso, who's brilliant and who's so going on to do great things in this business, I watched him grow up. I saw Gabourey Sidibe take her first job post "Precious," that was like a consistent gig, and so I saw her go through a lot of changes. And to work with somebody who I've admired my whole career as much as I've admired Ollie Platt, to work side by side with him, and Phyllis Somerville and all those people in our show. But mainly, Laura. I went to Juilliard with Laura. She was a year behind me. So my advice to acting students is be nice to your underclassmen. You never know who's going to end up in the position to help get you a job someday, which Laura very much did on this show. She was instrumental in me getting this job. Because the part was written for a 25-year-old, and she said you should meet them on this because I think he should be older and I think he should be my big brother. I thought she was completely right about that so I went in and fought for it and luckily got it. Not getting to see her every single day, I miss her.