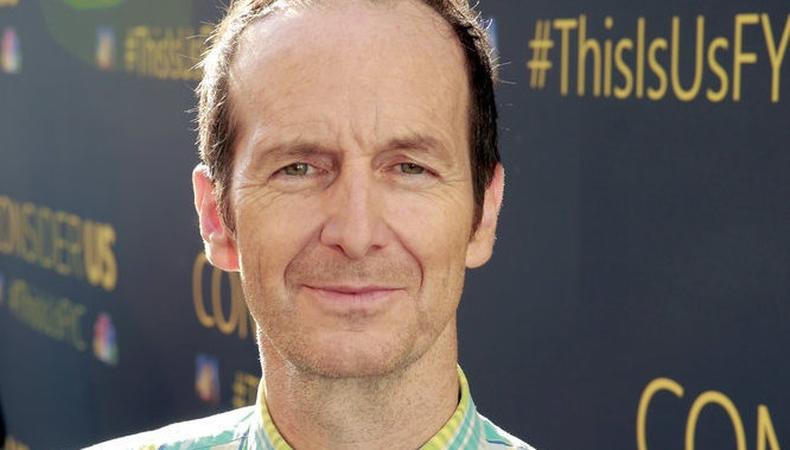 The compelling—and chameleonic—Denis O'Hare received this year his third Primetime Emmy Award nomination. It's by no means only the third instance of the "American Horror Story" star's work, which includes a Tony Award for the 2003 play "Take Me Out" and a growing list of outstanding TV and film projects.
On Dan Fogelman's NBC drama "This Is Us," O'Hare appeared in a handful of episodes as Jessie, a recovering addict who in an Alcoholics Anonymous meeting reveals an unexpected connection to William (Ron Cephas Jones). That episode, directed by Helen Hunt, includes a touching and complicated scene between the two acting powerhouses, resulting in two of the series' seven acting Emmy nominations. Backstage asked O'Hare, a fountain of actorly wisdom, about his development of a guest role and the art of monologue delivery.
Congrats on your well-deserved Emmy nod! Do you approach a role like Jessie differently because of its relative brevity?
"Oddly enough I felt like I was much more present because the scope of the story is so big. While the audience only gets to see the tip of the iceberg, it's implied that there is this whole other complicated story there. The fact that when we meet Jessie, he's in an AA meeting, and was in a relationship with William, William left, so he started using, now he's back—that's a lot of story, a lot of events to have happened. So because so much of the backstory was referenced in those scenes itself, it was big and intimate in substantial ways."
What were your impressions of the character?
"I just loved that he was refreshingly honest. His bitterness was honest, his anger was honest.... In a meeting like that you're only benefiting yourself if you're being honest, [trying] to confront hard truths. I feel like Jessie is doing that, which I thought was really cool. And then in the scene afterward, with these two men, again he's speaking in an honest way. He's not pulling any punches. I had an instant sense of who he was and an instant respect."
And how did you go about creating his backstory? Was the British accent a part of that process?
"For Jessie I didn't have a lot of his biography so I had to make my own. I thought more about, who do I want to model it after in terms of a feeling? And that was Martin Freeman. I love Martin Freeman as an actor, I like that accent. I sort of tried to listen to him.... It's definitely an urban London accent, it is an educated accent, somebody who may not be from London but who definitely spent his formative years there and has been in the states a while. It's a mongrel accent—like all accents are."
Jessie is introduced to the "This Is Us" story by sharing a long story with the AA meeting; you're a master of monologues, as proven by "Take Me Out" and the solo show you co-wrote, "An Iliad." How should an actor approach such speeches?
"It's funny, my big insight into how to do a monologue is that, when someone is speaking a monologue they're not setting up that it's a monologue. They want to say one thing. And then they think that's not enough, so they say the next thing. And then that doesn't completely satisfy the urge, so they say something else. So there are clarifications of what your intention is. When you have a story to tell, you don't know how you're going to tell the story, or how well you're going to tell the story, and how long you're going to tell the story.
"And with a monologue, there's always the implied listener: Who is listening? Are you speaking to the audience? Do you see the person you're speaking to object, and does that sort of energize? Even though it's a monologue, it's still a scene. You're in a relationship with another person or other people—even a phone monologue, you're listening to their breathing or not breathing, the sounds in the background. In a monologue you don't know where you're going, I guess that's my big insight. You don't know how you're going to satisfy your need to speak.
Do you approach on-camera versus stage monologues differently?
"I did a monologue in 'True Blood'; my character Russell was a newscaster so the character was in a TV studio and wants to speak to the American people. So it's like a double or triple layer of conventions there: the actor playing the character, the character knowing that he's speaking to a camera, knowing that beyond that camera is an implied audience. That's three layers, that's obviously complicated. And on stage monologues can be tricky. For instance, in 'Take Me Out,' which I did on Broadway years ago, [the question became], who is he talking to? He's a real person in a real situation with real people onstage and suddenly he's talking to the audience? Who's the audience? You can really mess yourself up thinking about that too hard.
In film or TV conventions, it's usually grounded in reality—unless it's to the camera like Kevin Spacey does in 'House of Cards.' It depends on the convention: Is it a naturalistic setting? What does the character think he's doing? With Jessie, he's in a meeting, so he's speaking to a group but he's very much speaking to the back of William's head. He's speaking publicly but at the same time privately, which is a very beautiful idea.
READ: 9 Elements of a Great Monologue
You've played LGBTQ people, like the character Liz Taylor in "American Horror Story: Hotel." How important to you is representation in your storytelling?
"It's hugely important. I won't give myself credit to say I have always gone out and sought those parts, more that I have reacted to those offers and said yes to them. That being said, I've never had a problem playing a gay or transgender character, as I've had no problem playing any character. I'm an actor first and foremost. I do think my art is my activism; I'm also a writer.... That's my only way of expressing myself, through my art, whether it's acting or writing.
"I also love playing characters I disagree with. In the movie 'Milk' I played John Briggs, who is a homophobe. My job is not to make fun of him or chew him up, but to honestly chart that man's journey and honestly play him. I don't care what his views are, my job is to represent the character 100 percent. If I see a character that's not written honestly, I don't want to play it."
It all comes back to honesty, doesn't it?
"Definitely. Even in comedy—the best comedy is honest. When you do comedy [that involves suffering], if you're not really suffering it won't be funny. You can't pretend it hurts. It has to really hurt."
Want to get cast in an Emmy-nominated role? Check out Backstage's TV audition listings!