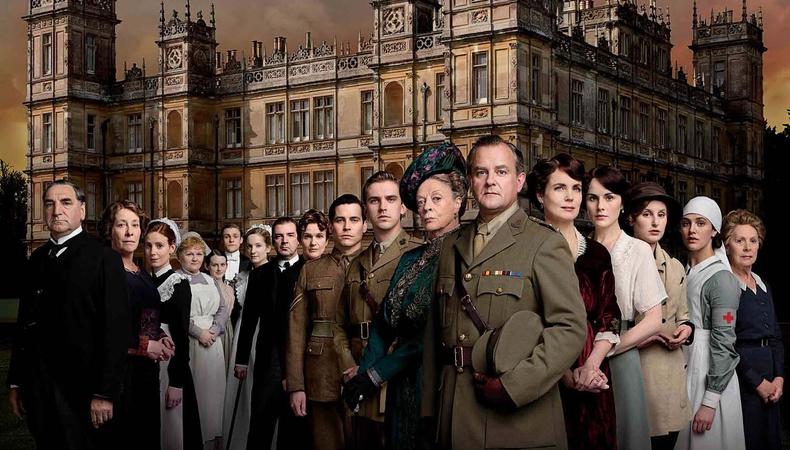 No network executive could have predicted that the hottest show on American television would come from England, air on PBS, and focus on the masters and servants inside a Yorkshire country house in the early 1900s. But the British upstairs-downstairs drama "Downton Abbey" has become more than just a critically heralded show—it's a genuine phenomenon.

Jill Trevellick is the casting director who assembled the amazing cast that ranges from unknowns to Oscar winner Dame Maggie Smith. For her keen eye, Trevellick has received her second Emmy nomination, which she notes is particularly rewarding since casting directors are not eligible for BAFTA Awards in England. "So it's a huge honor to be nominated for an Emmy, but for us U.K. casting directors it's sort of even more special, because we don't have the opportunity to be recognized officially here in our own land," says Trevellick. "So thank you, lovely Americans!"
In addition to a nomination for Trevellick, "Downton Abbey" has been nominated for Outstanding Drama and its cast also received six major acting nominations in the drama categories, including Hugh Bonneville for Outstanding Lead Actor, Michelle Dockery for Outstanding Lead Actress, Maggie Smith and Joanne Frogatt or Outstanding Supporting Actress, and Brendan Coyle and Jim Carter for Outstanding Supporting Actor.

Did you have any idea the show would become such a huge hit in America?
Jill Trevellick: To be honest, no. I mean, you never know, do you? When [executive producer] Gareth Neame sent me the very first episode of the first series, I read it and I thought this could be a big hit, but I was thinking in U.K. terms. I didn't really think beyond that. I had no idea how big a hit it was going to be. I've never done anything which has been so universally loved before. It's very nice.

It's also worked its way into the broader pop culture in America, with parodies on "Saturday Night Live" and references in other shows.
Trevellick: It's funny, isn't it? Here it's become something called The "'Downton Abbey' Effect." It's referred to all the time and in all sorts of arenas that you wouldn't have expected—in politics, in everything really. It's very extraordinary.

In putting this cast together, I have to imagine that Maggie Smith was at the top of your list of actors?
Trevellick: Of course. And Hugh Bonneville was very much in our thoughts right from the beginning. [Creator] Julian Fellowes has been very involved in the casting all the way down the line, which has been great for me to have that kind of absolute one-to-one relationship with a writer. I've had Julian's ear always. If ever I've wanted to talk over how he sees a character who's popping up in a new script or something like that, he's always been there.
Even before there was a director on board, Julian and I and [producer] Liz Trubridge and Gareth Neame got together to talk through ideas for quite a lot of the central characters. That was about six months before we actually started filming, and that was fantastic to have all that thinking time to really get to grips with who these characters would be. I got lists together and we'd sit and talk through ideas, and then some people just emerged as absolute favorites for the parts. And from memory they were obviously Maggie Smith, Hugh Bonneville, Michelle Dockery, and Dan Stevens. They were all absolutely front runners for us. And I think because the scripts were so strong and the idea was so appealing to everybody, we were very, very lucky in that we had time to approach people before they'd become committed to other projects. And we pretty much got all our first choices for every part.

You mentioned Michelle Dockery, who is mostly unknown to American audiences. Is she pretty established in the U.K.?
Trevellick: At the point where we cast her in "Downton," she'd done a couple of quite notable television things. She played the lead in the "The Turn of the Screw" for the BBC, and that was shown not very long before we were casting "Downton." But the reason I was so keen on Michelle was because of the work I'd seen her do in theater. She'd done a few years of really top class theater with really good directors since she'd left drama school, and I just saw her growing and growing and growing as an actress. So I was delighted when everybody felt the same really and wanted to offer it to Michelle.

What made you think of Elizabeth McGovern, who is American? She lives in England, right?
Trevellick: Yes, she has for a long time. She's married to Simon Curtis and she's lived in England for a very long time and brought up her kids here, as well. So I think there was an awful lot that Elizabeth felt kind of close to in the character, because she's an American who's come and settled here and had her family here in England. We know Elizabeth very well over here.

What about some of the newer actors?
Trevellick: That was really fun, finding new, young folk like Jessica Brown Findlay and Laura Carmichael and Sophie McShera, who the audience just didn't know at all. In series three, which I'm not allowed to talk to you about, I've been able to bring a girl who left drama school early to come into the cast. What a thrill that was. And all the students who were in her year at drama school, I didn't think they quite believed it, really.

What was the hardest role to cast?
Trevellick: It was probably Bates, [played by] Brendan Coyle. Not because we didn't think of Brendan; we thought of Brendan very early on. In fact, you could say that Julian wrote that part with Brendan in mind because he'd see him in "North and South" and he just felt that Brendan was the actor for the part. We saw Brendan very early on and then there were some qualms at the broadcast end, not because they didn't like Brendan, but because he'd been in a period genre piece that they feared was a bit close and might even be broadcast at the same time on an opposing channel. So I think I had a list of something like 60 actors that we'd considered for the part and ultimately I think we just wore them down. They said finally, "Okay, you can have Brendan." So we were able to offer it to Brendan, but about six weeks later after we'd see him. I think he'd kind of given up hope by then.
Watch the trailer for the third season of "Downton Abbey," premiering in January (Warning: spoilers).