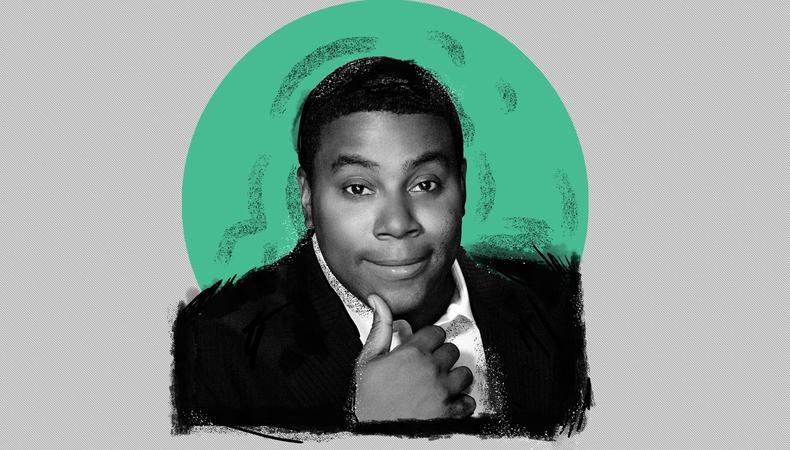 Kenan Thompson holds the record for longest-serving regular on NBC's variety hit "Saturday Night Live"—15 years. Often referred to as the cast's glue, Thompson livens up every sketch in which he appears, somehow continuing to find new ways to make audiences laugh. And every Saturday, no one onstage at Studio 8H is having more fun.
Now, after years of comedic brilliance stretching back to his work as a kid actor on sketch shows "All That" and "Kenan & Kel," Thompson is experiencing an impressive career milestone: a 2018 Primetime Emmy nomination for supporting actor in a comedy (he's also been co-nominated twice for the Outstanding Original Music and Lyrics Emmy). Taking in this long-deserved recognition from the Television Academy, Thompson joins Backstage to talk about his multiple "SNL" auditions back in 2003, his favorite recent sketches, and how early-career actors and comedians can get cast on the show.
Congrats on your acting Emmy nomination! How does it feel earning this recognition after 15 years?
Thank you very much. Craziest summer ever. It's incredible, man. I don't really know how to describe it. There's so much love around it, you know? People are like, "It's about time!" That's so special to hear, especially from your peers and your colleagues and people that are super duper famous and whatnot.
Do you have a favorite character or sketch?
I have several. Lately, LaVar Ball has been a lot of fun. Sketch-wise, I think that lobster diner sketch was really amazing. I liked that. And all the black Jeopardies, ever.
What, to you, is the key to great sketch comedy—both writing and acting?
The great thing about comedy is that there's a lot of honesty and truth in it. Whatever is set up has to make sense with the punchline. If it all goes according to plan and everybody feels pretty much the same way about it based on the way you're setting it up and explaining it, and how they react to the outcome, the punchline, that's all true things. When I'm writing it and it's making me laugh, if I can write it in a way that makes sense for everybody to understand what I was thinking when I was writing it, that's the biggest, most honest part of it all. Then when I'm performing, it's what's honestly going to make me laugh when I say a line. Like, how can I service these lines in a way that will make me laugh at it, just as a viewer?
What advice would you give yourself, if you could go back and talk to "Kenan & Kel"–era Kenan?
Patience is a virtue. As far as people coming up to me in places once I became a recognizable person, there was no handbook given to me to figure out behavioral patterns with strangers, you know what I'm saying? I would tell myself in my youth, you might be better off taking a picture or doing whatever they ask, regardless of your situation, whatever you're going through. It takes a lot for people to come up and say something in the first place, and nobody wants to feel embarrassed.
And it's love. It's not like I'm a soap opera villain and they're like, "You is trash!" They're giving me love. But as a younger person, figuring out your life, I was always very private; I try to separate work and life. For people that see me, they're not really thinking about all that.
What advice do you have for the parents of child actors?
Be open and have a conversation about what it's going to be like once you start to become recognizable. Really watch what it's like for Justin Bieber when he's not onstage, just trying to pump gas or something. Know what you're getting into. You want to have the successes but what comes with it is something else. I was only aware of wanting to be on TV, like wanting to be on "The Price Is Right." It was never really a realization of what it's like to be famous.... You never really get used to being called out in public just because.
Do you have any special skills we don't know about, actorly or otherwise?
Yeah, I'm pretty handy! I can pretty much drive anything. I can skate now, thanks to "Mighty Ducks" and all that. I can juggle, a lot of people don't know that. But yeah, handiwork, house stuff, I'm getting pretty good at. I got a toolbox—I could have a second life or second job, possibly.
What were your first headshots like?
I didn't have a haircut and I was wearing a sweater. The photographer suggested that headshots are more well received from little kids in sweaters. My brother and I had all these '80s sweaters and little afros.
What is your worst audition horror story?
[Laughs] I have several. When I first started, there was this place in Atlanta, it was this house with a white picket fence. They would hold auditions there for lots of commercials especially with kids on TV locally. So I remember going there 50 times, trying out and getting no callbacks. Just super duper failing over and over again. White picket fences would freak me out for a while.
And recently in my adult life I auditioned for "Curb Your Enthusiasm" and flopped that, just wasn't great at improv-ing or whatever. I'm standing next to Larry David and not making him laugh or anyone else in the room laugh. I panicked and let it be quiet and awkwardly left. Years later he hosted ["SNL"] and we talked and it was all good. But yeah, I never went to improv school. I'm a little bit robotic—you tell me what you want me to do.
READ: 'SNL' Hair + Makeup Heads Reveal How They Create Their Weekly Transformations
The question on any early-career comedian's mind: How does one get cast on "SNL"?
I mean, it's a total crapshoot, man. Confidence of course is a key factor but also having the training they're looking for. They look at a lot of Second City graduates, the Groundlings, people that are sharp on those improv schools because that's the kind of the closest thing to the show as far as the experience of writing sketches and performing them. So dip into that pool because they're looking for people that are ready to do the show and that are funny and seasoned. They may look in the stand-up [comedy] pool too to see who's just got a brilliant mind. If they get into the cast, good for them, but if not, they can be a writer, they can still contribute by being an outstanding thinker or someone with a lot of buzz. Anybody that gets on that show is usually 10 years down the road of what they started out doing in comedy. They're ready to do it.... I was sending them my tapes for years before they let me audition.
What do you remember about your "SNL" audition?
I auditioned three times. One was at the Stand Up NY, a comedy club, and another time on the stage at Studio 8H—that was nice because I'm used to working cameras and studios as opposed to actual audiences. And one more time in L.A. They were auditioning a bunch of stand-ups...I was kind of the only one who had done a sketch show already, I was just an actor as opposed to a stand-up comic that's been working up through the ranks. I was kind of always the odd duck out. But I was good at doing the show, I knew that. I wasn't worried about that.
Check out Backstage's comedy audition listings!