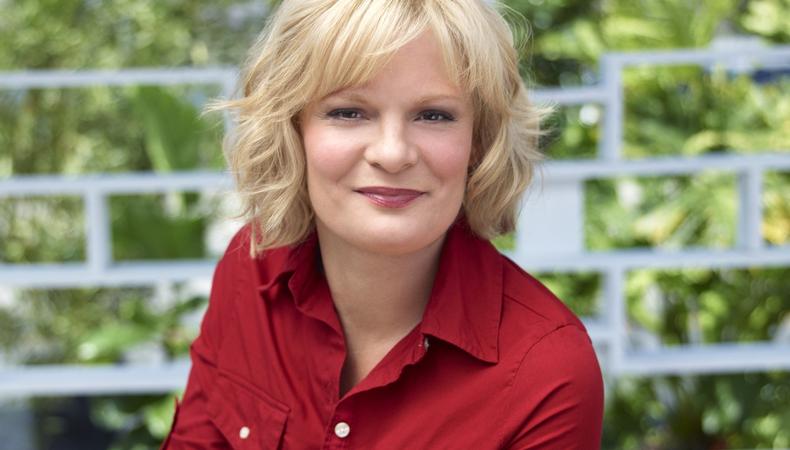 Emmy nominee Martha Plimpton began her professional career when she was just eight years old, and since then, she's played everything from rebellious teenagers to Shakespearian icons to one very young grandmother.
We chatted with her on the heels of her third Emmy nomination, which she scored for her guest-starring role as attorney Patti Nyholm on "The Good Wife," about life on both coasts, her famous family, and what it takes to cultivate a lifelong career.
This is your third Emmy nomination. What was your reaction when you heard?
Martha Plimpton: I was really surprised. There's a lot of great actors out there and there's a lot of great work getting done, and I feel lucky to be included in the group. It makes me feel quite nice. It always feels like that.
How did you react to being nominated as a guest star for "The Good Wife" when you have this regular gig as Virginia on "Raising Hope"?
Plimpton: Nominations are not givens in this world. To receive one in any circumstance is a really lovely thing. To be invited to the party is just the icing on the cake.
Your Emmy nominations have spanned both comedy and drama categories. Do you have any specific training in one area or the other?
Plimpton: I don't have any formal training at all, in any area. I never went to acting school. For a long time, I did mostly plays, and they were mostly dramas, but there's really not that much difference between comedy and drama. The ultimate thing to pay attention to is whether you're being honest. And if you're being honest, those things follow naturally.
So you really learned by doing.
Plimpton: That's basically it. I'm still learning by doing.
Which roles were really valuable to you as learning experiences?
Plimpton: When I was 12, I did a film ["The River Rat"] with Brian Dennehy and Tommy Lee Jones, and I learned a huge amount from them. I maybe didn't learn it in a way that I could practice until later, as an adult, but regardless. I consider that formal training, in a way. It may not be in a classroom, but it had practical implications that I was able, and still am able – thank God – to work with and learn from some of the most talented and smart people there are. When I did the play "Coast of Utopia," I can't even think of a more extraordinary experience than that was. To be in a room with 40 actors and Jack O'Brien and Tom Stoppard for six months. It doesn't get more educational then that.
If you could do TV, movies or theater – just one – for the rest of your life, which one would you choose?
Plimpton: Oh man, that's a horrible thing to contemplate. I think to be limited in that way would depress me terribly. There are wonderful pleasures to be had in all areas of my job. I think it's extremely fortunate that I'm able to work in all different kind of areas. In other words, I don't want to be a snob about my work and I also don't want to limit myself or become too comfortable, you know?
I wonder whether a lot of Broadway actors see Hollywood as the ultimate goal.
Plimpton: Hollywood is easier in some ways. It's always understandable that you'd want to make a living as an actor. Even on Broadway, that's not a guarantee. So it makes perfect sense that an actor would want to find a way to parlay their success in theater into more remunerative work. But, at the same time, there aren't that many actors who really love what they do, who say to themselves, "I don't need theater anymore." In fact, I think you see a lot of film and theater actors who are dying to be on stage.
You grew up in New York and now live in L.A. Do you miss it?
Plimpton: Of course! I was just there over our hiatus. You know, I haven't really moved out of New York. All my stuff is still there. When I come to Los Angeles, it's an entirely temporary situation. I don't like to put all my eggs in one basket, particularly with a TV show. You just never know what could happen from month-to-month and year to year.
You come from a family of actors. Is there single piece of advice you got from someone in your family that's been helpful for you?
Plimpton: My mother is the person who helped me shape my relationship to my job, probably from the earliest point. I was experiencing some frustration as a teenager, where I just hit this awkward phase where I didn't know what this career was going to be. And she said, "Look. There are actors and there are stars, or celebrities. You have to decide which one you want to be." Because stardom is accidental, but you do have some power and control over the kind of actor you want to be. And you have to decide fairly quickly how you want to focus your energies, because that's going to shape the decisions you make for the rest of your career. Accepting that has made it possible for me to do things that other people might have thought were career-foolish, but for me were about cultivating good work.
What is your dream role, regardless of age, race or gender?
Plimpton: There's a lot in Shakespeare that I'd like to do, but I probably won't get to do because I'm getting too old, but who knows. I'd love to play Rosalind at some point before I'm 50. But I don't think about it that much. For example, I never see an actor in something and say, "I could do that better." I don't have that kind of ambition where I'm like, "You know, I would be phenomenal as Lady Macbeth." Things just come when they're meant to come. And if they aren't meant to come, they don't.