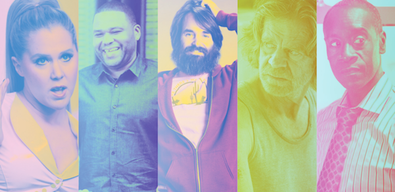 Schumer: Ali Goldstein; Anderson: ABC/Tony Rivetti; Forte: Frank Ockenfels/Fox; Macy: Cliff Lipson/Showtime; Cheadle: Michael Desmond/Showtime
Amy Poehler and Edie Falco go up against each other for the last year, Comedy Central nets a couple of much-deserved noms, and everything else you need to know about the comedy performances that earned nods this year!
Outstanding Lead Actor in a Comedy Series
Anthony Anderson, "Black-ish"
The sitcom dad is a well-worn TV trope, constantly trying to prove his still-viable virility, yet bumbling and goofy. Anderson's role on "Black-ish" added a welcome layer to that cliché: Underneath the posturing, he was trying to teach his kids about identity. He often failed, but that was to our benefit.
Don Cheadle, "House of Lies"
Four seasons in, Cheadle still manages to make the fast-talking, devilish management consultant Marty Kaan more charming than despicable—which is fairly impressive, given the despicable things Marty does in each episode. But Cheadle still walks the fine line between amoral and sinfully funny.
Louis C.K., "Louie"
Sometimes lost in all the praise heaped on Louis C.K.'s writing and formal derring-do as a showrunner is how good an actor he's turned out to be. "Louie" is one of TV's funniest shows—but it's not often laugh-out-loud funny. Instead, the show becomes very uncomfortable for very long periods of time, something only a skilled actor can pull off.
Will Forte, "The Last Man On Earth"
Forte is beyond convincing as the self-serving Phil Miller in this Fox series. The show's creator and lead actor brings his knowledge of both his character and the postapocalyptic world he lives in to life as the ultimate man-child hilariously struggling to grow up again when he encounters other people.
Matt LeBlanc, "Episodes"
LeBlanc's performance as arrogant, self-obsessed actor Matt LeBlanc grew in depth this year as he faced bankruptcy, the horrors of a television network contract, and the sliding–scale shame of hosting a game show. When it comes to plumbing the hilarious depths of a himbo, few can touch LeBlanc.
William H. Macy, "Shameless"
Macy has managed to continue to bring depth to the ultimate deadbeat dad. The perpetually drunk father of seven finds himself constantly robbed of whatever dignity he thought he had. While Frank is nearly always focused on his next drink, Macy finds a way to bring inebriation to the periphery instead of to the center of his acting work.
Jeffrey Tambor, "Transparent"
It takes bravery and grace to come out as transgender in middle age. In creating a nuanced character based on her own father, writer-director Jill Soloway has also provided Tambor with the role of a lifetime; his performance as Maura is darkly comic, heart-wrenchingly vulnerable, and both brave and graceful in its own way.
Outstanding Lead Actress in a Comedy Series
Edie Falco, "Nurse Jackie"
As Jackie Peyton, Falco finds the nuances in a stoic, levelheaded New York City emergency room nurse who succumbs to her addiction to prescription painkillers once again in the series' final season.
Lisa Kudrow, "The Comeback"
Kudrow returned to the character of Valerie Cherish, a washed-up sitcom star-turned-washed-up reality star for a second season of the dearly beloved "The Comeback." Kudrow's performance was not only hilarious—few are able to play the fool as well—but also heartbreaking and real.
Julia Louis-Dreyfus, "Veep"
That eye twitch alone could have earned Louis-Dreyfus a nomination, but this whole season found her next-leveling her performance as now-President Selina Meyer as much as Selina was in her career—all leading to that shocking, painfully real cliffhanger of a finale.
Amy Poehler, "Parks and Recreation"
"Parks and Rec" may have started off rough, but it transformed into one of TV's best comedies, a refreshing blast of optimism and good cheer due in large part to Poehler, who makes politics fun.
Amy Schumer, "Inside Amy Schumer"
There's a reason practically every sketch in Schumer's revelatory third season made headlines: Its writer-director-producer-star's brand of feminism is shrewd and incisive but always hilarious; Schumer takes no prisoners yet never fails to make us laugh.
Lily Tomlin, "Grace and Frankie"
Tomlin is a straight-up legend, and she proved why again this year. Rarely are older women made visible in media, but Tomlin created a woman who at one moment could be believably grieving the loss of her life companion and at another be hanging on the beach, tripping on peyote. Lighten up—it was all for the sake of healing.
Outstanding Supporting Actor in a Comedy Series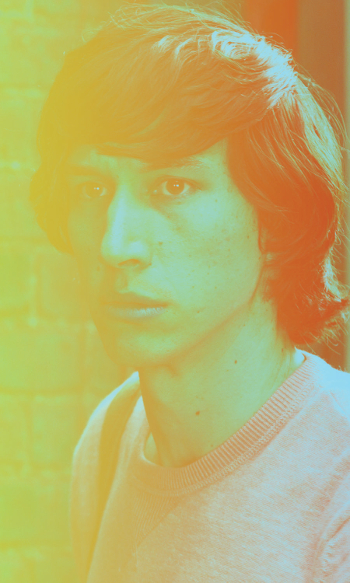 Andre Braugher, "Brooklyn Nine-Nine"
It's odd to think that Braugher, one of TV's best dramatic actors, had never done a full-fledged comedy before "Brooklyn Nine-Nine." His deadpan is so devastating it would make Buster Keaton crack a smile.
Tituss Burgess, "Unbreakable Kimmy Schmidt"
Surprises abound in Netflix's latest hit, but Burgess proves nothing short of a revelation. The actor delivers Tina Fey and Robert Carlock's signature zingers like he was born doing it, and his effortless sass and vocal prowess gave rise to television's most sublime comedic moment in years: the kooky ode to eleganza, "Peeno Noir."
Ty Burrell, "Modern Family"
Burrell has been nailing his childlike character, Phil Dunphy, for six seasons now. As the self-consciously laid-back "cool dad," Burrell takes a character that could be lost in the shuffle and makes him sing.
Adam Driver, "Girls"
Driver dug into his character this year. After breaking Hannah's (Lena Dunham) heart, Adam broke free from her emotional baggage and found himself exploring new demons in the form of his stage debut and the manipulative Mimi-Rose (Gillian Jacobs).
Tony Hale, "Veep"
Poor Gary. Hale's body man is also the constant punching bag of President Selina Meyer (Julia Louis-Dreyfus). In his Emmy submission episode, "East Wing," Gary finally gets to lose his cool. Much like the rest of Hale's work on "Veep," it's glorious.
Keegan-Michael Key, "Key & Peele"
One half of the Key and Peele duo, Key is all spindly legs and boundless energy. His characters originate in his physicality, beginning in his body and taking hold in his face, often contorted to create something wholly original. While President Obama anger translator Luther is his most famous character, each holds its own place in the pantheon.
Outstanding Supporting Actress in a Comedy Series

Mayim Bialik, "The Big Bang Theory"
Not too many actors can go toe-to-toe with Jim Parsons' brilliant comedic creation Sheldon, but Bialik proves episode after episode that she is more than up to the task as Sheldon's girlfriend.
Julie Bowen, "Modern Family"
Bowen's Claire Dunphy is not the most relaxed of mothers, but we could never say we don't enjoy watching her delve into the character and appreciate the great comedic moments she continues to find as an uptight mom.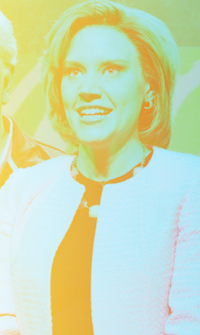 Anna Chlumsky, "Veep"
After three seasons of playing the tightly wound Amy Brookheimer, bemused employee to President Selina Meyer, Chlumsky snapped! This past season, her character finally let her emotions fly in a showstopping moment that saw the actor ripping into co-star Julia Louis-Dreyfus. You could literally hear the academy scribbling Chlumsky's name on the ballot in awe and admiration.
Gaby Hoffmann, "Transparent"
The Pfefferman children are a self-absorbed trio, but it's Hoffmann's Ali you feel for the most. She's stuck in a woman-child purgatory, coddled by her parents and refusing to grow up. Yet it's Ali who connects with her trans parent (Jeffery Tambor) and goes looking for her senile stepfather when he disappears. She may be wasting her potential, but she's the Pfefferman with the most promise.
Allison Janney, "Mom"
Janney's Bonnie is a screwup who unapologetically ruined her daughter's life. But Janney is so pitch-perfect funny that she makes this frankly horrible woman inherently affable.
Jane Krakowski, "Unbreakable Kimmy Schmidt"
In the two years since "30 Rock" ended, audiences have been patiently waiting for Krakowski's next laugh-out-loud performance, and as Jacqueline Voorhees on "Unbreakable Kimmy Schmidt," she doesn't disappoint. As someone so rich she throws away bottled water, the actor's comedic take on this New York socialite is just one reason to binge the breakout Netflix series.
Kate McKinnon, "Saturday Night Live"
The MVP of "SNL" 's ambitious 40th season has that enviable ability to turn mediocre sketches into brilliant ones with a simple head tilt or widening of the eyes. Let's hope Hillary Clinton makes it all the way to the White House so we can continue to enjoy McKinnon's blisteringly funny impression of her.
Niecy Nash, "Getting On"
As no-nonsense nurse DiDi, Nash must be the voice of reason amid the insanity of her co-workers and the elderly patients in the geriatric care unit where she works. And yet Nash's quietly observed performance this past season is memorable precisely because it provided a counterpoint to the selfish behavior of everyone else. Almost no other performance made you laugh and then made you cry the same way as Nash's.
Outstanding Guest Actor in a Comedy Series
Mel Brooks, "The Comedians"
Aside from the inherent hilarity that surrounds Brooks' one-episode guest spot on the Billy Crystal and Josh Gad–starring mockumentary—he's on "The Comedians" refusing to appear on "The Comedians"—the multihyphenate brings his iconic humor to the TV version of himself, fabricating a hypothetical Hollywood exec's opinion on Gad's unmarketable last name, among other gems.
Louis C.K., "Saturday Night Live"
Any time Louis C.K. shows up on "SNL," it's time to pay attention. His sensibilities meld so perfectly with those of the writers and cast that both are effortlessly elevated—and consider this nomination a nod to the tempest in a teapot that was his opening monologue.
Paul Giamatti, "Inside Amy Schumer"
Giamatti has been on "Inside Amy Schumer" before, playing God, no less. But he's hilariously serious as Juror No. 10 in the "12 Angry Men" parody, debating whether Schumer is hot enough to be on TV. He holds a firmly anti–sex toy stance in the argument, but then again, this is a guy who says women don't need orgasms, according to science.
Bill Hader, "Saturday Night Live"
If there was a sense of homecoming when Hader hosted "SNL," that was to be expected—he was always one of the sketch series' most undersung MVPs. But that he so consistently knocked it out of the park wasn't always to be expected, just very, very welcome.
Jon Hamm, "Unbreakable Kimmy Schmidt"
Hamm has had an odd career since he shot to fame as Don Draper. Hailed as one of the better dramatic actors on TV since 2007, Hamm has found his niche playing comedic weirdoes. Few roles have typified that better than cult leader Rev. Richard Wayne Gary Wayne. Hamm may be great at drama, but his "Kimmy Schmidt" guest role was pure delight.
Bradley Whitford, "Transparent"
Mark/Marcy was supposed to be Maura's (Jeffrey Tambor) ally. He was supposed to be his friend. But when Maura came out to Mark, saying that he was not just a transvestite, but transsexual, Mark flipped. Whitford was able to portray that transformation from friend to foe, imbuing Mark with fear and anger. He's not good to Maura, but Whitford makes you understand why.
Outstanding Guest Actress in a Comedy Series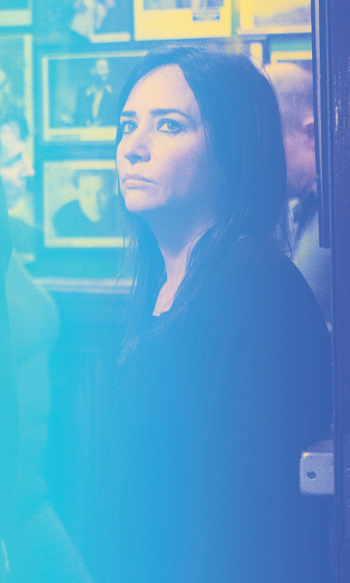 Pamela Adlon, "Louie"
Louis C.K. finds his foil in Adlon. The smoky-voiced industry veteran (remember her from "Grease 2"?) plays the ballsy Pamela with abandon. She's just as emotionally damaged, protecting herself with a sharp, barbarous wit. She even courted controversy, potentially raping Louie, but throughout it all, you still love this crazy broad.
Elizabeth Banks, "Modern Family"
As former party girl Sal, Banks used her imperious blond beauty to perfect advantage as the new mother who has totally shed her wild past and embraced a healthier-than-thou present for her baby. Plus, you have to admire any performer who can go up against Nathan Lane and come out the victor!
Christine Baranski, "The Big Bang Theory"
Baranski may have made a career out of effortlessness, but don't be fooled—there's a mathematical precision to her performances that's almost as enjoyable as the zingers she tosses off. Whether it's as Diane Lockhart on "The Good Wife" or as Sheldon's icy mother here, she makes you aware with every scene that you're watching a pro.
Joan Cusack, "Shameless"
Cusack's Sheila is the sweetest character in the Gallaghers' orbit. She's a ball of positivity in their dark world. Yet she refuses to kowtow to their general terribleness, eventually making off in an RV to a better life. Sheila has outgrown her purpose on "Shameless," but Cusack is so good let's hope she comes back.
Tina Fey, "Unbreakable Kimmy Schmidt"
"Unbreakable Kimmy Schmidt" had some incredible cameos, but Fey could not let those other celebs (including Emmy-nominated Jon Hamm) steal the show she conceived. Fey plays an idiot lawyer, a 180-degree turn from her previous work. She's good at being a mess, but rarely does she play dumb. Thank God she did, so we can hear her ask in cross-examination, "If you were me, what would you ask you?"
Gaby Hoffmann, "Girls"
First appearing on Season 3, Hoffmann plays Caroline, the somewhat estranged sister of Adam (Adam Driver) on Lena Dunham's millennial dramedy, but it's not until her pregnancy and adamancy for a home birth at the end of the fourth season that she moved into the spotlight. Shrieking naked in the tub, her baby in the breech position, Hoffmann makes a situation that should be hard to watch one from which you just can't look away.
—Molly Eichel, Stacy Lambe, Mark Peikert, Briana Rodriguez, Jack Smart, and Rebecca Strassberg
C.K.: Dana Edelson; Driver: Mark Schafer; McKinnon: Dana Edelson/NBC; Adlon: KC Bailey/FX
Inspired by this post? Check out our television audition listings!