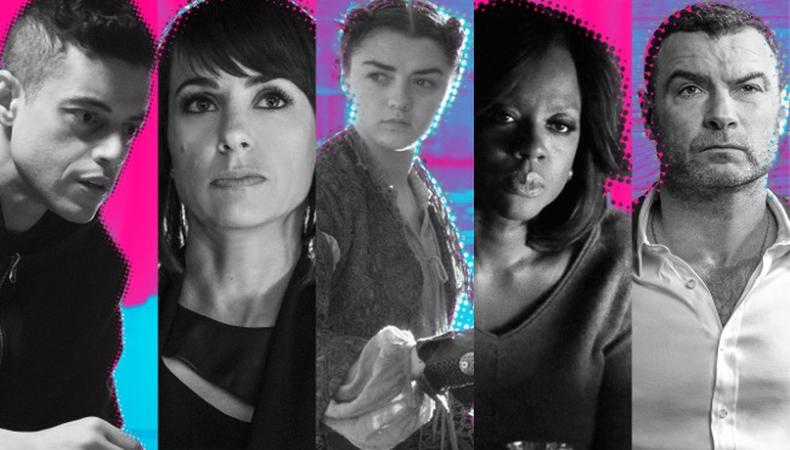 Outstanding Lead Actor in a Drama Series
Kyle Chandler, "Bloodline"
Chandler puts in serious work to undo his first-season image of the "good son" trapped by the sins of his family members. On Season 2, John Rayburn has entered crisis mode over the massive secret of what he's done to his brother (Ben Mendelsohn). The choices he makes out of panic and paranoia seem to be trying to disprove the first half of Season 1's opening line: "We're not bad people, we just did a bad thing."
Rami Malek, "Mr. Robot"
The small screen is crowded with misunderstood genius-addict-antiheroes, but Malek's spin on the archetype promises a fresh direction for prestige TV. As hacker mastermind Elliot, the actor carries USA's sleeper hit on his hoodie-clad shoulders, all paranoia and inimitable intensity. The cynical drawl of his narration, which transforms even the most banal statements into unmissable pearls of wisdom, gives "Mr. Robot" its frantic pulse.
Bob Odenkirk, "Better Call Saul"
Season 2 of the "Breaking Bad" spinoff delves deeper into the moral conundrums that come with a hunger for success and a reluctance to cut people down to seize it. As we continue to see streaks of the "Bad" habits that built Jimmy aka Saul's shyster reputation—and with knowledge of the final meth-charged outcome in the back of our minds—Odenkirk gives an increasingly nuanced performance, adding a new layer to the dodgy lawyer's present tense.
Matthew Rhys, "The Americans"
Rhys went beyond his usual great performance as Soviet spy Philip in the terrific fourth season of "The Americans." Plumbing the depths of infidelity and trust while facing the repercussions of staying in his line of work has given Rhys a wider emotional range to tackle—all of which the actor explores unflinchingly.
READ: "Matthew Rhys' 1 Character and Multiple Performances"
Liev Schreiber, "Ray Donovan"
Things only become more complicated this year for the titular antihero of this Showtime drama—and that includes Schreiber's performance. Loving father, guilty husband, violent fixer: Schreiber brings each color to life and then seamlessly blends it with the rest of the palette. And he still makes you care about the guy.
Kevin Spacey, "House of Cards"
What's most terrifying about Spacey's performance is how prescient it turned out to be this election year. A charming bully who uses every tool at his disposal to accomplish his own goals and is in politics seemingly only for the sake of power? Is life imitating art?
Outstanding Lead Actress in a Drama Series
Claire Danes, "Homeland"
There's a reason Danes' cry face has become an internet meme: She's damn good at crying. Her Carrie Mathison also excels at whipping up counterterrorism strategies, boozing and pill-popping, and shrieking at her incompetent colleagues. Even playing a dangerously erratic character, Danes and her quivering chin manage to keep the roller coaster on track.
Viola Davis, "How to Get Away With Murder"
Davis sinks her teeth into the role of treacherous defense attorney Annalise Keating and chews forcibly. Carrying a show full of murderous twists so cheesy you'll swear off lactose, Davis is a diva for the ages, as brash and ballsy an antihero as any of her white male counterparts on television. She has one Emmy to prove it. Could she win a second? (Yes, she could.)
Taraji P. Henson, "Empire"
Henson is both the scene-stealer and the unabashed heartbeat of this soapy Fox drama, bringing a singular, diva-tastic voice to network television. It doesn't seem possible that Cookie Lyon could continue to up the drama when it comes to her family's fraught hip-hop label, but Henson proves there are no heights she can't—or won't—reach. Will the Emmys want a taste of Cookie this year?
Tatiana Maslany, "Orphan Black"
Is there any performance on television right now more jaw-dropping than that of Maslany? As to which of her multiple characters we prefer, choose. Whether it's tough Sarah, neurotic Alison, nerdy Cosima, deranged Helena, mysterious M.K., or the blond, bubbly but oddly determined Krystal, Maslany delivers week after week, role after role.
READ: "Meet Backstage's Performer of the Year, 'Orphan Black' Star Tatiana Maslany"
Keri Russell, "The Americans"
Finally. Finally the world understands the work Russell is doing in FX's gripping Soviet spy drama, and is ready to recognize her for it. As Elizabeth Jennings, both American matriarch and loyal Russian agent, the actor radiates determination, even danger. And while "The Americans" features excellent dialogue, watching Russell's magnetically wordless acting is one of its best treats.
Robin Wright, "House of Cards"
We knew that Claire Underwood was the driving force behind Francis, even if he didn't. Boy, did he learn his lesson when Wright's Claire beat him at his own game and made him suffer. The net result? Claire ended up on Frank's ticket as vice president, and we found more reasons to worship at Wright's feet.
READ: "Robin Wright Has a Better Agent Than Robin Wright in 'The Congress' "
Outstanding Supporting Actor in a Drama Series
Jonathan Banks, "Better Call Saul"
Banks is a master of the close-up. When the camera inches toward the actor's face, you see both sides of his Mike Ehrmantraut: the cold-blooded hitman and the weary, tenderhearted grandfather. How does Banks use a grunt, a glare, or a subtle twitch to convey either side—let alone both at the same time?
Peter Dinklage, "Game of Thrones"
In the first season of HBO's "Game of Thrones" that outstripped its source material, we needed a reliably constant character—and performance—to ground us. Dinklage continues to make Tyrion Lannister a riveting and complex figure onscreen, suavely navigating fragile political truces without sacrificing humor. The actor also has that rare ability to elevate his co-stars' performances; it seems everyone has chemistry with him.
Kit Harington, "Game of Thrones"
Jon Snow went through hell this season—almost literally. Everyone's favorite reluctant hero was forced to step up to the plate like never before, especially in the show's brutal, blood-curdling "Battle of the Bastards." Leading those astonishing tracking shots was Harington, who demonstrates remarkable control of his body; his grimaces of fear or fury and the speed with which he moves are a study in magnetic physicality.
Michael Kelly, "House of Cards"
Now that pesky Rachel has been disposed of, Kelly's back on his feet in a welcome return to form, quietly going up against Claire and less quietly fighting with Neve Campbell's new addition to the team. Has loyalty ever seemed so slimy?
Ben Mendelsohn, "Bloodline"
With a perpetual cigarette hanging from his lips, Mendelsohn is unsettling one minute and, well, even more unsettling the next. In flashbacks and spooky apparitions, he fully inhabits Danny, the black sheep of the Rayburn family, and the subtleties of his wolfish performance continue to complicate the audience's sympathies. Still, we wouldn't want him haunting us.
Jon Voight, "Ray Donovan"
Thank goodness Voight is acting on the small screen. As Mickey Donovan, the titular fixer's roguish father, he reminds audiences why he's a legend: able to flesh out a character's inner humanity, yet unafraid to play up his most sexist, racist, criminal ways. Even as you wince at the shenanigans Mickey gets into, you admire Voight's unabashed commitment.
Outstanding Supporting Actress in a Drama Series
Emilia Clarke, "Game of Thrones"
When conquering or presiding over a city, it helps to have dragons at your side. But in Daenerys Targaryen's most kickass moment to date—in which she torches her misogynistic enemies and emerges before her followers like a goddess from the flames—she uses nothing but sheer, majestic will. Clarke, with her tantalizing smiles and less-is-more approach, reminded us this year why her character rules in every way.
Lena Headey, "Game of Thrones"
There's a wonderful moment in Season 6 when Headey's queen Cersei delivers what could be the show's motto: "I choose violence." She says it firmly but quietly, as if it's not a choice at all. Then, in the season's explosive finale, perhaps the series' greatest sequence to date, Cersei takes that sentiment to another level. Is that regret or self-loathing flickering across her steely features? Or just cold triumph?
Maggie Smith, "Downton Abbey"
Oh, how we'll miss the Dowager Countess of Grantham. From "What's a weekend?" to "A peer in favor of reform is like a turkey in favor of Christmas," Smith's imperious Violet Crawley spouted instant-classic lines that wouldn't sound right coming from any other actor alive. We'll never get tired of celebrating this tremendously gifted dame.
Maura Tierney, "The Affair"
Finally, we get to see the titular affair from Helen's side of the story. Tierney has a quiet control over her craft that makes the times when she decides to show vulnerability as a betrayed wife all the more powerful. And when her strength is at the forefront, raw and fearless, it's clear she's a welcome addition to a growing canon of TV's fierce female characters.
Maisie Williams, "Game of Thrones"
It feels reductive to declare Williams the greatest child actor on television, fitting as that title may be. That's because she carries herself with a composure far beyond her years, turning young Arya into Westeros' deadliest face-swapping warrior by leveling those expressive eyes at adversaries—a stare that must chill scene partners to the bone.
READ: "9 Questions With... Constance Zimmer"
Constance Zimmer, "UnREAL"
You should hate Quinn—and played by anyone other than Zimmer, you probably would. "Cash bonuses for nudity, 911 calls, catfights," she reminds her staff before shooting an episode of reality dating show "Everlasting." Quinn turns innocent girls looking for love into puppets, manipulating them for higher TV ratings—and Zimmer effortlessly turns audiences into loyal fans.
Want your own Emmy nomination? Check out our television audition listings!