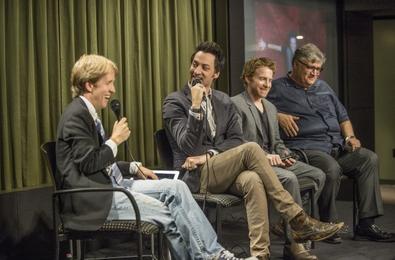 All voiceover jobs begin the same way for Maurice LaMarche.
"They all involve a microphone and a room with carpet on the walls," LaMarche said Aug. 6 at a Screen Actors Guild Foundation panel honoring nominees for best animation voiceover performance at the upcoming Creative Arts Emmy Awards. "That's where I start from."
LaMarche ("Futurama") was joined in a two-hour conversation at the SAG Foundation Actors Center in Los Angeles by Seth Green ("Robot Chicken") and Stephen Full ("Dog With a Blog"), as well as moderator James Arnold Taylor.
The voice behind multiple characters on "Futurama," LaMarche was asked about the difference between doing an animated series and doing commercial work. He noted an episode of the animated series "The Critic," in which he voiced 26 characters.
"I look at it as a chance to play and bounce all over the place and change vocal tensions," LaMarche said. He contrasted that experience with his work in automobile commercials. "With something like Lexus, I take that and make that a more intimate experience, and I talk to my best friend about the best car I know. I'm not listening to myself. I'm conveying information in a truthful way."
When the subject of line readings came up, LaMarche noted that he's received too many terrible ones from directors who don't know how to read a line. Full said he welcomes them when they're given properly, but that they're often not.
"Sometimes it's a little bit demeaning to say, 'This is how you should say it,' " Full said. Green, who created and produces "Robot Chicken" in addition to voicing many of the show's characters, said that as a showrunner, he won't offer a line reading to an actor unless asked for one, but that actors should practice patience when working for someone who wants something specific.
"You just never know what the background is," Green said. "You don't know what the last six months have yielded to get them to the point where they've got you in the booth and are saying, 'Just say it like this.' "
Green also implored actors to be entrepreneurial and to reject rejection.
"Do your own thing, do what you love, do something that you will love working on," Green said. "Because at the end of the day, when it all goes to shit and all you can do is have the product, you want to love that thing. You don't want to be stuck working on something you hate."
For info on how to be the best voiceover artist you can be, check out "8 Ways to Avoid Sabotaging Your VO Career."