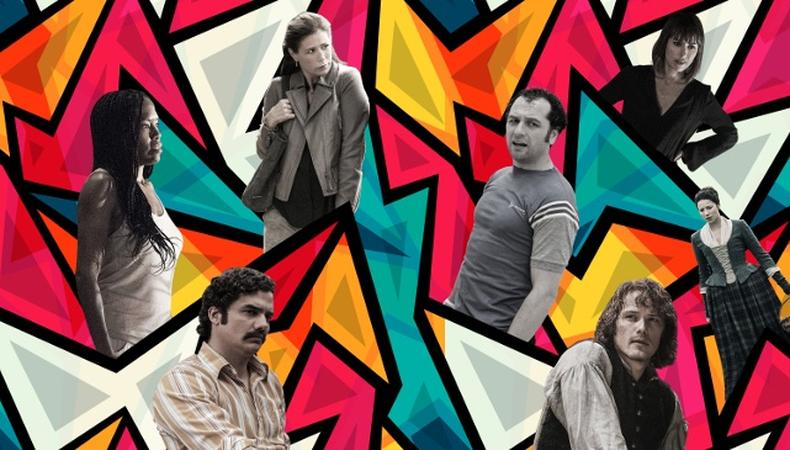 Dear Emmy nominators: Please consider our wish list of nominees for shows as diverse as "The Leftovers" to "Outlander," "The Path" to "Underground."
Outstanding Lead Actor in a Drama
Kyle Chandler, "Bloodline" (Netflix)
Chandler puts in serious work to undo his first-season image of the "good son" trapped by the sins of his family members. On Season 2, John Rayburn has entered crisis mode over the massive secret of what he's done to his brother Danny (Ben Mendelsohn). The deft choices he makes out of panic and paranoia seem to be trying to disprove the first half of Season 1's opening line: "We're not bad people, we just did a bad thing."
Sam Heughan, "Outlander" (Starz)
Heughan went from kilt-clad Highlander in Season 1 to booted and buttoned-up Parisian wine merchant in Season 2, but the change of scenery and costume did nothing to dilute either his sex appeal or the inner brokenness that followed him from Scotland to France and from season to season. His gradual return to form—plus all that French—was a masterly performance.
Rami Malek, "Mr. Robot" (USA)
As Elliot, an enigma to even his closest friends and a paranoid rebel with a sense of justice to uphold, Malek transcends typical antihero tropes, creating one of this year's most riveting TV characters. While his hunched shoulders underscore the cagey energy that propels the narrative, it's Malek's piercing gaze peering from beneath his black hoodie that truly conveys the hacker drama's dire stakes.
Mads Mikkelsen, "Hannibal" (NBC)
To step into a role made famous by great actors such as Brian Cox and Anthony Hopkins takes courage, but to do it even better than them takes Mikkelsen. After two seasons of beautifully crafted, meticulously planned dinners, we watched his Hannibal Lecter come loose as the murderous doctor's fear of being caught by Hugh Dancy's Will Graham came to a head. Saying goodbye to "Hannibal" is sad, but the dessert was so wonderfully decadent.
Wagner Moura, "Narcos" (Netflix)
Brazilian actor Moura prepared tirelessly to play the notorious Pablo Emilio Escobar Gaviria, going so far as to learn Spanish for the role. Nominated for a Golden Globe earlier this year, Moura has proven his effectiveness as the drug lord, exuding ruthlessness, passion, diplomacy, or ferocity depending on whether Escobar's playing the family man, a wannabe politician, or a menacing criminal. Much like the cartel leader himself, this actor is poised to take what he wants: an Emmy nod to add to the résumé, perhaps?
Bob Odenkirk, "Better Call Saul" (AMC)
Season 2 of the "Breaking Bad" spinoff delved deeper into the moral conundrums that come with a hunger for success and a reluctance to cut people down to seize it. As we continue to see streaks of the "Bad" habits that built Jimmy aka Saul's shyster reputation—and with knowledge of the final meth-charged outcome in the back of our minds—Odenkirk gives an increasingly nuanced performance, adding a new layer to the dodgy lawyer's present tense.
Matthew Rhys, "The Americans" (FX)
Rhys went beyond his usual great performance as Soviet spy Philip in the series' fourth season. Exploring the depths of infidelity and trust while facing the repercussions of continuing to stay in his line of work has given Rhys a nuanced emotional range to tackle—all of which the actor explored unflinchingly.
Outstanding Lead Actress in a Drama
Shiri Appleby, "UnREAL" (Lifetime)
Rachel's "Everlasting" colleagues don't like her. Because of her on-camera nervous breakdown the season prior ("He's about to dump you," she drunkenly tells a contestant before knocking over the set), she's a threat. But none of that matters if you happen to be the best damn producer on the show. While it's hard to tell if Rachel's ever genuinely honest (or honestly genuine), she puts the contestants and audience at ease. Should we trust her? Probably not. But it's a testament to Appleby that we do.
Caitriona Balfe, "Outlander" (Starz)
This season opened with Balfe stumbling on an asphalt road—something to give audiences pause, since when last we saw her she was in Scotland, centuries away from pavement. Somehow, through sheer talent, Balfe sells this abrupt transition—and then proceeds to build a towering performance that encompasses Paris intrigue, smallpox diagnoses, and going into labor at the most inopportune time.
Priyanka Chopra, "Quantico" (ABC)
Bollywood superstar Chopra became an American sensation as FBI recruit Alex Parrish on ABC's breakout hit—and for good reason. Leading the massive 22-episode first season of "Quantico" as the suspected terrorist and, in flashbacks, a promising FBI trainee, she delivers on intense physical challenges and complicated dialogue. She deserves the fame, accolades, and so much more.
Eva Green, "Penny Dreadful" (Showtime)
Green begins Season 3 of Showtime's criminally underwatched horror thriller in an almost feral state, after her makeshift family scattered to the winds at the end of Season 2. But then she begins therapy, meets a kind gentleman, and starts to believe herself more than her demons. Alas, happiness isn't really an option when the devil himself desires you—but luckily for us, Green still has plenty of terror to convey.
Tatiana Maslany, "Orphan Black" (BBC America)
Is there any performance on television right now more jaw-dropping than that of Maslany? As to which of her multiple characters we prefer, choose. Whether it's tough Sarah, neurotic Alison, nerdy Cosima, deranged Helena, mysterious M.K., or the blond, bubbly, but oddly determined Krystal, Maslany delivers week after week, role after role.
Krysten Ritter, "Jessica Jones" (Netflix)
Who knew a brooding, bitter ex-superhero would be a natural fit for Ritter, an actor known for portraying sassy girly-girls? But her performance as the title character on this Netflix hit supersedes all her previous roles. As Melissa Rosenberg's gripping series unfolds, it manages to incorporate elements of film noir, the Marvel Universe, and the effects of PTSD and sexual abuse. Every distinctive glower—and ass-whooping—from the captivating Ritter helps sell that premise.
Jurnee Smollett-Bell, "Underground" (WGN)
Just as her brother Jussie had his breakout year in 2015 with "Empire," Smollett-Bell came into her own with this year's premiere of "Underground." As Rosalee, a slave on the run in 1857 Georgia, the actor on the rise embodies a woman who finds strength, grit, and perseverance at a time when that's exactly what could get her killed.
Outstanding Supporting Actor in a Drama
Jonathan Banks, "Better Call Saul" (AMC)
Banks' Mike Ehrmantraut is just as engrossing a character as Odenkirk's Jimmy McGill (aka Saul) on AMC's "Breaking Bad" prequel. His backstory—son gets murdered; he gets entrenched in the crime world to care for the family left behind—is, if not altogether relatable, sympathetic. And sure, he's never one to hold our hand through the dark, but we feel a whole lot better having him around.
Mike Colter, "Jessica Jones" (Netflix)
Yes, this joint effort from Marvel and Netflix is called "Jessica Jones." And yes, Ritter is captivating as the title character—but the spotlight isn't singularly hers. Colter is subdued as Luke Cage, whose unwillingness to embrace his superhuman strength and unbreakable skin could easily close him off to the audience. Instead, Colter slowly reveals what's under that thick skin, inviting you to revel in Luke's mystery.
Alan Cumming, "The Good Wife" (CBS)
Thrice nominated for his role on CBS' procedural-political darling, Cumming's performance only strengthened in the final season, which finally saw his Eli Gold sorrowfully confess to some of his sins. Brash but lovable, Eli was and remains the crisis manager and political operative we'd want in our corner.
Hugh Dancy, "The Path" (Hulu)
Hulu's latest drama is driven by excellent turns from Aaron Paul and Michelle Monaghan, but most of all from Dancy, who plays the Meyerist Movement's cultish religious leader Cal Roberts. Though he seems the chipper type, Dancy erodes his optimism with a rising darkness, ambition, and inner conflict.
André Holland, "The Knick" (Cinemax)
Holland is the eye to Clive Owen's storm as the brilliant and underestimated Dr. Algernon Edwards. He's calm, cool, and collected at the titular Knick, but outside the hospital's walls he allows his anger to subsume his need to prove his competence in all areas, stretching from his career to his romantic relationships.
Tobias Menzies, "Outlander" (Starz)
Menzies has an actor's dream: In the 1940s storyline, he plays the sympathetic, loving husband. In the 18th century, he's a maniacal, sadistic redcoat who delights in inflicting pain on Claire (that would be his wife in the '40s). Confused? Not if you watch Menzies' performance, a perfect throwback to 'stache-twirling villains.
Christian Slater, "Mr. Robot" (USA)
What a career rejuvenator "Mr. Robot" has been for Slater! The Golden Globe winner helped make the hacker drama an instant hit by portraying the mysterious title role—or is he?—with a charismatic shagginess. With only his enigmatic stare, Slater's character embodies the dizzying twists, turns, and complete upheavals of the show's first season.
Outstanding Supporting Actress in a Drama
Christine Baranski, "The Good Wife" (CBS)
Let's crunch some numbers. "The Good Wife" has been on for seven seasons, and Baranski's been nominated every year thus far. (That's six nominations!) She's won zero times despite critical acclaim for her work as Diane Lockhart, the steadfast name partner of the show's main law firm. So it's simple math, really: "The Good Wife" minus Baranski equals nothing. Give this actor what she unquestionably deserves.
Calista Flockhart, "Supergirl" (CBS)
Both wryly funny and scarily confident, Flockhart's turn as CatCo Worldwide Media founder Cat Grant is the reason to watch this refreshingly feminist take on a DC Comics story. The actor dominates the screen by underplaying everything: airy nonchalance, proud feminist boasting, and the most vicious of put-downs. As much as you'd never want to be her assistant, you'll never want to take your eyes off her.
Regina King, "The Leftovers" (HBO)
An Emmy winner last year (and a prospect this year) for ABC's "American Crime," King pulled double duty as matriarch Erika Murphy on HBO's "The Leftovers." A newcomer in Season 2, King demanded our attention as a grieving mother who believes she's responsible for her daughter's Departure. The tension between her Erika and Carrie Coon's Nora will go down as one of the series' great standoffs.
Maura Tierney, "The Affair" (Showtime)
Finally, we get to see the titular affair from Helen's side of the story. Tierney has a quiet control over her craft that makes the times when she decides to show vulnerability as a betrayed wife trying to move on all the more powerful. And in the times when her strength is at the forefront, it's clear she's a welcome addition to a growing canon of TV's fierce female characters.
Sophie Turner, "Game of Thrones" (HBO)
In the vast "Game of Thrones" ensemble, no character has evolved more thoroughly than Sansa. Once a stuck-up, clingy teenager, the eldest Stark girl is now headstrong, preternaturally confident, and cold as the coming winter. Turner plays the character's plan for vengeance with all the dignity of a woman beyond her years, particularly in a scene where she demands that one of her enemies recognize her sexual assault. Season 6 will go down in history as Turner's gamechanger.
Alison Wright, "The Americans" (FX)
"Poor Martha" was uttered by audiences so often during the four seasons Wright has played the FBI secretary seduced into marriage and espionage by Matthew Rhys' alter ego, it might as well be her full name. "Poor Martha" finally took action herself this season, and proved just as compelling as she has been heartbreaking—very much a case of "Wow Alison!"
Constance Zimmer, "UnREAL" (Lifetime)
You should hate Quinn—and played by anyone other than Zimmer, you probably would. "Cash bonuses for nudity, 911 calls, catfights," she reminds her staff before shooting an episode of "Everlasting." Quinn turns innocent girls looking for love into puppets, manipulating them for better TV and higher ratings—and Zimmer effortlessly turns audiences into loyal fans.
Inspired by this post? Check out our television audition listings!