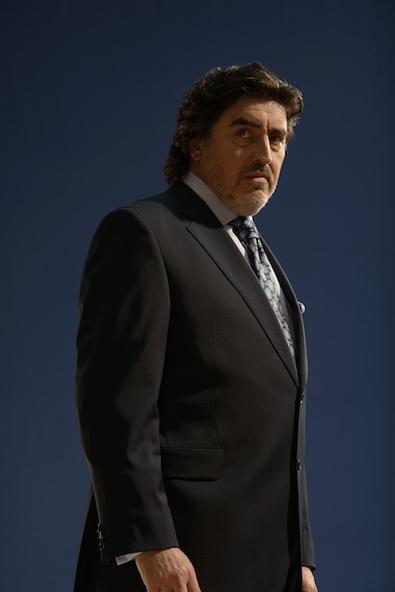 On the night Alfred Molina went to see "The Normal Heart" in London's West End in 1986, former president Ronald Reagan had just ordered the bombing of Libya, launching American planes from English airbases. It put the U.K. at the frontlines of any potential retaliation.
"All the Brits were up in arms about it, pardon the pun—there were demonstrations," explains Molina. "The night I went to see the play, Martin [Sheen, who played Ned Weeks] at his curtain call stepped forward and apologized for the United States; it was amazing and very brave—everyone stood up." This, on top of the emotionality of the play's subject matter, left everyone's nerve endings sensitive, says the Emmy-nominated actor. Reagan had yet to use the words AIDS or HIV in public, and here was this play—amidst American-headed violence out of the U.K.—about the worst epidemic to ever hit the gay population.
Originally written as a play by Larry Kramer, HBO turned the story about some of the first AIDS activists into a TV movie earlier this year. Starring Mark Ruffalo as Ned Weeks, Taylor Kitsch, Matt Bomer, Jim Parsons (who appeared in the stage version), Joe Mantello, and Julia Roberts—all of whom have also been nominated for Emmys. Molina, up for his first nomination, plays Ned's older brother, Ben.
"He's as complex as anyone else," says Molina about his character, "but what makes Ben work as a character is the fact that he loves his brother and loves him to death, loves him to bits, but just can't say they're the same—he just cant do it. He sees his brother's gayness as a flaw." But Molina says if that would've been all there was to Ben, the character would not have been nearly as interesting to play. By latching onto the love Ben has for his younger brother, Molina was able see him more as a product of his environment, rather than an out-and-out bigot.
"The challenge was to make him as real and as authentic and human as possible," he says, "especially in the context of a film where everybody is on the same side; everyone else is either gay or struggling with HIV or on the frontline. I think the reason why that role has gotten so much attention is less to do with what I did with it than the fact that in this whole sea, there's this bobbing cork and people ask, 'What is he doing there? Why doesn't someone just drown him?' Thats a tribute to Larry Kramer's writing—he puts this interesting character right in the middle."
Towards the end of the film we see Ben manage to "pull the scales away from his eyes." With one line—"I wish I would've met you sooner"—he shows he has. Kramer didn't write Ben as a villain, but instead as a man struggling to understand his brother in an era where the gay movement was just gathering momentum before being thrust back 10 steps because of "gay cancer."
The incredibly moving film captures the battle from all sides, from the activist to the medicinal to the personal front, the confusion and sadness is tangible and it's no surprise the cast received as many nominations as it did. Regardless, Molina was surprised by his own tap and doubts he'll win.
"My money's not on me—my money's on Matt or Joe," he says. "I was talking about this with my daughter; She asked me, 'Are you excited?' I'm absolutely thrilled, but I don't think for a minute I'm going to win. It's just nice to have that recognition. People say, 'I'm just glad to be nominated,' and it always sounds like bullshit—excuse my French—but I get it now. I'm thrilled and delighted, but I'm no fool."
In addition to playing Ben in "The Normal Heart," we can also see Molina opposite John Lithgow in "Love is Strange" where the two play husbands in a story about long-term love.
Want more? Check out more of our Emmy interviews and coverage!