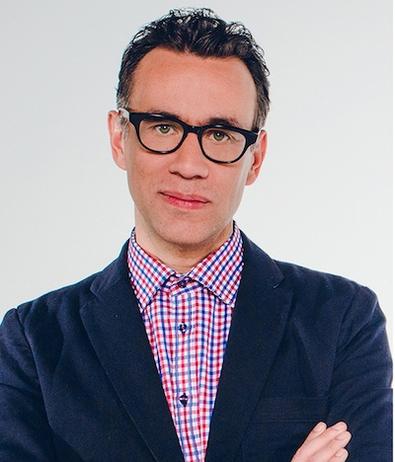 Despite "Portlandia's" two Emmy wins and additional four nominations prior to 2014, Fred Armisen still didn't expect his nomination for outstanding supporting actor in a comedy series this year.
"I really, really…I was so surprised that I actually didn't even have it in my fantasies," he says.
"To me, I already feel really good about it; it's a very nice thing to even be considered with all these people [fellow nominees Ty Burrell, Jesse Tyler Ferguson, Tony Hale, Andre Braugher, and Adam Driver]. These are shows that I watch…every one of them. And these are people who I think are so funny. Do I want to be in a group with them? Yeah…I can't believe it."
Backstage chats with "Portlandia" creator-writer-star Armisen about what the show means to him, where it's headed, and everything in between.
On how Season 4 differed from previous seasons.
For Armisen, the difference between Season 4 versus the previous three is not something the audience can see. It's not in the episode scripts or in the costumes. No, what made Season 4 special was more of a feeling for the "Saturday Night Live" veteran and currently "Late Night with Seth Meyers" bandleader. "Every season has its value but there was a point where we thought, Well let's just enjoy this a little bit; let's get to know these characters. I think it was very much a matter of that…where we were very much at peace with ourselves," Armisen explains.
"And so it was the attitude going into it that we felt very close to each other—Carrie [Brownstein] and I…the whole group. So I think it was more of an internal thing—that feeling that we enjoy this—which is a big deal, I think, 'cause it could be the other way around.
"Instead of thinking about what we can fix, we're thinking, How can we make this enjoyable time last longer? 'Cause I love doing the show. I love hanging out with Carrie. I love Carrie. I love [Director] John [Krisel]. These are things that don't happen every day and I just can't take it for granted."
On his favorite characters to play.
"Portlandia" fans know it's hard to pick a favorite from Armisen and Brownstein's army of hilarious duos, but Armisen knows his favorite off the bat. "The feminist bookstore ladies Tony and Candice," he says. "We just get to goof around. That's our least scripted of the characters and we just sit in that feminist bookstore all day and try and come up with stuff."
On acting out his own material versus acting out material written by someone else.
"On 'SNL' it's another writer and you owe it to them to kind of honor what they wrote. And then on "Portlandia" there's still that honor to the director, to the other people that you have to deliver and not indulge yourself too much. So there's someone to answer to which is a good thing; it's a good thing to creatively say, 'Is this reading OK? Do you understand what this is? Is this working for you?' So in a way, it's like a different leg of a train ride: There's Point A to Point B. This is Point B to Point C. And then that you still have the same responsibility to stay on those tracks," Armisen says.
"I just came up with that analogy by the way and I'm very proud of it!"
On advice for those who want to break into variety show acting.
Though it goes without saying, Armisen is a king in the comedy world, and his 12 years spent on "SNL" were some of the best the show has ever seen. So take it from him when he says, "Take everything step by step. Don't rush to have to do it all at once. Don't get impatient with yourself when it all hasn't happened in one minute.
"It's okay that there's a week or a month or a year when you're unsure of what's happening. That's OK; that's all part of it. In fact, it's necessary.
"Surround yourself with people you like and respect; surround yourself with people you just want to be around and keep making things. If something seems like a little venue, don't treat it like that. Do it all. If you're sort of wondering why you're doing something at some location, just do it—any size theater, production, or whatever. It's all helpful. And just keep going."