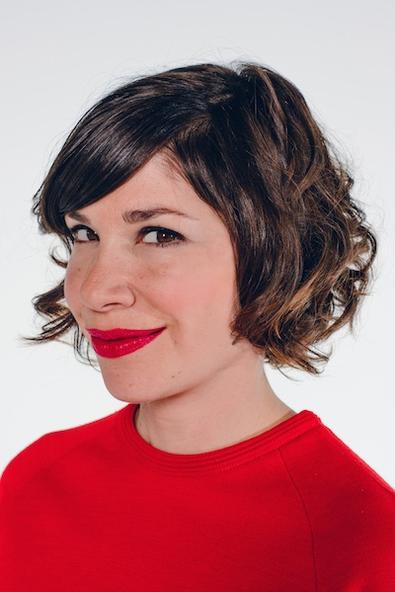 Since we were first introduced to "Portlandia" in 2011 via viral sketches like "Dream of the 90s" and "Did You Read?", the show's only gotten bigger, stronger, and more popular, earning two Emmy awards along the way. This year, its record-setting four nominations include outstanding supporting actor in a comedy series for Fred Armisen, outstanding director for Jonathan Krisel, outstanding guest actor for Steve Buscemi, and for the third time, outstanding writing for the group: Armisen, Carrie Brownstein, Krisel, and Bill Oakley.
And if the critical acclaim isn't enough to convince you that you need to be watching "Portlandia," let the sketches speak for themselves.
Backstage chats with Brownstein about how "Portlandia" has evolved, and how the sketches get written.
Tell me about the writing process. How do you come up with ideas for sketches?
When we're not sitting, we're all taking stock of phenomena in our own lives and being keen observers of culture and trends, but also things that are more transcendent than something that's just in the moment—things that have more to do with cities and things that just aren't in the here and now. When we come back together, we sit around for the first couple of days and kind of talk about those observations and then we formally pitch ideas.
Do you write the sketches as a team, or do you divvy things up?
Once we pitch ideas and we go through those ideas and choose the characters for that sketch, we beat out the sketch and figure out what the arcs are and what the button is on the ending. When we get to the script writing process, we will divvy that up but we stay in the same room so we still have this kind of collective energy where we all kind of sit…It feels like study hall at that point; we're all sitting in the same room working quietly. But it's nice because the ideas are kind of generated collectively, or at least they're aided and enhanced collectively.
Who are some of your favorite characters to write for?
I think it's evident the ones we love to write for, those are surely the ones that showed up in Season 4. So Peter and Nance, Kath and Dave, Tony and Candice, Lance and Nina.
[For Season 4] I think there was an intention to be less conceptual and less topical and to really take the characters who we love to write for and write for them in more depth. Because I think people really relate to characters; it's the way into the show, it's the way for the show to always have heart and have an earnestness to it.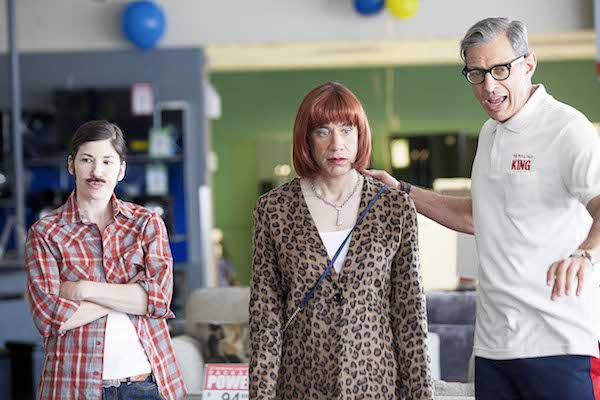 Brownstein, Armisen, and Jeff Goldblum in "Pull Out King" - Augusta Quirk/IFC
Which characters do you find are the most difficult to write for?
Even though it's one of my favorite sketches, the "Pull Out King," I do actually think Lance and Nina are harder to write for, because there's an inherent absurdity to them that we kind of have to overcome. Fred and I are playing opposite gender and we have to work harder, I think, to get that truth in those situations. Because people are looking at it like, This is very silly, and we know that, we like to play into that, but we also have to work harder at making sure there is a real truth in that. They're hard to write for, but I think when we do it well like with "Pull Out King," it's all those things; it's heightened, it's funny and surreal but also is relatable.
Do you have a favorite sketch from Season 4?
I think "Celery" is a good example of how this show continues to surprise people, and we've really built an elasticity into the form where we can still do something topical but in a way that feels heightened and also is driven by character.
It started out just talking about the phenomenon of the way vegetables kind of take on…the phenomenon of vegetables kind of coming back into vogue—brussel sprouts are coming on every menu or how kale has this new lease on life. So we started to think about it in terms of like personifying those vegetables.
I think it combines a lot of elements that we've been working towards and also felt like a step forward for us—like something we haven't done yet.
What can we expect from Season 5?
I think there's a lot of continuation from Season 4 in terms of focusing on that same group of about 10 characters who, I think we have the most fondness for and I think the audience has the most affinity to. But at the same time we are introducing some new characters, and I would say almost every episode is like the "Getting Away" [the Season 4 finale] episode…so every episode will sort of revolve around a theme or an incident. And that just allows us to tell longer stories, meaning that the characters can come into focus a little bit more.
Want more? Check out more of our Emmy interviews and coverage!