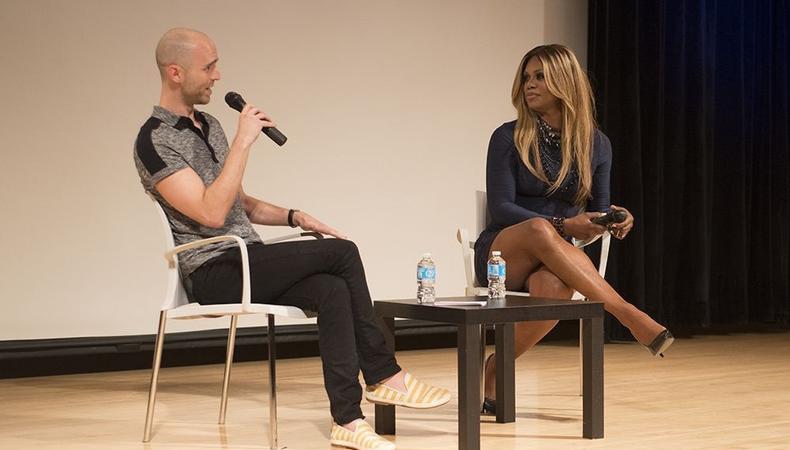 The Screen Actors Guild Foundation and Backstage magazine have teamed up for a conversations series with this year's Emmy-nominated performers. The first installment was held July 30 at the New School, with guest actress in a comedy nominee Laverne Cox ("Orange Is the New Black") and Backstage's Executive Editor Mark Peikert.
Cox, who plays Sophia Burset, a transgender inmate, is the first openly transgender actor to be nominated for an Emmy. In May she was featured on the cover of TIME magazine, a solidification of the impact she has had on the entertainment industry, as well as the general public, as an advocate for gender-nonconforming individuals. With the announcement of her Emmy nomination, it was official: Cox is a pop-culture icon in the making.
"It's intense for me to be sitting here as an Emmy nominee when not too long ago I was barely paying my rent. Actors get that, right?" she said, talking directly to the audience about working a survival job and being on a payment plan to continue living in her apartment.
After SAG Foundation screened the episode for which Cox was nominated, the Jodie Foster–directed "Lesbian Request Denied," Cox spoke about meeting Foster on set for the first time. "I was shaking," she said. "I called my brother...and was like, 'I don't know if I can work anymore!' But I just heard my acting teacher, Brad [Calcaterra], saying, 'Take all that energy and put it into the work!' So we got through it."
Cox, who started off as a classical ballet dancer at Marymount Manhattan College, began taking acting classes at the college after feeling oppressed by dance's strict gender roles. From there, she trained as an actor extensively, appeared on a reality television show, and did several indie films before landing "OITNB."
"When I first read the script, I cried and I laughed at the same time," she explained. "I said, 'This is it. This is the script I've been waiting for.'" But Cox never anticipated the cultural phenomenon that "OITNB" would become.
"I remember looking around and thinking, I've never seen anything like this on TV before," she said. "There's, like, 70, 80 women in one room, different shapes and sizes and races and ages, and I felt like it was special...but I thought, Who's going to go for this show about women in prison?" Cox's transgender character is an added layer to portraying various types of women, and has inspired people to transition, opened up understanding about the trans community, and provided a reference point in the mainstream of a transgender person.
Cox is thrilled, but despite the Emmy nomination, she said there's still much to learn as an actor. She has continued to attend her acting classes and train. "There's what we do as actors and then there's the show-biz part," said Cox. "Acting is all about humanity and telling the truth, yet so much of what we see on TV isn't necessarily that, so it's interesting to hear something [like 'OITNB'] is 'shockingly refreshing' when it's just truthful. It's what we're here for [as actors]."
Want more? Check out more of our Emmy interviews and coverage!