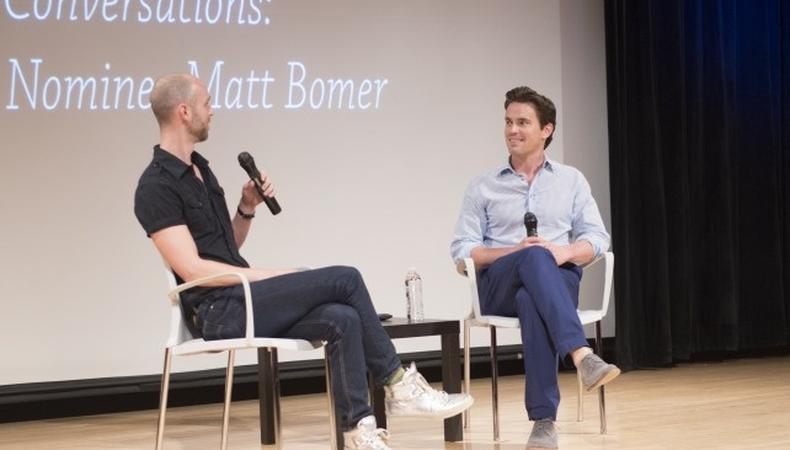 Emmy nominee Matt Bomer ("The Normal Heart") took the stage at the New School in New York City on Tuesday, Aug. 5, for the third installment of the Screen Actors Guild Foundation and Backstage Conversations series. The Q&A was once again moderated by Executive Editor Mark Peikert.
Bomer shed light on his history with the play, in which he plays Felix Turner, a New York Times style writer who falls in love with Ned Weeks (Mark Ruffalo). Based on the Larry Kramer play Bomer read at 14 years old, the 11-time Emmy-nominated HBO film focuses on the first activists and doctors who attempted to raise awareness in the early days of the HIV/AIDS crisis.
In September 2011, Bomer began talking with director Ryan Murphy about playing a part and began doing research in the hope it would pay off. "I did everything, like flying to Tulsa [Okla.] to see what [Felix's] hometown was like," said Bomer. "I spoke with some of the original doctors who began research on AIDS back in the early '80s, and read books and watched documentaries, and we [he and Murphy] just kept a running dialogue going. I just hoped that at the end of the day I would get a chance to play the role, and thankfully it all worked out."
Bomer was cast as Felix and, by the end of the film, had whittled down to 130 pounds in order to accurately play an AIDS victim. Despite the hardship, Bomer said, "There were parts of [Felix] that I didn't want to leave behind. What I wanted for him was to have so much nobility and courage and unconditional love under these horrific circumstances. That's something I wanted to bring to my life, as well."
In talking about the first scene shot between him and Ruffalo, Bomer recalls the actor asking him if he was scared. When he replied yes and asked the question in return, Ruffalo said, "I'm scared shitless." "We found comfort in each other and we both knew we had done a lot of work and we just trusted that. Immediately after that first day, after we expressed that fear, I just started to feel more and more comfortable, and by the end of that first take we thought this could really be a profound experience," Bomer said.
Bomer also spoke about the announced Montgomery Clift biopic, in which he would star as the legendary actor ("Only with the right creative team") and his dream to bring Tennessee Williams' "Orpheus Descending" to the Williamstown Theatre Festival, describing himself as a "drama nerd."
A Carnegie Mellon alum, Bomer went on to talk about his path to acting. "I had a wild imagination as a kid—wild!—and I was outside all the time, swinging around in trees by myself," he said, laughing. "I would sit on the swing set and swing literally for two hours, just, like, imagining things. Like, what if this happened and what if I was this guy? We didn't get to see a lot of movies in my house growing up, so the first time I got to go to the movies—I think it was 'E.T.'—I was like, Oh my God, somebody else gets my imagination!"
He said that for a year after watching the film, he wore his brother's hoodie, "inhabiting" Elliott. A few years later, when his mom made him a Robin costume, he wore that for another year. "It was just a way of accessing my imagination and making sense of the world around me and making sense of what I saw around me," he explained. "I thought, Thank God I'm not the only person who's sat in a swing for two hours imagining what if the world was like this."
For more Emmy coverage from the cast of the Emmy nominated HBO film "The Normal Heart," check out "Emmys 2014: Alfred Molina on Humanizing a Homophobe in 'The Normal Heart.' "