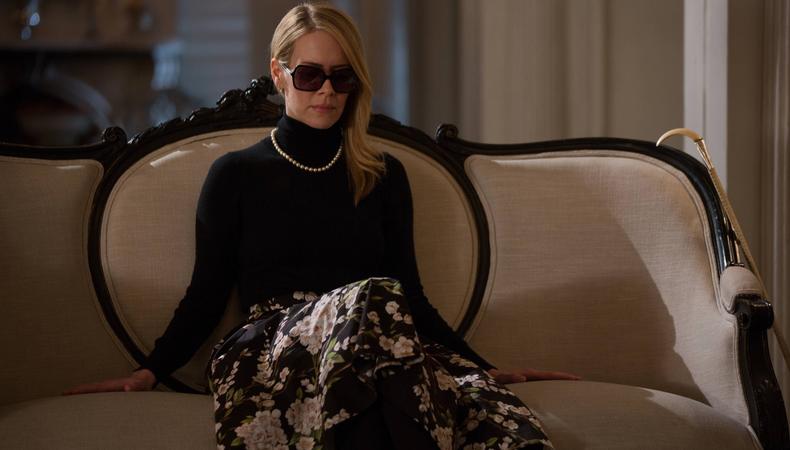 This marks the third consecutive year that Backstage has spoken to Sarah Paulson regarding her Emmy nomination. Her first came for HBO's "Game Change" in 2012; her second was for her revelatory turn as the terrorized Lana Winters on FX's "American Horror Story: Asylum." Now she's nominated again for Ryan Murphy's anthology series as Cordelia, the much-put-upon daughter to Jessica Lange's evil witch Fiona on "American Horror Story: Coven." We spoke to Paulson shortly before she attended Comic Con for the first time about Emmy love, keeping "AHS" secrets, and the horrors of knotty pine.
Three times! How does it feel?
I feel that pinchy feel. When they called to tell me that it had happened, I just really, really didn't believe them. I just thought, People getting nominated three years in a row is like Candice Bergen and Edie Falco and the great actors who get celebrated in that way. And it felt like an honor.
And not only that, but this is for three different roles!
I kept thinking, Gosh, it's one thing if you're playing a beloved character but that this has been for three different roles in three years…And from an acting standpoint I'm completely overwhelmed with gratitude that I'm asked to show up anywhere at all but that I'm showing up for something that people watching [is amazing].
Was Cordelia a relief after the darkness of Lana Banana?
Oh yes. This season ["American Horror Story: Freak Show," on which Paulson plays a woman with two heads] is proving to shape up to be one that is Lana Winters-time in terms of what it takes to take it off. "Coven" had a lot more fun, it was campier. Around the time I started to gouge my eyes out I was like, "Ah yes, I feel at home."
You all seemed to have fun on "Coven." I'm especially remembering Jessica Lange's insane delivery of "Knotty pine?!" when she goes to hell in the final episode.
I remember someone came over to the set I was shooting on and said, "Jessica just did that scene with knotty pine and she's just screaming it in crazy ways!" And when I saw her I said, "I heard it was crazy!" And she said, "Oh yes, that was my Kim Stanley homage." But that is the only appropriate response to knotty pine. "I'd love to look at knotty pine for all eternity," said no one ever.
And once again, you're last one standing at the end of the season. Are you starting to get nervous about your mortality on "Freak Show"?
I have no idea. I wish I could say, "Oh, he's definitely going to keep me alive."
When did you find out Cordelia would be the new Supreme?
I found out about two weeks before the script [came out]. It was before our Christmas break. That was such a fast turnaround, we were done shooting by January 22 and it was on the air in early February. So I didn't know much in advance at all. I just got a call from Ryan on my way to my birthday brunch with the cast and I pulled over on the side of the road and he told me the whole story: "You're the Supreme and Myrtle burns at the stake and you have to burn her." And he was telling me who was dying and then I had to go and sit with all of my cast knowing I was the Supreme! But I ordered an extra glass or two of champagne, I'll tell you that.
Is it hard making choices without knowing the full arc of your character in advance?
You could only make the choices you can with the information you have. I can only play the truth of the scene with what I had learned about Cordelia over the course of the shooting. I just sort of feel the beauty in not knowing because you can never wink at the audience at all. And they can't see it coming from you because you didn't know. If I had known at the beginning of Season 2 that Lana would be the last man standing, I probably would have played the whole thing differently. And it wouldn't have been as right. So I think it's helpful that the writers don't know, or they're not telling us.
I already know the answer, but what can you say about "Freak Show"?
A hot boatload of nothing except what you know already, that I'm paying a woman with two heads. I'm on my way to Comic Con and I've never been and I've already gotten the email from the powers that be about what we can talk about. I think Ryan's really smart the way he does it; it's not done in a sort of arbitrary way. The information doled out is the info he wants doled out. He's always been right about everything as it pertains to me. If Ryan tells me to go stand in the corner naked with a bull skin on, there must be a reason. He's never steered me wrong. I trust him almost more than anyone in my life because for whatever reason he has shined his light on me and thrown me the ball and trusted me to play some characters that have been very important to him and I feel very protective of that relationship and want to honor it in the best way possible by executing it as close to the vision he has in his head.
Want more? Check out more of our Emmy interviews and coverage!