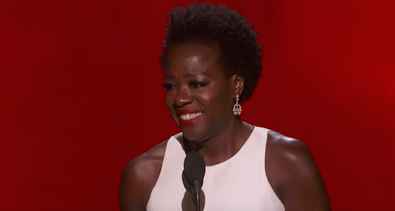 Television's biggest night made history on Sunday, Sept. 20. Hosted by Andy Samberg ("Brooklyn Nine-Nine"), the Emmys named Viola Davis the first black woman to win best lead actress in a drama for her work on "How to Get Away With Murder."
"In my dreams and visions, I seemed to see a line, and on the other side of that line were green fields, and lovely flowers, and beautiful white ladies, who stretched out their arms to me over the line, but I couldn't reach them no-how," said Davis, quoting Harriet Tubman in her acceptance speech. "Let me tell you something," she continued, "the only thing that separates women of color from anyone else is opportunity. You cannot win an Emmy for roles that are simply not there."
Fellow nominee Taraji P. Henson ("Empire") was teary-eyed and rose to her feet to applaud the win.
Jeffrey Tambor won best lead actor in a comedy, making him the first to win an Emmy for playing a transgender woman in the Amazon original series "Transparent," which also nabbed outstanding directing in a comedy series for creator Jill Soloway, outstanding guest actor for Bradley Whitford, along with awards for its costume design and original music.
The HBO fantasy drama "Game of Thrones" took home the evening's most prestigious award with its best drama win, and broke the record for most Emmys won in a single year with 12, beating out "The West Wing"; the series was recognized 24 times this year.
"Game of Thrones' " Peter Dinklage again took best supporting actor in a drama, while Backstage cover star Uzo Aduba won for best supporting actress in a drama as Suzanne a.k.a. Crazy Eyes on "Orange Is the New Black," becoming the rare performer to win Emmys in both drama and comedy for the same role.
Four-part miniseries "Olive Kitteridge" dominated the limited series/TV movie category with wins for lead actress Frances McDormand; lead actor Richard Jenkins; supporting actor Bill Murray; as well as screenwriter Jane Anderson and director Lisa Cholodenko.
The academy also doled out long overdue recognition for "Mad Men" leading man Jon Hamm, who after seven nominations for his portrayal of Don Draper, wrapped the final season of the AMC series in May. His win is the series' sole acting Emmy.
This was the first year the Television Academy opened up the voting to the entire group of academy members instead of having final decisions made by a small pool. "Veep" lead Julia Louis-Dreyfus won for the fourth year running and Allison Janney won for her role on "Mom" for the second year running, inching both actors closer to the record for most acting Emmys.
"Inside Amy Schumer" won for best sketch variety show. The series has made continuously smart and witty commentary on everything from pop culture perception of female attractiveness to rape culture. It has been a great year for Schumer who also starred in her first feature "Trainwreck." In her acceptance speech, she thanked "the girl who gave me this sort of a smokey eye. I really love it."
Tracy Morgan made his first awards show appearance since a car accident last year left him in a coma for eight days. "It's going to take more than 18 wheels. It's going to take more than that to stop me from making you all laugh," he said to The Hollywood Reporter in an interview. "I'm going to do that until I die."
This year highlighted just how much television there is. The coming year has an estimated number of 400 scripted shows airing on TV as well as on online streaming services like Netflix.
"To everybody on television, I just want to tell you, cling to it as long as you can," Jon Stewart advised the audience when accepting his award for best variety show. "Like death, like that guy in Titanic—cling to it!"
For the full list of winners and nominees, visit emmys.com.
Viola Davis' full acceptance speech below!
Inspired by this post? Check out our television audition listings!