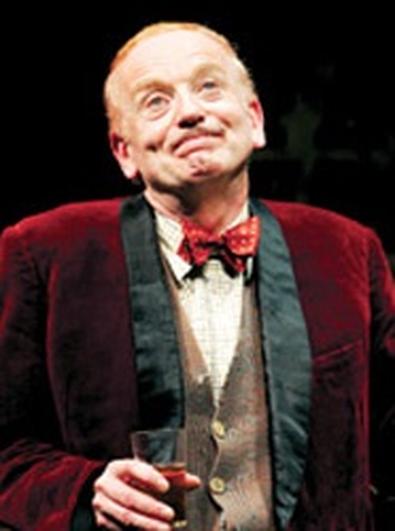 As the bone-chilling Palpatine--senator, supreme chancellor, and emperor--in four of the Star Wars films, Ian McDiarmid is no less than an international cultural icon. And for the most part, it's been a blast for the 61-year-old Scottish-born actor. Except when it's not. Being recognized on the street and sought after for autographs can be gratifying, but it can also be intrusive.
"When a kid comes up to me for a Star Wars autograph, that's just fine," McDiarmid says in his publicist's midtown Manhattan office. "But when organized posses approach me for Star Wars autographs, which they then try to sell--those I will not sign. Since I've been in Faith Healer, in London and now in New York, I've taken the position that I will not sign Star Wars autographs. I will do autographs for Faith Healer only. And the theatre management is behind me. Not that I think Faith Healer audiences are in the theatre because of my being in Star Wars. They may have seen me in the Star Wars films, but that's certainly not what brings them to the theatre."
It does seem unlikely. In this revival of the dark Brian Friel play, first mounted on Broadway in 1979 and currently at the Booth Theatre, McDiarmid plays Teddy, the third-rate manager of Frank Hardy (Ralph Fiennes), an alleged faith healer. The three-character play--which also features Cherry Jones as Grace, Frank's beleaguered wife--consists of monologues by each of these desperate figures recounting their relationships with each other and the key events in their lives together. The heavy-drinking Teddy, with his amusing observations and garish appearance, is at least superficially comic relief, but he is ultimately the play's most profoundly lost soul. For his star turn, McDiarmid has just copped a Tony Award nomination for best featured actor in a play.
Says director Jonathan Kent, "What I think is so remarkable about Ian's performance is that within the framework of a brilliant comic creation, he finds real humanity and pathos. What could so easily simply be a 'turn' becomes a study of loneliness and unrequited love."
Though McDiarmid is a veteran Olivier Award–winning actor with major theatre credits--including lead roles in the West End and with the Royal Shakespeare Company, the National Theatre, and the Royal Court Theatre--Faith Healer marks his New York stage debut. "That's circumstance, not choice," he says. "I've always loved New York audiences. They come to the theatre with energy and expectation. They're interested in what's being said onstage and listen very intensely, much more so than in London."
Yet Faith Healer's monologues—with no interaction between the actors--make it a demanding work. "You don't have the safety net of your colleagues," McDiarmid says. "Getting up there alone and not falling apart is the challenge. There's a tremendous level of concentration called for every moment you're up there. Your relationship is with the audience. Each of us is speaking directly to the audience out of the character's need to do so. It's also a very scary play because in the end it's about the nature of acting—what's involved and the preparation that's required."
And Faith Healer explores the twisted interdependence of the players behind the scenes, too, including Teddy, who almost succeeds in convincing himself that his relationship with his client is "strictly business" when in actuality it is deeply personal: Teddy has no life outside his connection to Frank and Grace. McDiarmid describes Teddy as "the archetype of the manager in essence, if not actuality. Teddy has his roots in the variety world of the '50s. That world does not exist now. I believe most managers today are involved with the actors to the extent that the actor needs it. The manager is in it just for the money. As American vaudevillians used to say, 'Don't applaud, just send money.' "
Faith Healer also poses technical challenges, McDiarmid adds: "I'm a Scotsman playing a Cockney before an American audience. We have changed a few words and toned down the accent a bit. I don't drop as many h's as I might. And I make sure I'm very clear on all the consonants."
Taking the Plunge
At the age of 5, McDiarmid knew he wanted to act when his parents took him to a tatty variety show featuring vaudevillians not all that removed from John Osborne's Archie Rice--a world that McDiarmid found "magical and frightening." Throughout his youth he dreamed of a career on the stage but kept his ambition to himself; it just didn't feel viable, he says.
At Scotland's University of St. Andrews, McDiarmid was working toward a graduate degree in clinical psychology when he decided it wasn't for him. Instead, he "took the plunge," auditioning for and gaining admittance to the Royal Scottish Academy of Music and Drama. He did so well there that he received a special gold medal.
Like many classmates after graduation, McDiarmid joined one of the publicly subsidized repertory companies that dotted the British landscape, where young actors honed their craft in a variety of roles while also serving in other capacities, such as stage manager. "You learned the ropes that way," he says. "Unfortunately, that whole system doesn't exist anymore, so it's much harder today for young actors who want careers in theatre. Now the route to theatre in Great Britain is television. Of course, young actors want to do television and movies and make the big bucks. But they also want to do theatre, and they know the way to get there is through television."
For McDiarmid, however, major TV appearances--on programs such as Great Expectations, Crime and Punishment, Charles II, and Elizabeth I--came after he had already established himself as a theatre actor and director. From 1990 to 2002, he was joint artistic director with Jonathan Kent of London's Almeida Theatre, where he helmed a host of productions. And though he's also appeared in films like Gorky Park, Dirty Rotten Scoundrels, and Sleepy Hollow, the Star Wars movies certainly haven't hurt his job opportunities either. Ironically, he never had his sights set on a film career and never even auditioned for the role of Palpatine.
"George Lucas does not believe in auditioning actors," McDiarmid says. "He just talks with them and casts by instinct. I got called in for the interview after a Return of the Jedi casting director saw me perform in the Sam Shepard play Seduced at a studio theatre at the Royal Court. I was playing a dying Howard Hughes in the play, and I believe the casting director was looking for the oldest actor in the universe that they could safely insure." He laughs. "They couldn't find one, so I got the role at the last minute. I had a great time. When I was in my 30s, I was playing a man who was 120. And then in the prequels, shot years later, I played a man my own age. I was catching up with myself. It was also extremely interesting to play someone irredeemably evil. I loved it."
So what's in McDiarmid's future? He refuses to speculate: "There are many roles I'd like to play, but whatever happens will happen." At the moment, he is feeling mighty lucky and can't quite get over it. "Here I am, a wee boy from Carnoustie, on Broadway." He pauses in amazement. "In a hit!"