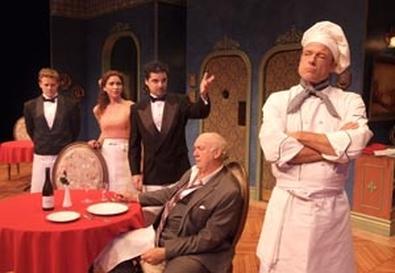 Imagine a world-class Parisian restaurant, complete with staff, owned by an eccentric millionaire who reserves it strictly for his own use. With this premise playwright Michael Hollinger begins his dark, occasionally existential comedy set in July 1961. Ernest Hemingway has committed suicide, the Kennedys have made their much-admired visit, and Adolf Eichmann is being tried as a war criminal.
The staff members are excited, because the owner (Adrian Sparks) is back from a trip to Madrid and will be dining. However, when he arrives without his ladylove, he declares he will not be eating but will, instead, be starving himself to death in the restaurant. Understandably, the chef (Marc Cardiff), major domo Claude (Jeff Marlow), waitress (Stasha Surdyke), and waiter-trainee (Graham Miller) set about to dissuade him from this act. Though he forbids their service, he compromises by allowing them to describe each course he might have had, and they use empty plates to mimic the meal. There's a bit of tongue-in-cheek symbolism delivered here along with a dollop of philosophy.
The cast plays it to the hilt—Marlow is a high-strung martinet, Cardiff lovelorn and quirky, Miller a stammering journalistic tuba player, and Surdyke Claude's frustrated wife. Sparks is world-weary, tormented by the rejection of his marriage proposal by Mademoiselle (Amy Kay Raymond) and Hemingway's death.
The Playhouse delivers excellent design elements. Bruce Goodrich's restaurant set is suitably French, and David Edwards' sound design is exemplary, especially in a highly choreographed bullfight re-enactment well-lighted by Paulie Jenkins.
Director Andrew Barnicle misses a comic opportunity with his waitstaff by delivering Gallic behaviors with American accents. On the plus side, however, the humor is light, the situation intriguing, and Raymond arrives just in time to tie together the final threads of the story. Hollinger's witty dénouement adds the final frosting to the theatrical cake.
Presented by and at the Laguna Playhouse, 606 Laguna Canyon Rd., Laguna Beach. May 30–June 28. Tue.–Fri., 8 p.m.; Sat., 2 and 8 p.m.; Sun., 2 p.m. (Also Thu., 2 p.m., June 11; Sun., 7 p.m., June 21.) (949) 497-2787
.
www.lagunaplayhouse.com
.