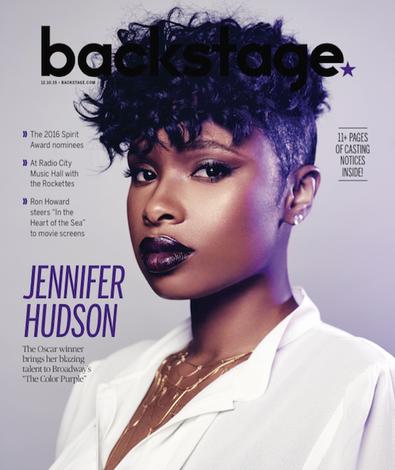 Above the Bernard B. Jacobs Theatre, where she'll later receive a standing ovation in Broadway's "The Color Purple" (opening Dec. 10), Jennifer Hudson sits in her dressing room surrounded by several hissing humidifiers. Nearly every other item in the room—from the fluffy blankets and rugs to the recently painted walls—is a different shade of violet.
"It's my purple heaven," Hudson says, pointing to the pictures and memorabilia on her desk. "And I brought little pieces from home." The actor wants maximum comfort in this humidified oasis for a reason. "I am here, I am ready, and I really want to have perfect attendance," she says of her Broadway debut. "That is my goal. That's why I made it as homey as I possibly could. I'm camping out!"
Never calling in an understudy is no easy feat in an emotionally grueling musical, but if anyone is up to the task, it's Hudson. Someone with her affinity for meteoric success—an Oscar for her film debut in "Dreamgirls"; a Grammy for her first album—doesn't shy away from charting new territory. She knows the challenges of taking the Broadway stage eight shows a week, but you get the feeling that for Hudson, challenges seem more like opportunities to shine brighter.
"This is nothing you can half-ass, nothing you should half-ass," she says. "I'm in school right now; theater school." None of Hudson's work on the big screen or in sold-out stadiums could have prepared her for the rhythms of a New York theater audience. "The first night of previews was like hopping on the expressway into oncoming traffic," she says, remembering the drawn-out applause she received upon making her entrance as Shug Avery. "You never know what you're going to get! But it's good, and makes you want to sell those moments that much more."
Based on Alice Walker's Pulitzer Prize–winning 1982 novel, "The Color Purple" follows the downtrodden Celie, a poor black woman in rural Georgia, through the early 20th century. Celie's journey of self-acceptance and overcoming abuse at the hands of men is bolstered by the women in her life, especially glamorous blues singer Shug. Hudson saw the original Broadway production starring LaChanze, Elisabeth Withers-Mendes, and Renée Elise Goldsberry "at least four times," and although she dreamed of theater in her future, she never envisioned this particular musical.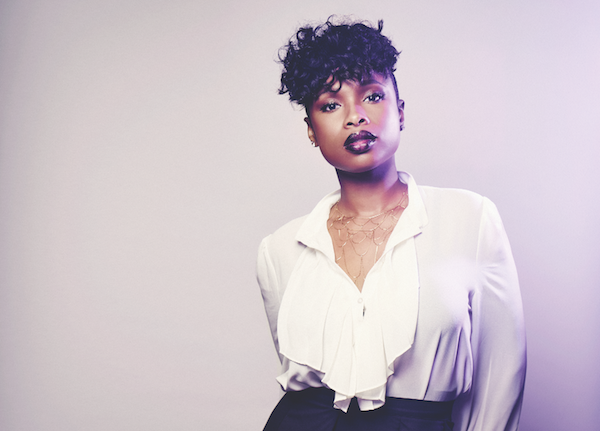 "It never crossed my mind," she says. "I just watched it because I love the show." When producers of London's Menier Chocolate Factory revival called about a Broadway transfer, Hudson guessed they imagined her as the rebellious Sofia, made famous in the 1985 movie by an Oscar-nominated Oprah Winfrey. "And they said Shug, and that's what took me aback. Like, OK, if you say so.... When I dissected everything I was, like, 'Yeah, I guess it would be Shug.' "
Opposite Cynthia Erivo as Celie and Danielle Brooks as Sofia, Hudson renders Shug steamily, nonchalant yet undeniably magnetic. Director John Doyle's stripped-down production puts the focus on the cast's charisma and tremendous vocals, allowing Hudson to do what she does best: tell stories through song.
"I love playing Shug," she says. "I've never played a glamorous character before. She's the light of the story. Any time Shug is around it kind of lifts everything. She's a strong woman."
All of which could also be applied to Hudson. "She's a wonderful human being and that's the most important thing with any actor," says Doyle over the phone. "It takes a lot of guts, especially when somebody's already got a flourishing career, to put themselves out there and do this eight times a week. Broadway is not for sissies. It's hard work, and she's ready for the hard work."
When asked about her singing, Doyle responds, "She's Jennifer Hudson! It's a wonderful voice, the voice of a generation. She's a great singer—but that comes out of who she is. Voices aren't just things that are grafted onto people; it comes out of the spirit of her personality. That's what's special about it. The instrument is great, but how she uses it, how she is as a person, is intrinsic to her voice."
Adjusting that instrument for the stage, Hudson says, constitutes her biggest learning experience. "[Speaking lines] takes the same type of energy that it does to sing a song. So how do I split the difference of making the song the song and the line the line?" With camera acting, she adds, she's known as "One Take Hudson." "I don't act, I react. Put me in a moment, roll the camera, you're gonna get the first take. Whereas here, the rhythm is different because we rehearse it and rehearse it and rehearse it. And then you have to project it, take that line 10 more notches up. It's gradually coming to me."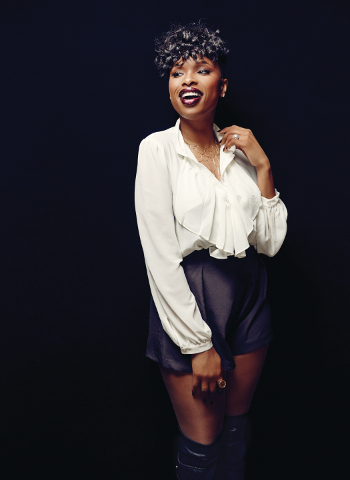 Looking back on other career milestones, Hudson says her time working on Disney Cruise Lines provided crucial experience. "It's a great vehicle that people shouldn't overlook," she says. Narrating the "Hercules" musical and singing "The Circle of Life" in the Disney Dreams show readied Hudson for an unexpected next step: Season 3 of Fox's hit "American Idol," where she came in seventh place. "I never would've guessed when I was on that ship that I would fast-forward not even months later...to singing with Elton John, who wrote 'Circle of Life.' What?!"
Then came "Dreamgirls." Hudson had moved to Florida to record music and got a call from Jay Binder Casting to audition for the showstopping Effie White. Thanks to a mix-up with her sheet music, she says, "Honey, I jacked the song up!" But after a second audition and a screen test, during which she had to sing Effie's big ballad "And I Am Telling You I'm Not Going" for six hours straight, she beat out almost 800 others for the part.
Before getting the call that would launch her into superstardom, Hudson did something that speaks to her unshakable faith; back in Florida after the final audition, she refused to unpack. "I was, like, 'I believe this is so much my part I'm going to put my suitcase in the middle of this floor and I'm not going to unpack a thing.' "
If there's anything to be learned from Hudson's journey, it's her ability to visualize what she wants. "This is what I planned and envisioned for my life," she says, gesturing to her Broadway dressing room. "Did I ever doubt? No. I see it, I accept it, I receive it.... You've got to be specific with God. Visualize it. And trust your instinct.
"My thing is, people always think it has to be this one way or this one thing. Who says? Who says you have to be on film to be an actor, who says you need to have a record deal to be a singer? There are so many ways you can do that."
---
The Voice of a Generation
So what's the secret to Hudson's stop-you-in-your-tracks voice? Does she have a cherished vocal warm-up routine? "I don't," she says with a shrug. "I just get up and sing."
Dryness and allergies, she acknowledges, are always roadblocks. "Here in theaters, oh my God, it's super dry." Even before "The Color Purple" previews began, Hudson placed humidifiers everywhere in the wings. "My trick—the quickest trick—is just some warm water, with a little honey in it. Right before I go onstage, whether it's this stage or performing somewhere, I drink my warm water and that helps."
Performers should be honest with others when their voices aren't up to par, she adds. But there's a difference between physical fatigue and mentally psyching yourself out. "I truly believe it's a mind over matter thing. If you say your voice is tired, it's going to be tired."
Want to read more? Check out our Backstage covers here!