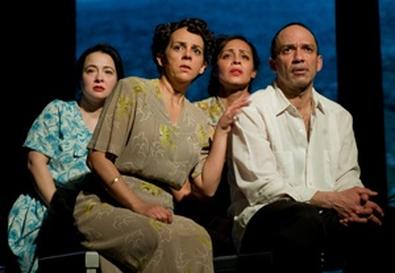 The outrage and sorrow that greeted the murder of the three elegant and revolutionary Mirabal sisters in the Dominican Republic during the homicidal dictatorship of General Rafael Trujillo have never really ended. These emotions are evident on the anniversary of the sisters' death, which is officially commemorated every year throughout Latin America and is the subject of "In The Time of the Butterflies," the 1994 novel by Dominican-American author Julia Álvarez, as well as the 2001 Showtime cable movie based on it, starring Selma Hayek. Outrage and sorrow will also most likely be the reactions to the stage adaptation of Álvarez's novel by playwright Caridad Svich. Playing in Spanish with simultaneous English translation at Repertorio Español, it largely does justice to this story of injustice.
The play is strongest in the scenes among the sisters, whether in 1938, as "silly girls" in frilly white dresses talking of boys and their future, or in 1960, when three of the four have become active in the anti-Trujillo resistance—their collective underground codename: Butterflies—and are trying to convince their fourth sister to join them. That sister, Dede, was the only one of them not to be killed, and there are two of her on the stage, the young Dede (Zulema Clares) and the present-day Dede (Teresa Pérez Frangie). Scenes that bring us through the two decades leading to the sisters' deaths alternate with less successful scenes of the older Dede talking about the past with a Dominican-American interviewer (Flor de Liz Pérez).
The oversized, ornate costumes given by designer Robert Weber Federico to Fermín Suárez to wear as Trujillo suggest a high school production of the "The Pirates of Penzance" and undermine what should be the audience's feeling of dread. But this is a rare misstep in director José Zayas' inventive production, in which the use of video projections and animation help create a poetic language of stagecraft. The seven-member cast is effective in reminding us that, in past eras too, despots only seemed invincible.
Presented by and at Repertorio Espa
ñ
ol, 138 E. 27th St., NYC. Feb. 21–June 25. Schedule varies. (212) 225-9999 or www.repertorio.org. Casting by Jos
é
Zayas.