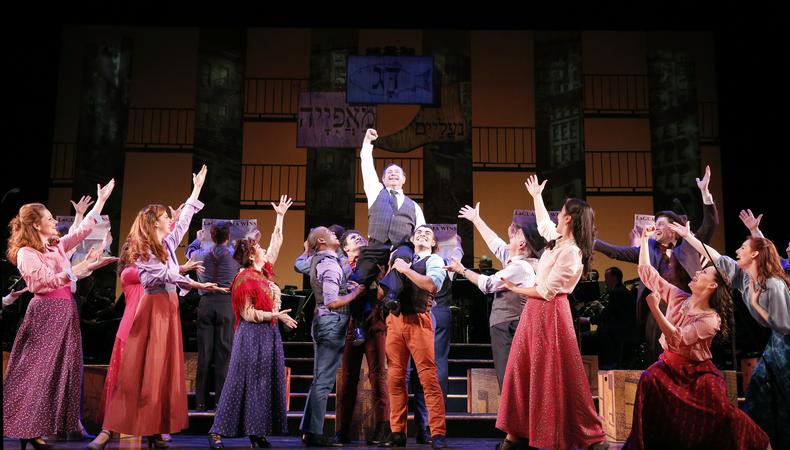 To celebrate its 20th anniversary, Encores! is bringing back its very first concert offering, "Fiorello!," the 1959 Broadway musical hit based on the life of New York Mayor Fiorello LaGuardia, who was responsible for the creation of New York City Center, the company's venue, as Manhattan's first performing arts center. The show tied with "The Sound of Music" for the 1960 Tony Award for best musical and won the 1960 Pulitzer Prize for drama (unfathomably besting "Gypsy" for both prizes), but it's little known today. Director Gary Griffin and his talented company give it a spirited try, but the result is never more than genial.
Book writers Jerome Weidman and George Abbott bifurcate their story, with Act 1 centering on LaGuardia's pre–World War I campaign for Congress against a corrupt Tammany Hall candidate and Act 2 leaping years later to focus on his first two runs for mayor of New York City. Serving to provide continuity is his loyal aide Marie, who carries a torch for the oblivious overachiever. LaGuardia falls for the beautiful Thea, a model from Italy who leads the fight for a union for shirtwaist factory workers. She doesn't love him, but she marries him when he returns from the war, then dies abruptly early in the second act. LaGuardia loses badly to incumbent Jimmy Walker in his first try and angrily retreats from politics, only to be coaxed back by the wise and feisty Marie. He suddenly proposes to her, and the musical ends with their impending nuptials and his coming election.
Weidman and Abbott's book—in an economical concert adaptation by Weidman's son John, who knows a thing or two about book writing himself—has one foot planted firmly in musical comedy land, relying too much on such conventions as cute comic supporting characters, running gags, unnecessary in-one song reprises there to cover set changes, and the use of dance for pure entertainment purposes. Composer Jerry Bock and lyricist Sheldon Harnick contributed a sparkling, witty, and melodic score with real heart, but they were still learning the ropes, so too much of it doesn't do the necessary heavy lifting of dramatizing character and advancing the plot.
The role of LaGuardia made Tom Bosley a Broadway star. Danny Rutigliano is solid and spirited as the Little Flower, but he can't summon the charisma that's needed. Erin Dilly fares better as Marie, supplying humor and sentiment in equal measure while skillfully skirting the pining-spinster stereotype. Kate Baldwin sings beautifully as Thea, but she can't do much with the underwritten role and should drop the inconsistent Italian accent.
Jenn Gambatese charms as a factory worker in love against her will with Jeremy Bobb's equally charming flat-footed cop. Shuler Hensley is authoritative and gruff as a Republican Party boss, and Adam Heller and Andrew Samonsky provide a tasty yin and yang as LaGuardia's other two long-suffering aides. Emily Skinner pops in briefly as a musical comedy star, delivering the catchy "Gentleman Jimmy" with flair, but the extraneous number stops Act 2 dead.
Rob Berman leads the Encores! orchestra with gusto, and Irwin Kostal's orchestrations sound fresh and bright more than 50 years later. Despite many individual pleasures, however, time has not been so kind to "Fiorello!"
Presented by Encores! at New York City Center, 131 W. 55th St., NYC. Jan. 30–Feb. 4. (212) 581-1212 or www.nycitycenter.org. Casting by Jay Binder/Jason Styres.
Critic's Score: B-