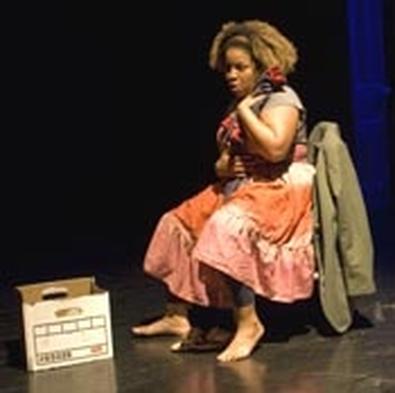 To jumpstart 1st Irish 2008, a three-week festival of Irish theatre across New York, the Origin Theatre Company asked five young Irish playwrights for five short plays, each to have the common inspiration of the New York subway system. It's interesting to note that three of the creators clearly found the subway a frightening place, for one it was a venue of sentimental remembrance, and one sort of ignored the issue in her grim portrait of New York living. While the results are varied and certainly entertaining enough, no breakout blossoming of playwriting talent is immediately apparent. The most promising trend is the creation of character; in two of the plays, two memorable characters blaze forth, giving wonderful opportunities for the performers.
The only play actually set on a subway platform is Gary Duggan's The Mission, directed by Alyse Rothman. It's 1 a.m. and Lucia (Brianne Berkson), a young New Yorker of Dominican parents, is returning to the Bronx when she is confronted with two out-of-town preppy schoolboys, Paul (Hal Fickett) and Walt (Chris Henry). The boys are presented as improbably menacing, a kind of A Clockwork Orange for the D line. But Lucia holds her own, with Berkson, in a just-perfect costume by Michael Bevins, giving a genuine star turn that incorporates personality, humor, and well-earned fear.
Another notable performance is given by Kimberly Hebert Gregory as the title character in Pat Kinevane's solo play Evangeline Elsewhere, directed by David Sullivan. Something horrific — and I mean horrific — happened to Evangeline on the subway, and as a result she is now in something like a psychiatric hospital, keening for her lost child. While the piece is laden with pathos and in need of more shaping, Gregory invests her role with such a contradictory mix of charm and anger that the play's fault lines hardly show.
In Abbie Spallen's Shaving the Pickle, directed by Julia Gibson, we're thrust into a futuristic New York where water and food are treasured, chaos rules, and everyone is trying to escape. Civil servant Don (Jerzy Gwiazdowski) is manipulated by two women, Carla (Dori Legg), who may be his mother, and Janice (Molly Ward), in this elaborately plotted play that should be more rewarding than it is. The only good news here is that the subway is still air-conditioned.
More traditional Irish fare is offered in Ursula Rani Sarma's The Parting Glass, directed by Portia Krieger, in which three brothers sentimentally remember a subway ride to Coney Island. While Jimmy (Raymond James Hill) returns to Ireland for his father's funeral, issuing poetic riffs about his departed dad, in New York successful Michael (David Nelson) has to deal with feckless younger brother Rory (Ryan King). Three querulous Irish brothers and the power of song are the piece's none-too-original components.
With ne'er a mention of a subway but with two women each at the end of her personal line, Morna Regan's The Housekeeper, directed by Fiana Toibin, provides a slice of improbable New York life in a play that has the old-fashioned blessings of structure and development. When Mary (Paula Nance), who has lost her house, invades the home of the rich, elderly Beth (Jacqueline Knapp), she gets more than she bargained for, especially in the shape of Beth's husband, Hal (Michael Graves). Nicely played, it demonstrates how social conscience can be neatly turned on its head.
Presented by Origin Theatre Company at 59E59 Theatres, 59 E. 59th St., NYC. Sept.11-28. Tue.-Sat., 8:15 pm.; Sun., 3:15p.m. (212) 279-4200 or www.ticketcentral.com.